Soccer bedroom decor is a great way to express your love for the sport. Whether you are decorating a room for a child, an adult, or a teenager; this theme is great for all ages.
No matter if you are a die-hard fan or someone who just loves to play, this decor style is a great choice. After all, it's so enjoyable to decorate your space with something your passionate about.
As far as the walls are concerned, we have put together a comprehensive guide of the top 8 interior bedroom soccer decor ideas for you to use.
Flaming Soccer Ball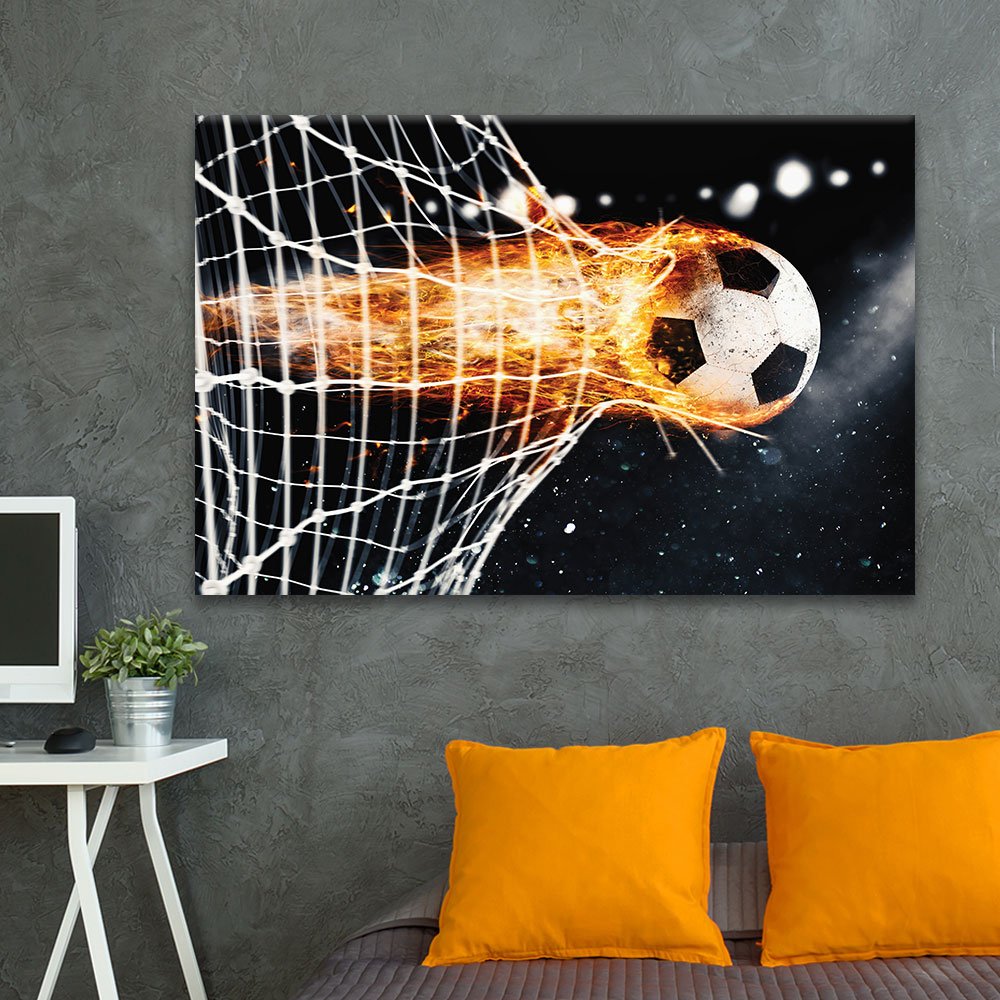 This impactful wall decor shows the intensity and passion for the sport. This piece of art represents the moment when someone skilled kicks a ball as hard as they can.
Those balls can soar so fast that to some they look like a meteor.
A great print for soccer enthusiasts. This soccer bedroom decor can be installed anywhere you want.
Speeding Ball Soccer Bedroom Decor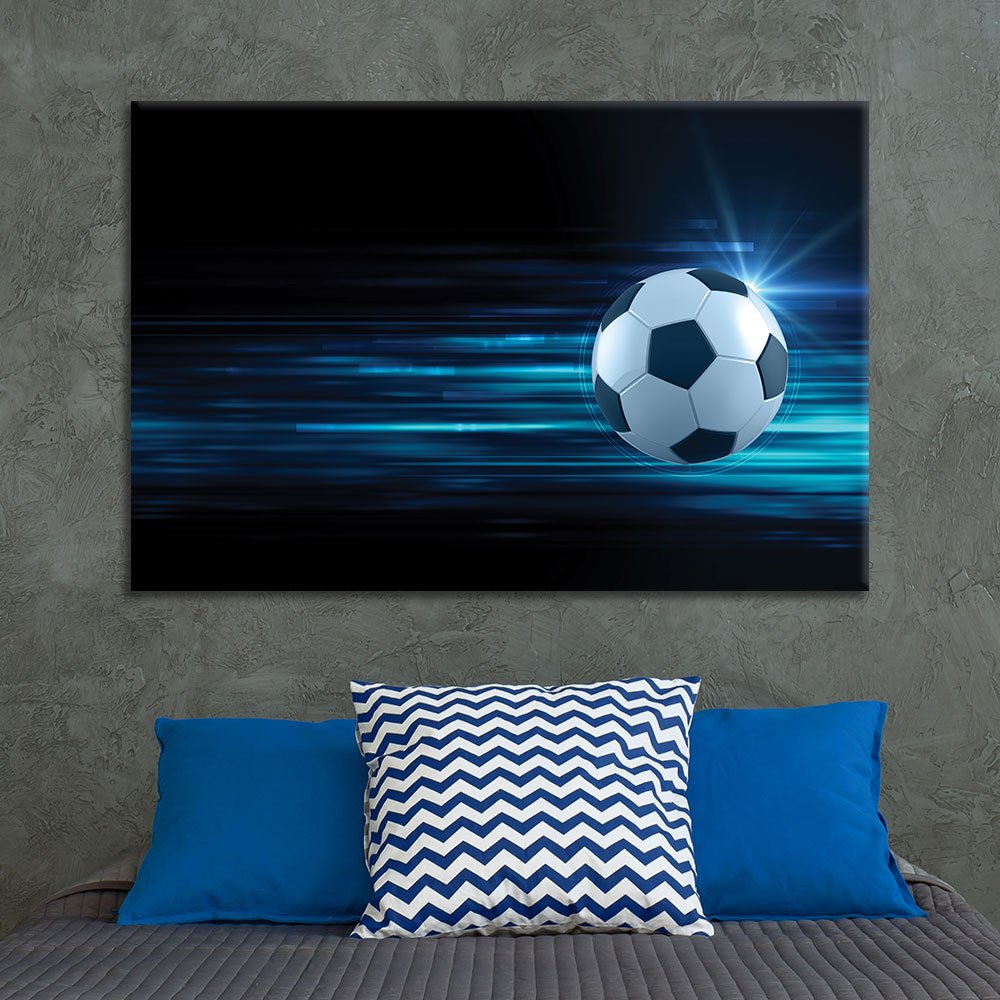 This iconic wall decor will do fantastically if you are looking to decorate with this color scheme. Sticking to predominantly white black and blue, you can easily use this to complement the overall look of a bedroom's interior.
The best thing about it is that the wall art can be placed in a space where there may not be too much natural light.
Abstract Soccer Bedroom Decor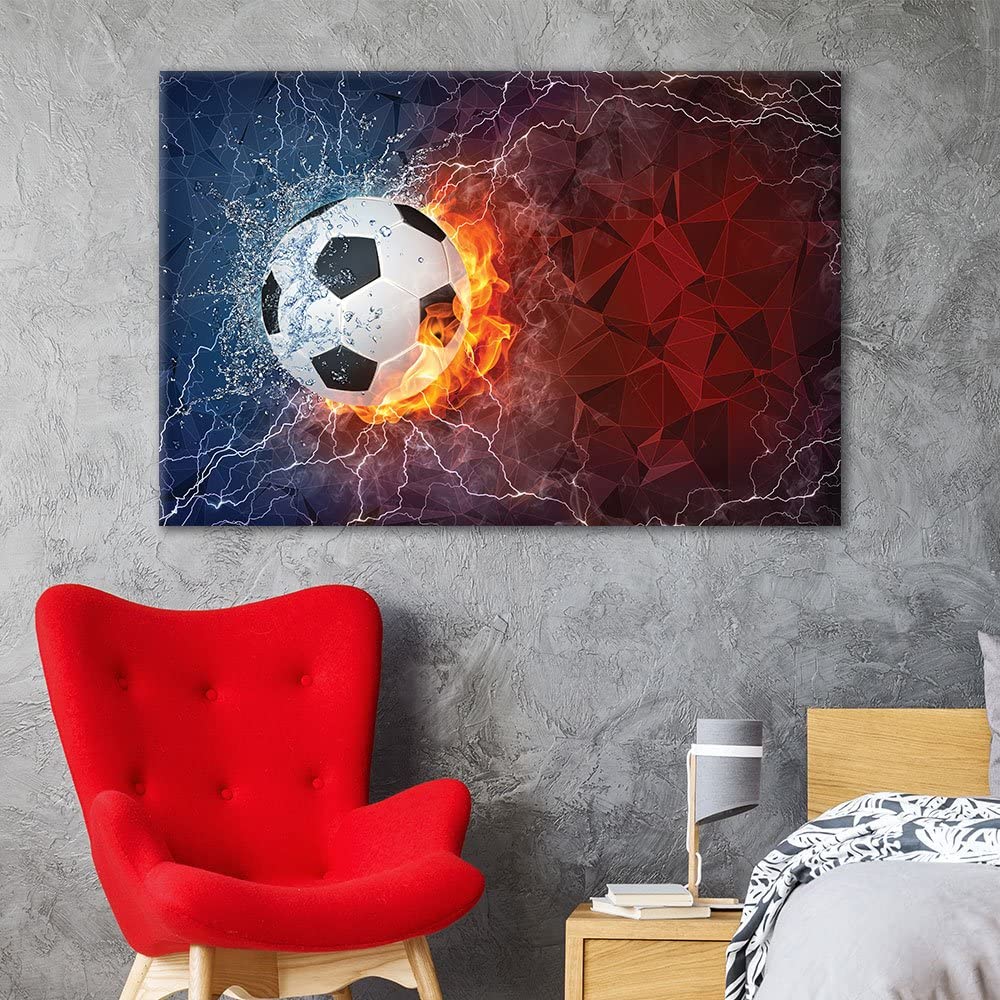 This amazing piece looks especially great when it's used as the focal point of the bedroom. It is designed to take over the theme of the room without being too overwhelming.
The ball cracking a surface is a wonderful concept denoting the power of the sport. This is one of the reasons why a soccer fan will likely love having this in their room.
The abstract colors allow you to be able to match with different accents of the room. You can even complement it with equally vibrant pieces in the space.
High-Intensity Soccer Bedroom Decor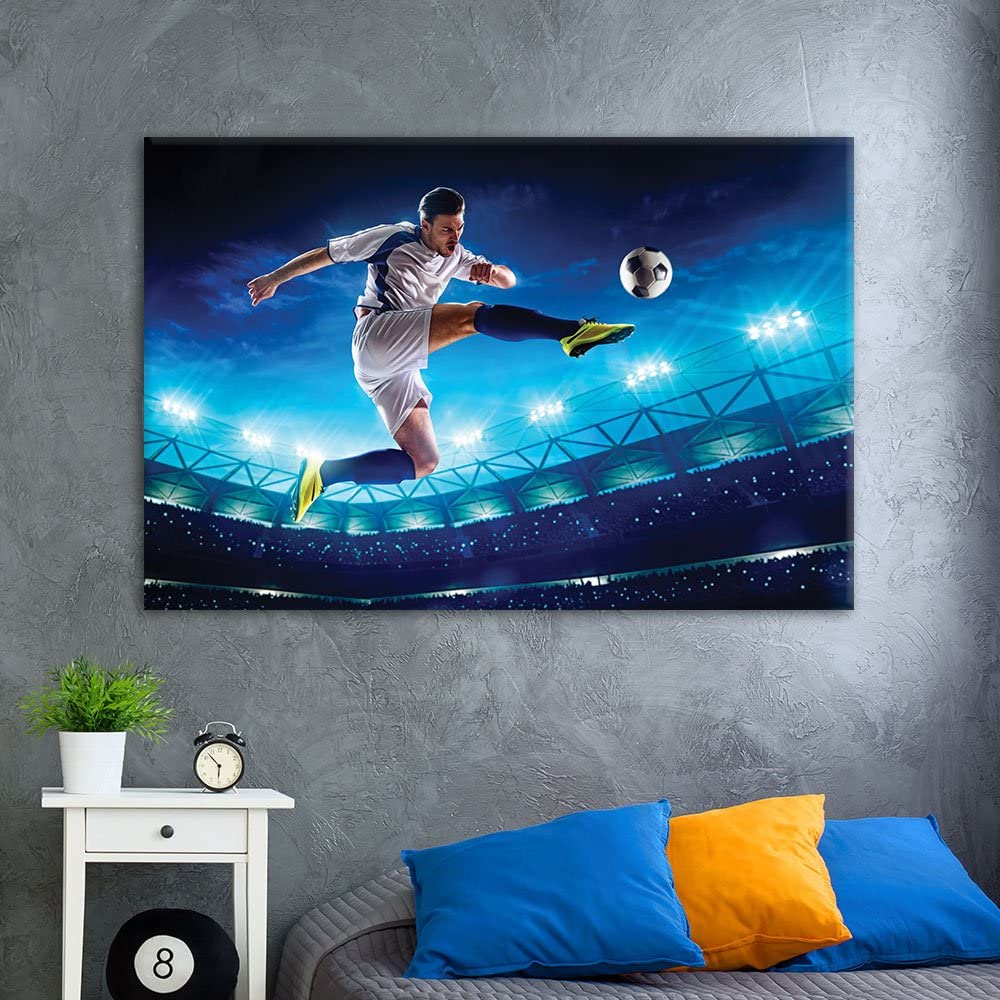 This artistic rendition of a soccer player kicking the ball embodies the ferocity in the sport that many soccer enthusiasts live for. The blue sky and the stadium lights in the backdrop contribute a glamorous vibe to the room.
Are looking for a few but impactful things to make up the decor theme of your bedroom? Then this wall hanging just might be a great choice.
In a way, this wall art is productive and metaphoric to be in your space. Looking at this wall art will motivate you every morning as you wake up to seize the day. One look can have you feeling charged up and refreshed.
The Soccer Field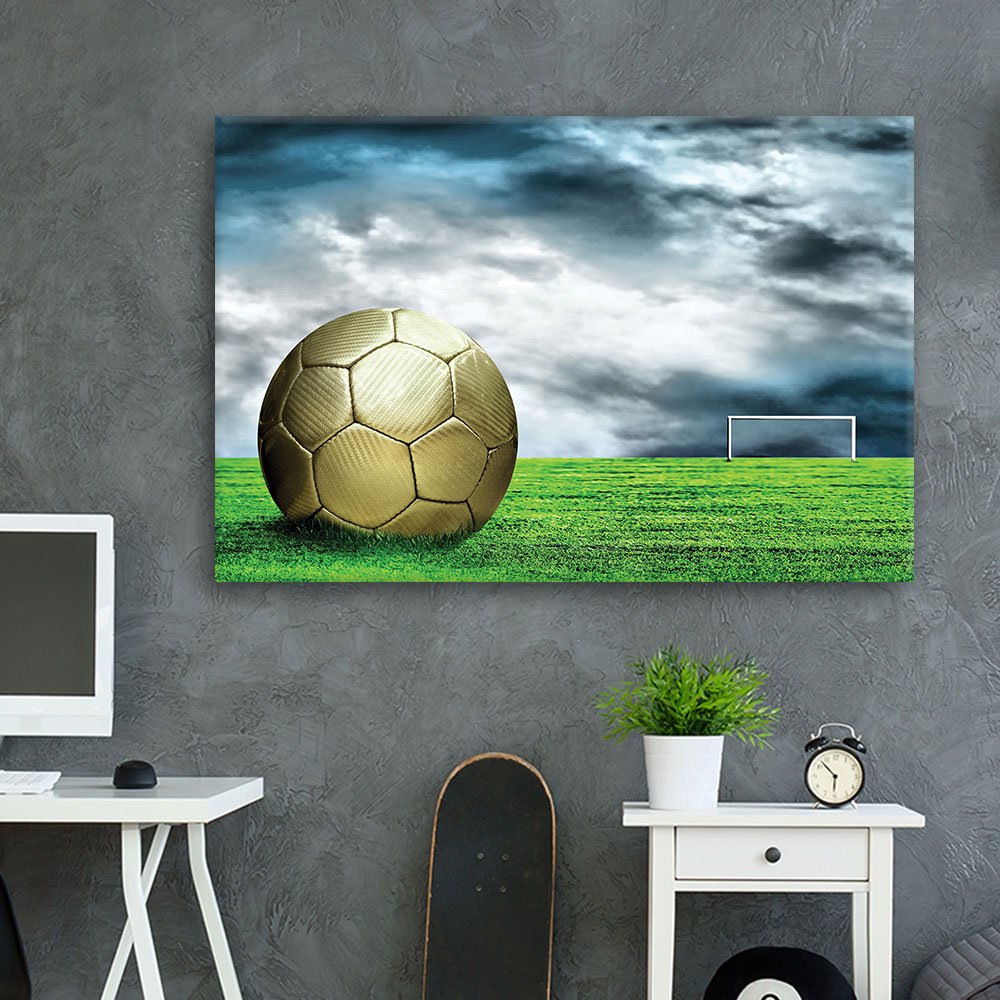 In my opinion, this is one of the best soccer bedroom decor wall pieces around. There is calm and serenity in this picture, but also a feeling of an impending event.
The dark clouds above set the mood and the ball angled at the goal gives the feeling of a person who prioritizes and achieves their goals in life.
This soccer bedroom decor goes beyond just the mere theme and representation of the sport. It does a great job of representing values as well.
Color Ball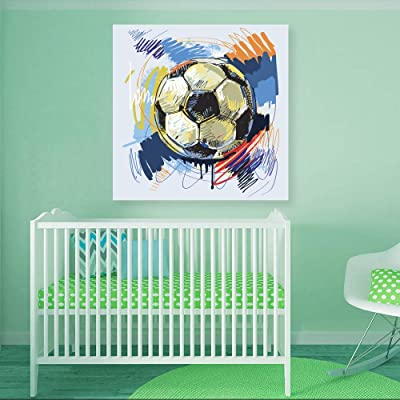 The colors in this wall art are meant to contribute a vibrant feel to the entire room. Unlike other decor ideas, this is less intense and focuses entirely on the raw enthusiasm for the sport.
As a sketch, it is incredibly artistic and shows that part about a person as well. It is recommended that you place this piece of soccer decor in a well-lit area, preferably next to a window so that it receives natural light.
On Fire
One of the most interesting things about any room is a piece of decor that is not too Avante Garde but still manages to turn your head and admire it. This is one such piece.
The soccer ball on fire is an exemplary piece of decor. Not only does it match with the theme of the sport but it can go well with other types of decor styles, because of its fiery color tones.
You can place this piece of art in any corner of the room. The best thing about it is that it looks equally impactful whether it is day time or night time.
Soccer In The Rain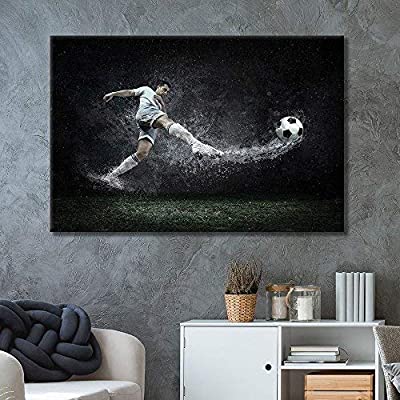 Another artistic representation of a wall hanging. If you have ever played soccer in the rain you should know how the ball rolls when it's wet.
Conclusion
Wherever your inspiration takes you these soccer themed bedroom decor ideas are sure to help you transform the place you sleep in.