The thought of coffee can make us feel warm and cozy. Related wall hangings and coffee decor ideas can provide a sense of calm and homeliness that can set the perfect atmosphere.
It is very common to wish that we could make one small corner of our home just as snug, aromatic and comfy as a coffee shop interior. You can take some of that inspiration and sprinkle it into your decor concept as well. Check out these top 10 coffee decor ideas.
For the Love of Coffee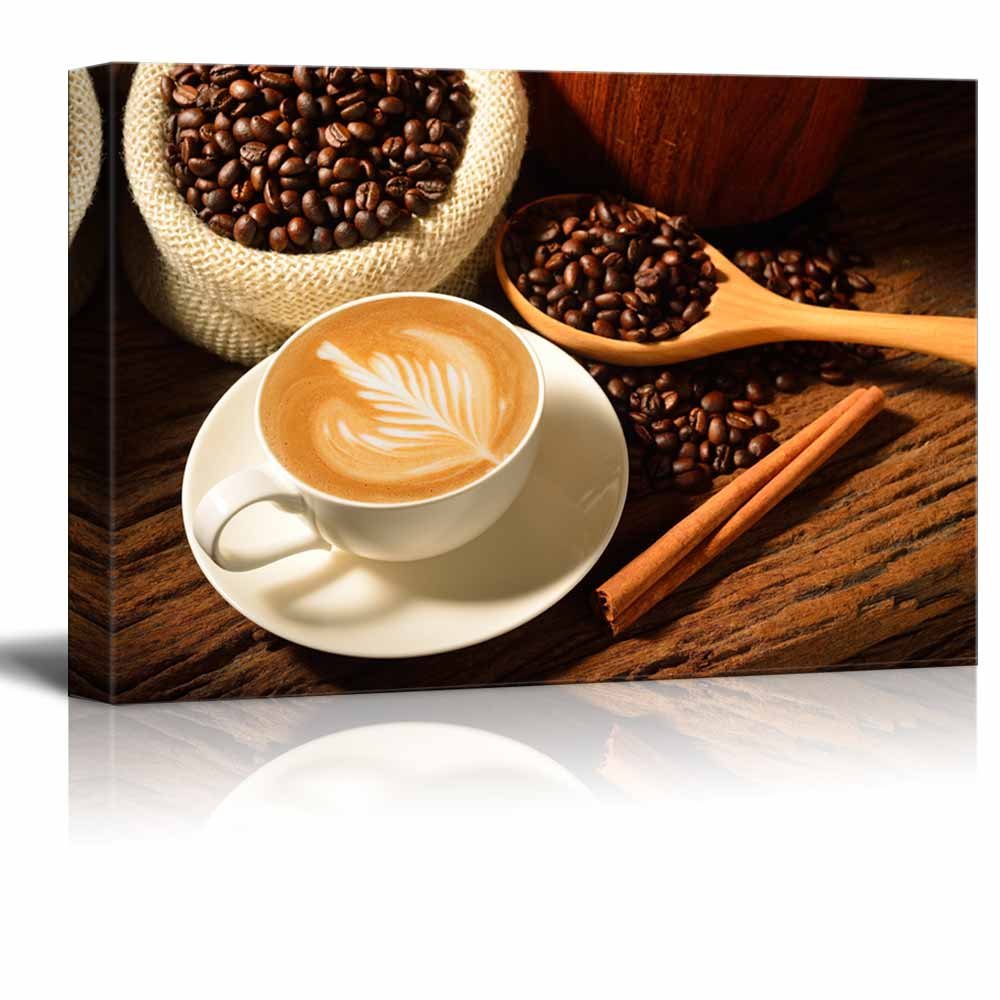 With
coffee
at the center of it all and exposed wood as a backdrop, nothing says "at home" like this picture. It really illustrates one's preference for caffeine. But more than that it implies a space filled with aroma and sustenance.
This wall art is one of our favorite coffee decor ideas for the kitchen. You can install it over the breakfast table or use it to cover an empty space between the cabinets.
Contemporary Coffee Decor Ideas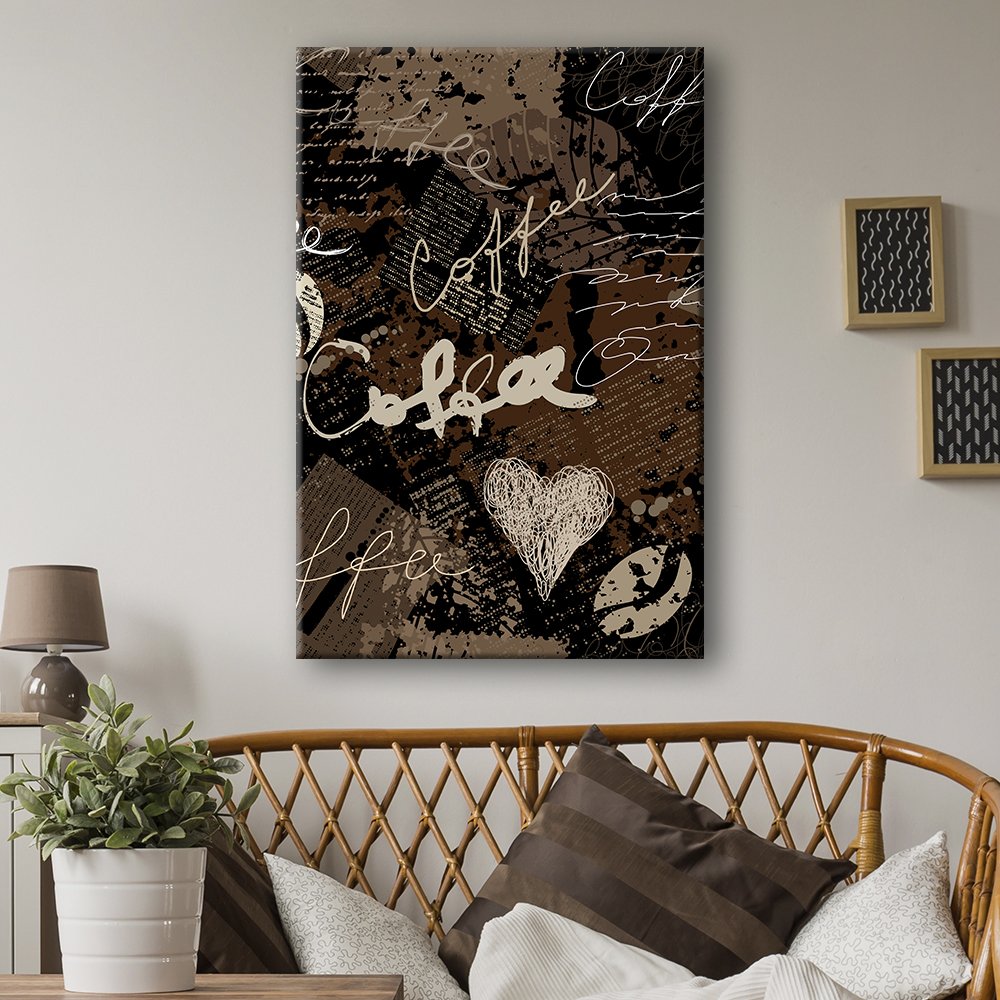 A more modern take on the obsession with java. This particular piece speaks volumes about a young and hip vibe. It is ideally suited for coffee shop themes and interiors.
The Motivational Brew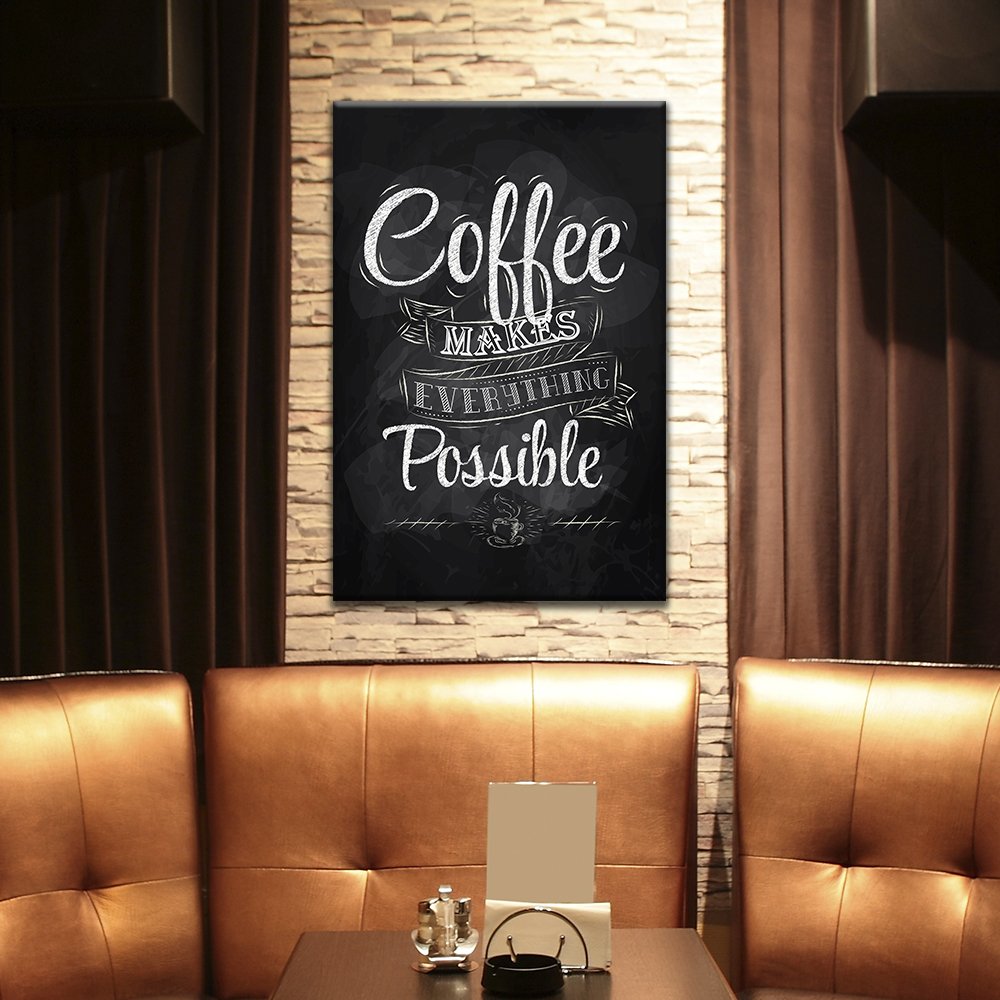 If a good old caffeinated fix does not charge you up to seize the day, this decor piece just might.
This wall decor contains a statement. Many people really do believe coffee gives them the extra boost they need to be their best. It encapsulates the essence of why coffee is such an important part of many people's day. You can hang this wall piece in the kitchen or next to the coffee bar.
All Eyes on Coffee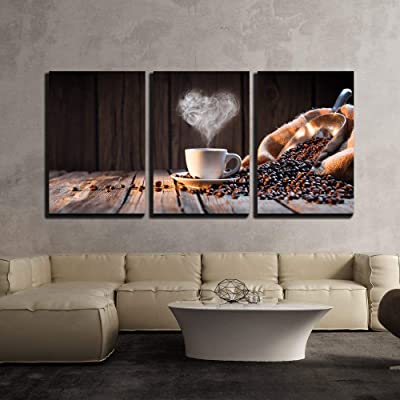 If you take your espresso very seriously this wall art might be one of the ultimate coffee decor ideas for you. This particular imagery is a cross between rustic and contemporary. It dominates the entire wall and keeps the theme consistent.
This 3-piece wall art might be perfect for a local coffee spot or for someone who is truly passionate about coffee.
Minimalist and Modern Coffee Decor Ideas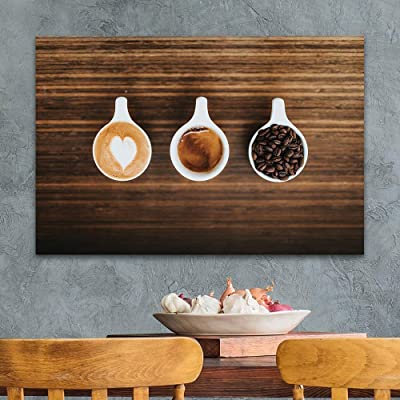 This coffee bar and kitchen decor idea is iconic yet cheerful. It is designed to be a focal piece in any setting, especially a kitchen. The three cups representing coffee in its different stages allow you to diversify your interior.
This wall decor suits minimalist backdrops. You can install it on top of a single neutral colored wall so that this can be the brightest and most stunning feature in the room.
Soulful Coffee Decor Ideas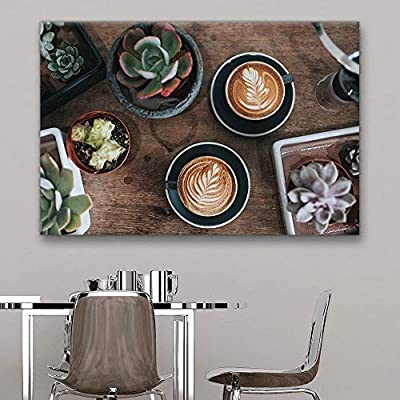 This particular wall hanging brings nature and your favorite hot piping beverage together. It takes inspiration from unconventional and industrial themes. The great thing about it is that it can really transform a place.
The green accents are a great complementary addition to the usual and commonly used brown and cream colors.
Coffee decor ideas such as these go brilliantly with minimalist interiors and even cluttered ones.
Make the Walls your Muse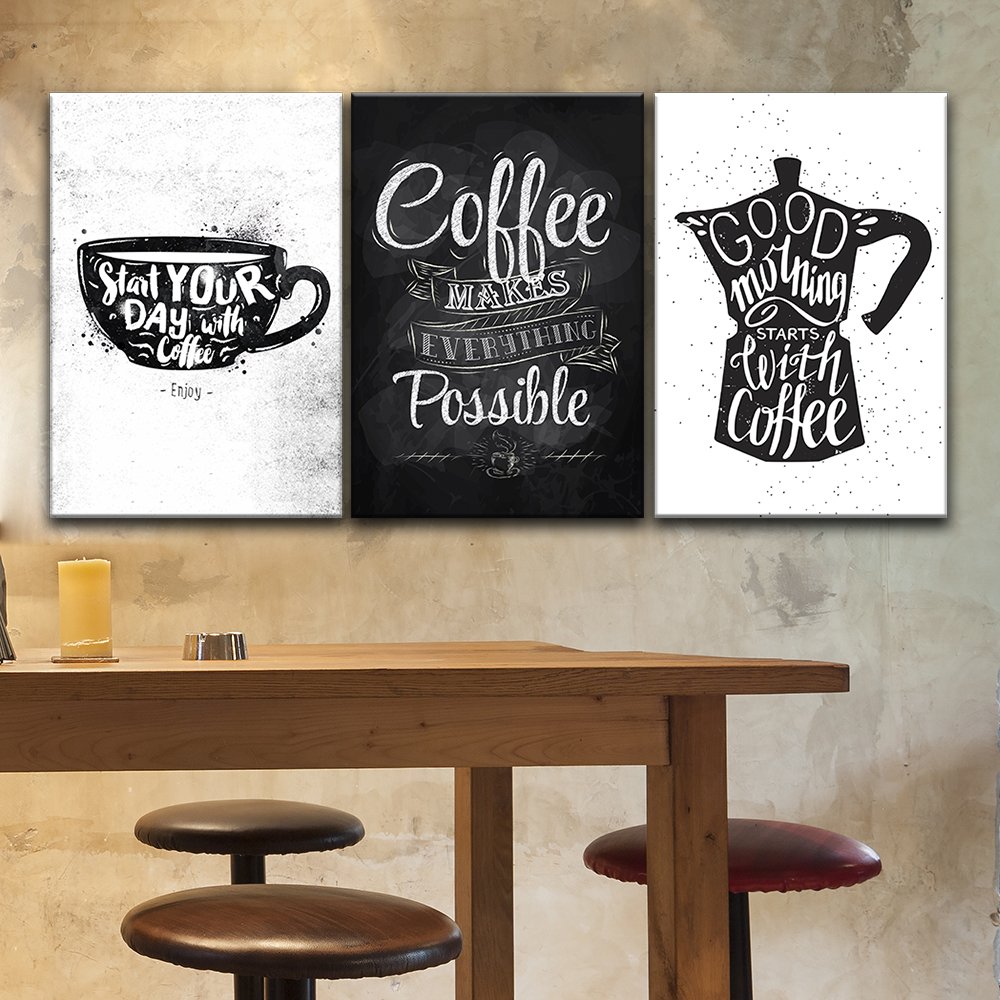 The right decor can be a great pick me up. We designed this 3-panel wall hanging so that you can revamp part of an entire space into a coffee corner.
This wall hanging is ideal for a cafe or kitchen bar. Shared working spaces that have a coffee corner will find this can meet both the subtle decor themes as well as the aesthetics of kitchen decor.
Rustic Clad Modernity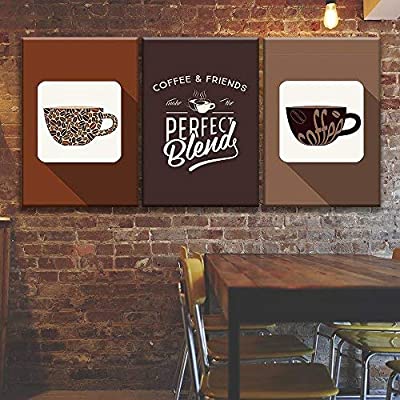 This 3-panel decor is versatile and adaptable. It focuses on the primary tones of espresso and uses different elements of coffee in its design. It can be perfect for local coffee shops and reclaimed spaces that have a vintage vibe to them.
The Mellow Spot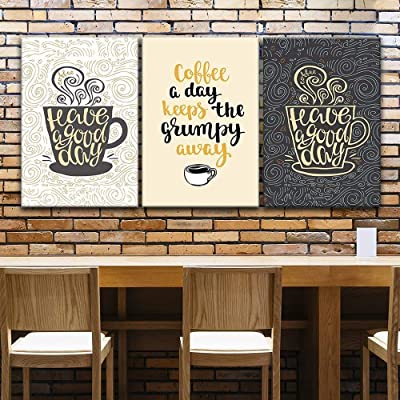 Add your own style to your coffee corner. Who says you have to follow the rules of what you see in mainstream coffee spots. A unique space probably has a better chance of becoming trendier and you can apply any style to it as you please.
This coffee decor wall piece makes a space feel warm and cozy but also artistic. It leaves room for you to be able to experiment with different interiors. You can also play with the lighting and see what works during the day and what works for night time.
Vintage Coffee Decor Ideas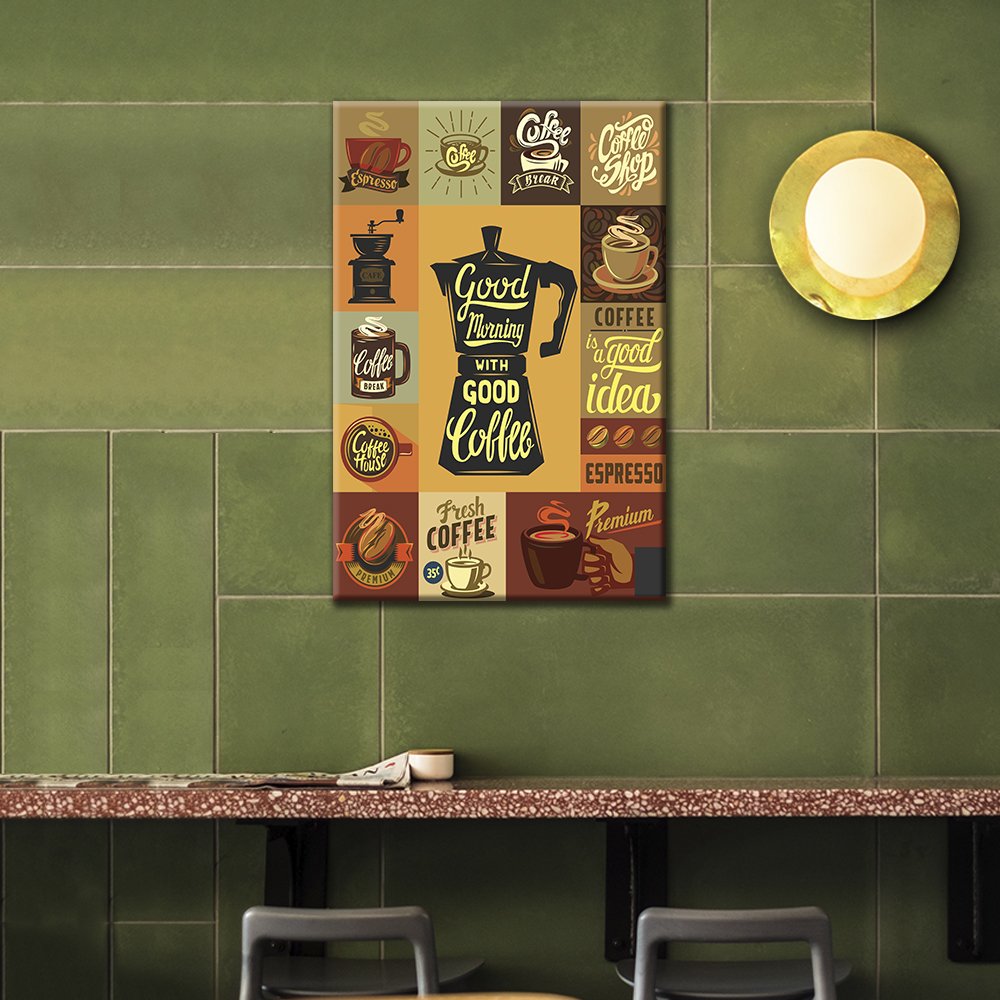 With old school aesthetic as part of this wall hanging you might get a bit nostalgic. Vintage decor is a lovely addition to other decor elements with a complementary theme. The collage can also be installed in a kitchen space as a tribute to true coffee lovers.
The unique decor idea can add value to any space it is installed in. If you are trying to go with a hipster vibe you can mix it up with this piece as well. You can hardly go wrong when it comes to bringing back the vintage trend.
Conclusion
If you find yourself daydreaming about the ideal kitchen coffee decor ideas or coffee shop decor ideas, these works of art are a great place to start.