Are you looking for wall decor? Are you starting a keto diet? For motivation, why not hang wall decor that promotes healthy eating? If you don't know what a keto diet is, it's essentially a diet that consists of eating few carbs, a moderate amount of protein and a large amount of fat. The keto diet helps to burn fat more effectively, leading to a healthier body. Now, let's look at keto diet inspired wall decor.
Spicy!
Why not try some spices to flavor your keto diet meals? This wall decor depicts a vast array of spices that can be used to enhance any meal. Why not use some paprika on your chicken and greens? Why not use some herbs when cooking? Hang this wall art over your kitchen table, and you'll be sure to start spicing up your meals. 
Sweet!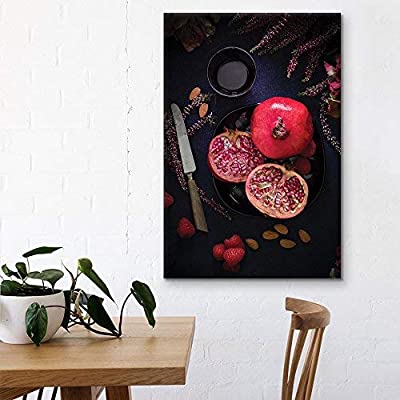 Did you know that pomegranate is one of the few fruits that perfectly complements a keto diet? It is very low in carbs and packs in lots of nutrients. Why not hang up this pomegranate wall art somewhere in your kitchen? The deep red color of this pomegranate wall decor can add a splash of dramatic color to your kitchen. 
Smooth!

Smoothies are a smart way to pack leafy greens into your keto diet. This beautiful wall decor depicts four delicious fruit and vegetable smoothies. Why not blend kale with coconut water? How about spinach with blueberries? There's a variety of ways to make your own custom, healthy keto diet smoothie. The contrasting blue and green tones of this wall decor will make your kitchen come to life!
Slice!
If you ever get tired of cooking big meals, Keto diets are simple. In fact, you can even eat most food raw! This wall art depicts three beautiful purple radishes. Just slice them however you'd like, then put them over salad. Perhaps you could just eat them as is! The dark and earthy tones of this wall decor can definitely help you get into the mood to eat healthy.
Sip!
Shop Now
Black coffee is a great addition to a keto diet! Black coffee barely contains carbs or calories, which makes it a natural fit. Just remember not to add anything fattening! This wall decor depicts a cup of joe surrounded by coffee beans. You can even drink decaf, if you'd prefer. What better way to start your morning than by gazing at this wall art as you turn your coffee machine on?
Conclusion
Sticking to a keto diet isn't easy! It takes hard work and perseverance. With a little help from some motivational wall decor, however, you can tackle anything keto brings your way. Purchase your own Wall 26 wall decor today.