n the restless world we live in, the peacefulness of galaxy themed room decor goes beyond your expectations. There is a sense of happiness gained when we just pause for a minute and admire nature. For example, people who love galaxies spend time watching live news on the official NASA website. Recently, they got the chance to witness live news of SpaceX, isn't that exciting?
As busy individuals, we could all take time off to gaze into the celestial. It not only enlightens your mood but also provides a perspective that you're looking for. Unfortunately, most people don't get the chance to witness outer space. One of the best things that offers a similar experience are space decor items. These items will help you enjoy planets, asteroids, galaxies, and everything else in the comfort of your home.
It is incredible how Astronomy and Space can leave us in astonishment. Even though these things are natural, we still admire them because of how they were created. The vastness of space is enigmatic, and no matter how you try, you will always find mysteriousness attached to it.
All in all, if you are a fan of space or a vivid stargazer, we have got a list of galaxy themed room decor ideas for you.
Oblivion is Therapeutic When It's Galaxy Themed Room Decor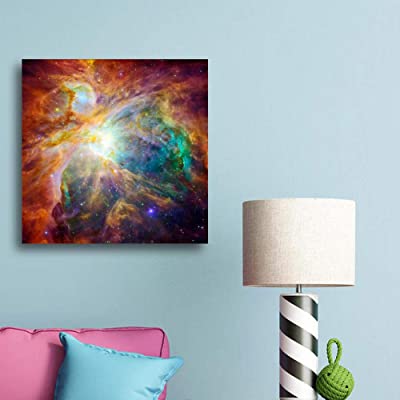 Oblivion isn't great, but sometimes it is the opposite –therapeutic. You will enjoy it in a way that you didn't imagine. Of course, we hate when we are unaware of the things around us, but imagine, spending some time staring at the galaxy themed room decor above.
It could ease all your worries and make you realize the colorfulness that you are surrounded with. Two or three minutes into the frame might offer some kind of hope because the void in the middle of the picture has such an effect.
The artist has used multi-colors to provoke an exact spaced-out feeling when you stare at the decor. This could be one of the best decors to your room.
Treat Yourself With Exquisite Galaxy Themed Room Decor Scenery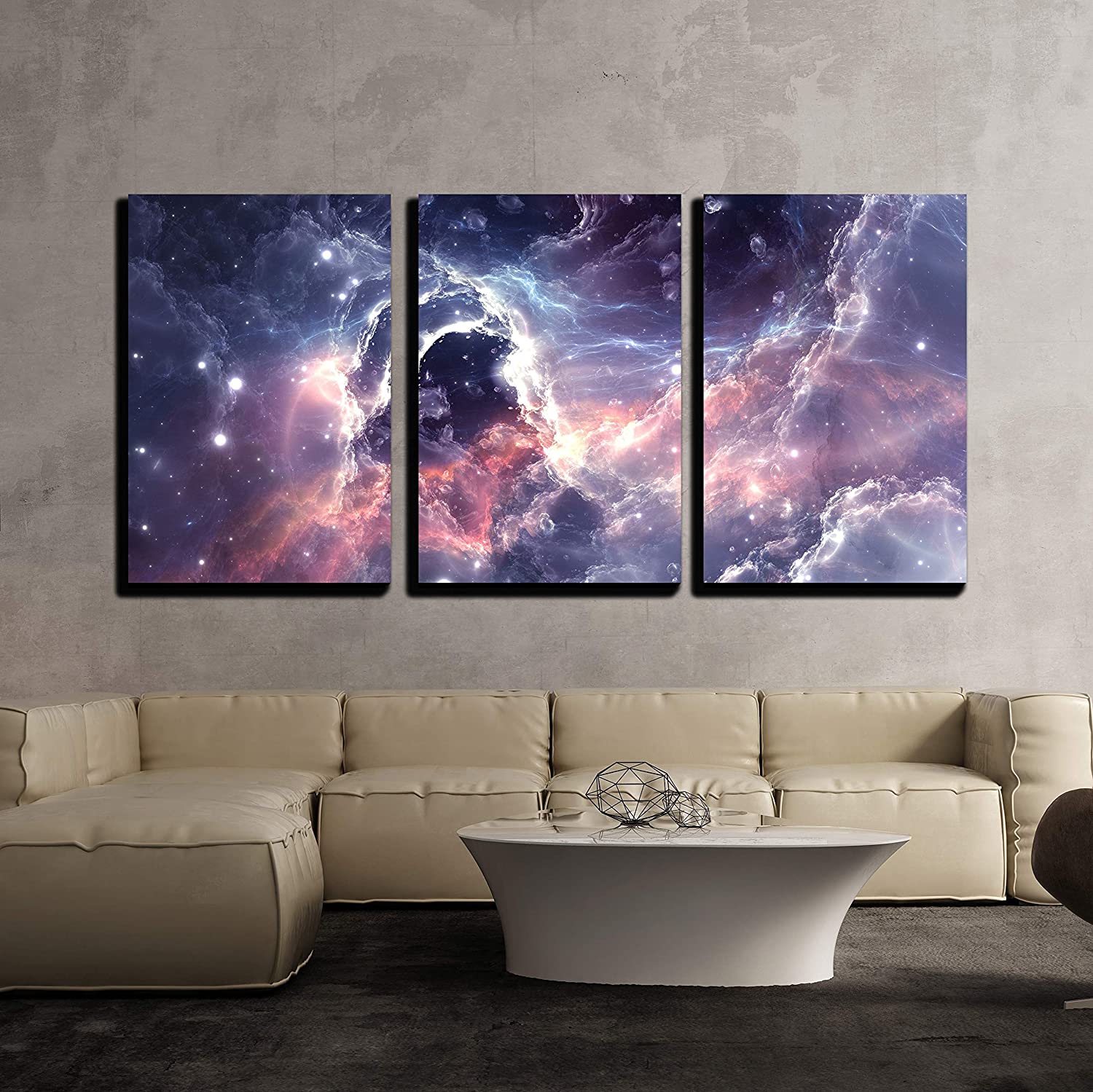 It is hard to find exquisite sceneries if you are stuck between the four walls of your room, but you can bring exquisite scenery to your room. Outer space decor ideas can help you display amazing sceneries while keeping your costs low.
The hues used in these 3 panels are electrifying, and you might realize how these shades could reflect your mood. This wall decor can create an energetic vibe that goes missing in life now and then.
This is a suitable wall decor for your living room because it can capture the undivided attention of your guests in a split second. If your living room has pieces of white furniture, this wall decor will offer the final touch to complete the overall look.
Brilliant Gathering in One Picture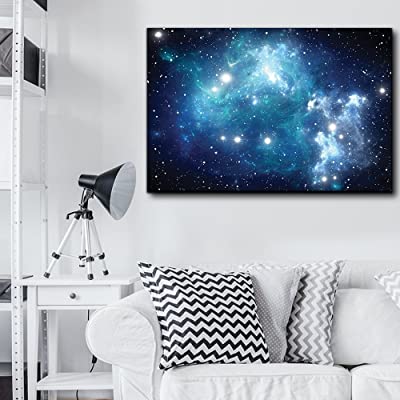 Stargazers know the ecstasy in gazing at stars. If you are also one of those people or if you love space, galaxy themed room decor is exactly what you need.
You don't have to head out to stargaze; instead, you can get settled on your bed to enjoy the stars that are plastered on your room wall. Isn't it awesome that you can now enjoy stars from the comfort of your home?
Besides, this brilliant gathering in one picture displays a lot more than one could ask for. The space-look is perfectly mimicked by the colors used in the art. It doesn't feel like art because it looks like a piece of space has been pulled out and pasted on your room wall.
The Gravitational Bound System On Your Wall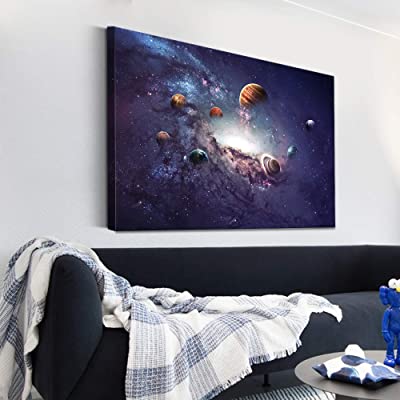 The solar system is one of the exciting things that people admire. It makes us realize how insignificant we are in a significant space. The above wall decor depicts the exact solar system we live in.
Live video experience can be enjoyed through the internet, but what if you continuously have this picture on your room wall? What if you fill your space themed decor? Wouldn't it be excellent to decorate your home in a way you love?
3D dimensional wall decor can create the feeling of realistic liveliness in your entire living room.
The Many-Hued Space Painting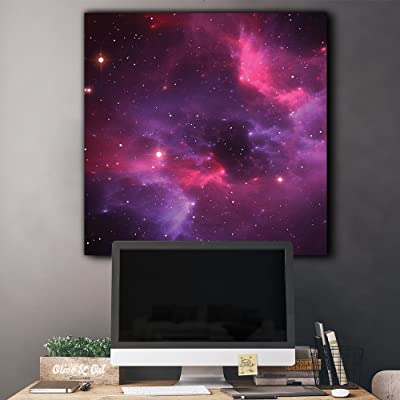 The pink and purple hues in the painting create a terrific look while spreading it to the entire space. The stars scattered throughout the frame signify the inconvincible beauty in the space.
The best thing about galaxy themed room decor is that it makes the overall space vibrant. The dark vibe in the frame can make us feel as if we can pass hurdles in life. Hence, it is recommended to place the frame in your living room or bedroom.
Once the decor is perfectly mounted to the wall, you will realize that it looks so lively, and sometimes you might even forget that it's a picture. This is undoubtedly one of the traits of a successful artist.
Everything About Relentless Exploration In Galaxy Themed Room Decor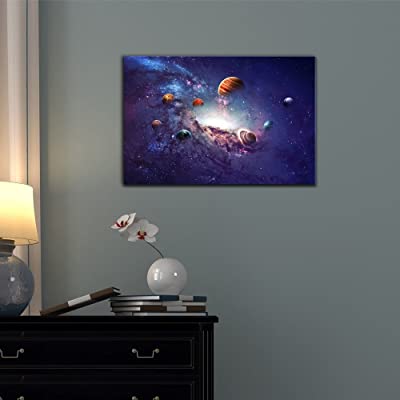 Space art accentuates the atmosphere innovatively. You might find it hard to decipher the artist's thoughts. This kind of wall art offers restless exploration, giving your thoughts endless possibilities.
The intensive use of hues is the best way to enjoy gorgeous and dynamic interior designs. If you are interested in adding this frame to your wall, make sure to keep the rest of the room decor minimal.
The main reason to keep other decor minimal is because of the vibrant colors used in the. It is not practical to add a vibrant-colored frame to your already bright interior, so make sure to add it to a lighter interior.
Wrapping Up
Selecting galaxy themed room decor is the best way to make your space fantasies real. By considering these wall decor ideas, you will be able to perfect your home's cosmic interior.