Room decor inspired by nature and vegetation can be translated in tons of ways. The imagery of leaf is one theme that is in vogue. Not only are these foliage shapes graceful but they are also a great way to add a lush vibe to your space. Great for designing a leaf themed living room.
The art and the accessories are always one of the most fun parts of revamping a space. You might be convinced to do a complete overhaul or you may just want to liven up the accents. In any case, wall decor is something you have to touch up on.
Check out some of the most sought after leaf themed living room ideas for your home.
Uniquely Uplifting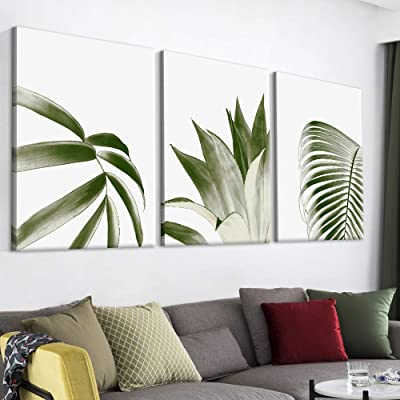 This two-tone artwork has the sophistication to make any living room sleek yet laid back. With leaves being the subject of the three-piece wall hanging, there is a casual vibe about the space.
The color scheme is intense and bordering on hyperrealism. This makes it seem like the furniture and fixtures that make up the living room are designed around the art pieces.
If you have a wide living room wall that just looks too blank, this artwork can fill it in nicely. You do not have to spend too much time looking for different wall hangings; these pieces will create the tropical or fresh vibe you are thinking of.
You can also switch it up between color schemes and patterns with these wall hangings. They complement a variety of different concepts. If you are going for a dominantly minimal look, make sure that the colors are super rich in hues.
With art like this you get to reap the aesthetic of greenery in your interior decor. All this without installing any indoor plants.
Vibrant and Unique Leaf Themed Living Room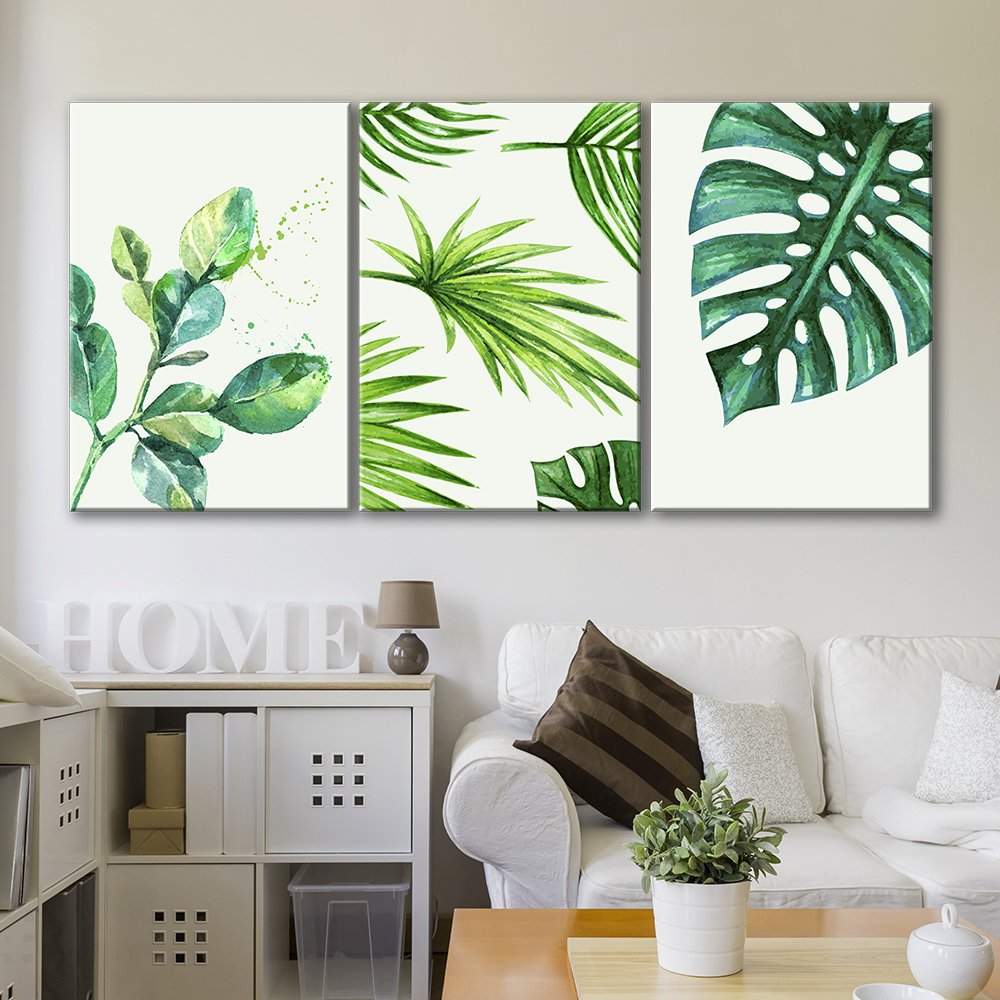 This artistic wall hanging gives you a playful feel. If you could see leaves as they bloom, this is how invigorating they would look. The wall pieces can transfer that same vibe into a living room.
If you are struggling with a monotone color scheme, consider not replacing everything. Instead, just get these wall hangings as a way to add some color. With three different shades of green your space can be quickly filled with bright disposition.
Too many neutral hues can make a living area feel cramped. Palm leaf decorations can sometimes help to make it feel larger or more inviting.
A great way to decorate your living area is to make a statement with art. Botanical imagery has always been iconic. It has been an inspiration for many backdrops throughout history. For your relaxing time to be spent in stylish flair, a leaf themed living room can get the job done.
Bring In the Tropics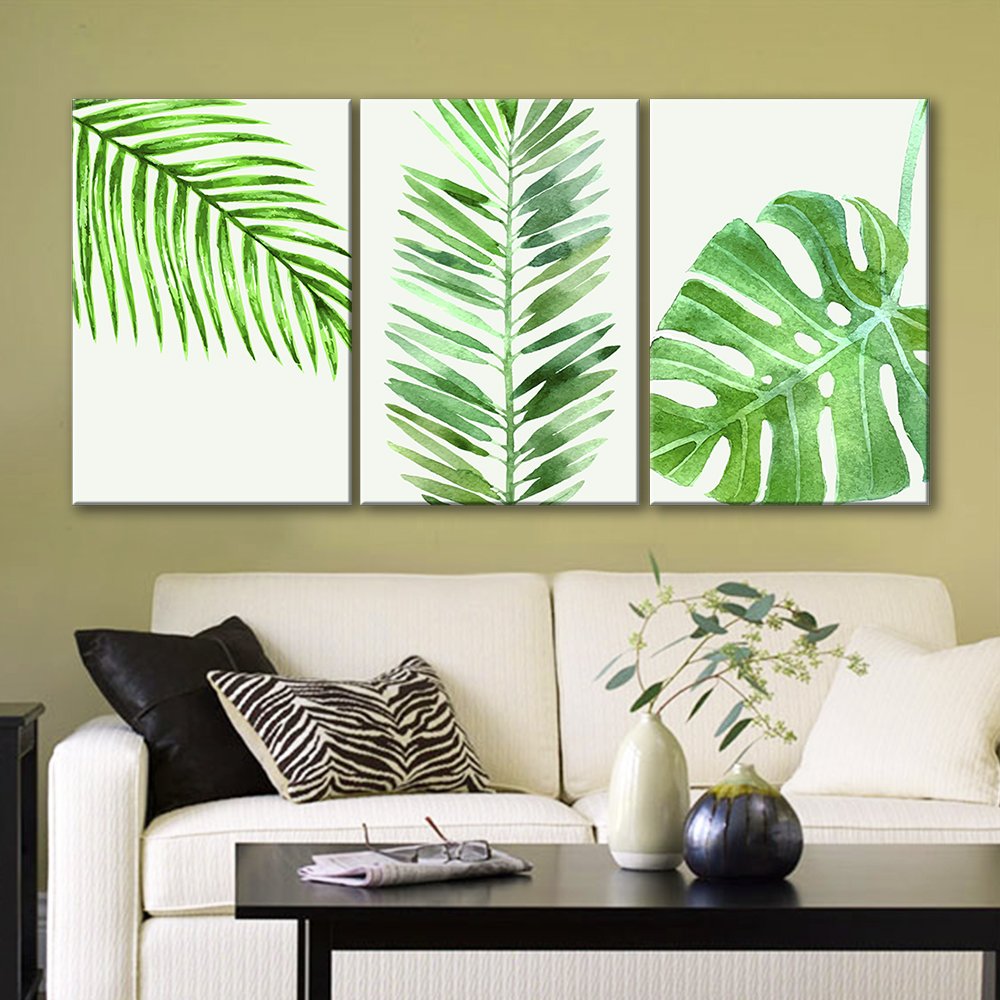 If refined art is your taste and striking imagery is what you live for, then you may love this. These wall hangings are reminiscent of spring and can spruce up a place even on the coldest of days.
Adding a splash of nature is one of the most sophisticated design choices.
If your heart is set on a leaf themed living room, this is going to be fun and easy. You can also take the rustic route with this decor style. They will only look more breathtaking when centered around a vintage ambiance. You can mix this up with a touch of contemporary style.
Exquisite Interpretation Leaf Themed Living Room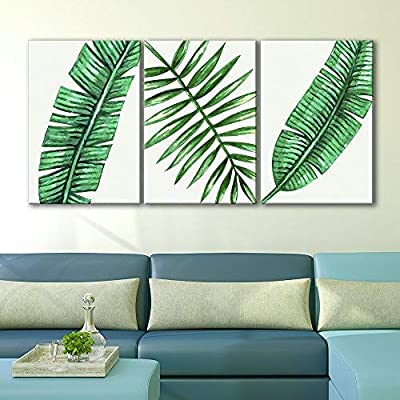 In this piece, the artistic interpretation of the plants is brilliant. This piece of leaf art can be ideal if you do not want wall decor to dominate your room.
As the 3 individual pieces, it has great potential to be mixed and matched with different elements of your living room, instead of being a standalone prop.
If your style is close to the less organic line drawings of subjects, this also might represent your taste. In addition, if you want to keep your living area casual and not so formal, this can help achieve that.
Window Into The Forest Leaf Themed Living Room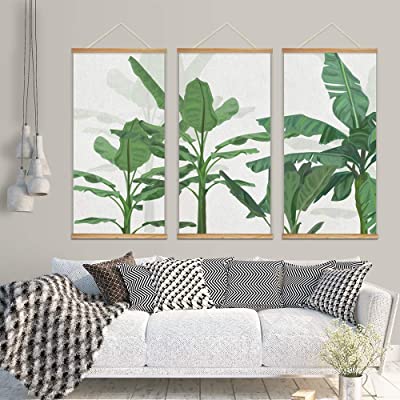 The depth perception in this hanging poster makes your space feel more open. Most of the time you can feel cramped in urban spaces and this is a breath of fresh air right in your living room.
The imagery captures the perfect angle of what you may expect if you were surrounded by these lush plants in real life. This piece also subtly gives the pleasing illusion of a window. The picture captures serenity and style packed in one.
Elegant Meets Iconic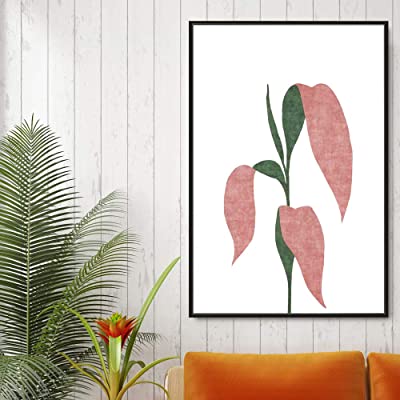 A picture that packs its own persona. This diverse piece can become a focal point of the room. It instantly modernizes the space.
The 2D vector inspired print revives the artistic approach to decorating your home that is lost on many people. It is perfect for leaf themed living rooms that are smaller or have little wall space to decorate on. It is both functional and appealing to look at.
The carefully chosen two-tone color scheme helps in making the impact for the onlooker. You can hang it next to any wall paint or paper that you choose.
Conclusion
When searching for the best elements to complete a leaf themed living room, you may come across autumn leaf decorations and maple leaf decorations. Whatever you choose has to come from a place of choosing your personal aesthetic and making it a part of your living room.
As you host your guests or have some friends over, wall hangings can make a ton of difference in the way your interior decor style is perceived.