Are you searching for mermaid bedroom ideas to celebrate the beauty of these mythical creatures? Throughout history, many have debated whether mermaids are real or not. No matter their opinion on the latter, most fans love these creatures for their natural stunning look.
Are you a fan looking to decorate in the style? If so, here are some mermaid bedroom ideas that might interest you.
Mermaid from Afar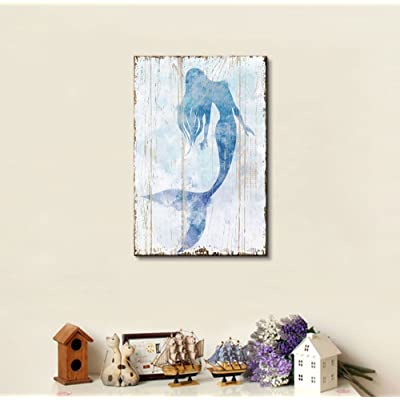 This work comes out on top of our list for several reasons. Firstly, it is beautiful and serene. Secondly, its abstract nature makes for an even more astonishing view.
You will love the ethereal feeling that the painting brings. Whether you're looking for a perfect piece to display on its own, or you would like it to function as a part of a decor theme, this piece of art could be a great choice.
Note that it works better on light-colored walls. This way, you will be able to highlight its beauty.
Up Close Illustration Mermaid Bedroom Ideas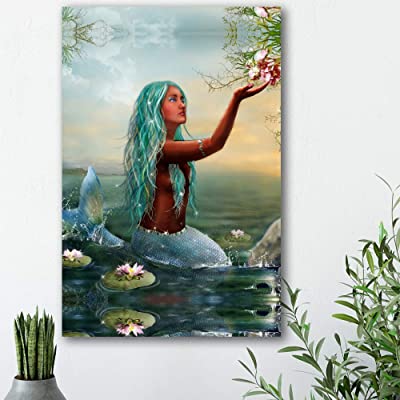 If you want a mermaid bedroom decor that captures her up close and personal, this is the perfect choice for you. This painting portrays a humanized mermaid by herself in a lily pond.
This work depicts one concept of what a mermaid might look like, and it does so with pristine beauty. It doesn't feature any inappropriate content, so you can even put the art somewhere children will see it.
It is also worth mentioning that these mermaid themed bedroom ideas work for bright and dark colored walls. If you've got a wall, this canvas painting can grace it.
Icy Themed Rustic Portrait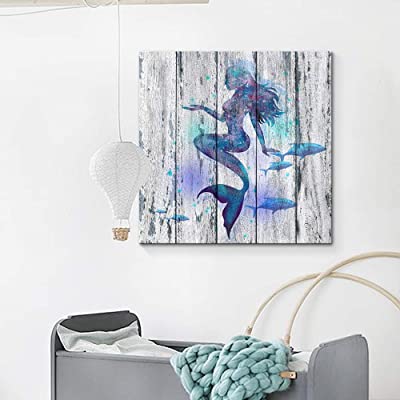 This is another portrait that captures the beauty of the creature's body, but which does so through silhouette.
The artwork also appears to have taken its inspiration from the icy regions of the world. The white undertones and cool blues depict ice and glaciers. The mermaid and other signs of life provide the only warmth with their physical presence.
You will love the originality of this work of art. Anyone else who loves art will also appreciate the depictions there. Rest assured that you can pretty much hang it anywhere you would like in the house given that it matches the decor.
Mermaid and Dolphin Interacting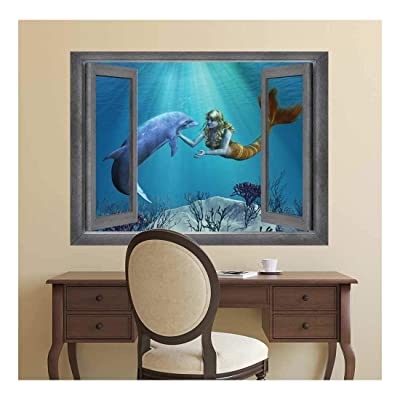 Mermaid bedroom decorating ideas should be fun and lifelike. You'll hardly find a mermaid painting that looks and feels more lifelike than this beauty above.
The artist who worked on this one did a pretty good job of adding all the necessary vivid details. The underwater effects look quite realistic, as there is even sunlight shining through. There is absolutely everything to love about this piece of art here.
Mermaid on a Rock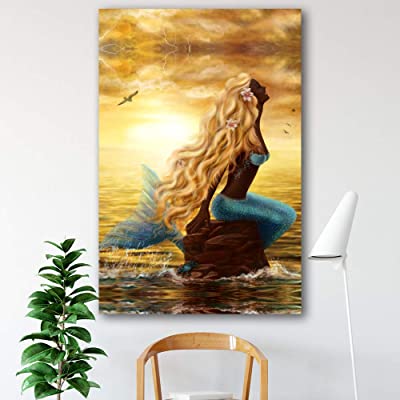 Here is another piece that depicts a mermaid up close and personal.
Here, you have a portrait that shows a mermaid in all her full natural and mythical beauty. Her blonde hair flows with the setting sun, while the waves and the sky are also highlighted in all their majesty.
Dark Mermaid Silhouette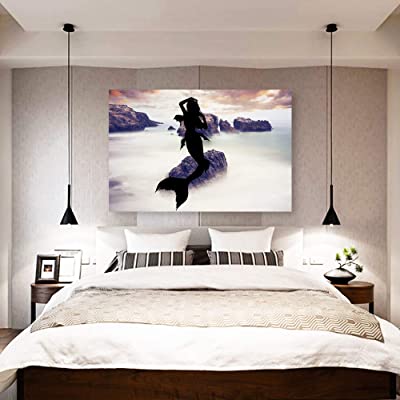 As the illustration picture shows, this portrait can work well above a bed. It is vivid and strong, with a kind of feeling that can resonate with every aspect of your room.
Instead of sitting on a rock, this decor makes the Mermaid appear as if she's standing on her fin. Besides the beautiful image, the portrait also shows a view of the natural ocean setting.
This piece of art is great for someone who loves nature. Note that like many other works out there, it is most likely better with a light-colored wall behind it.
Cartoon Illustration Mermaid Bedroom Ideas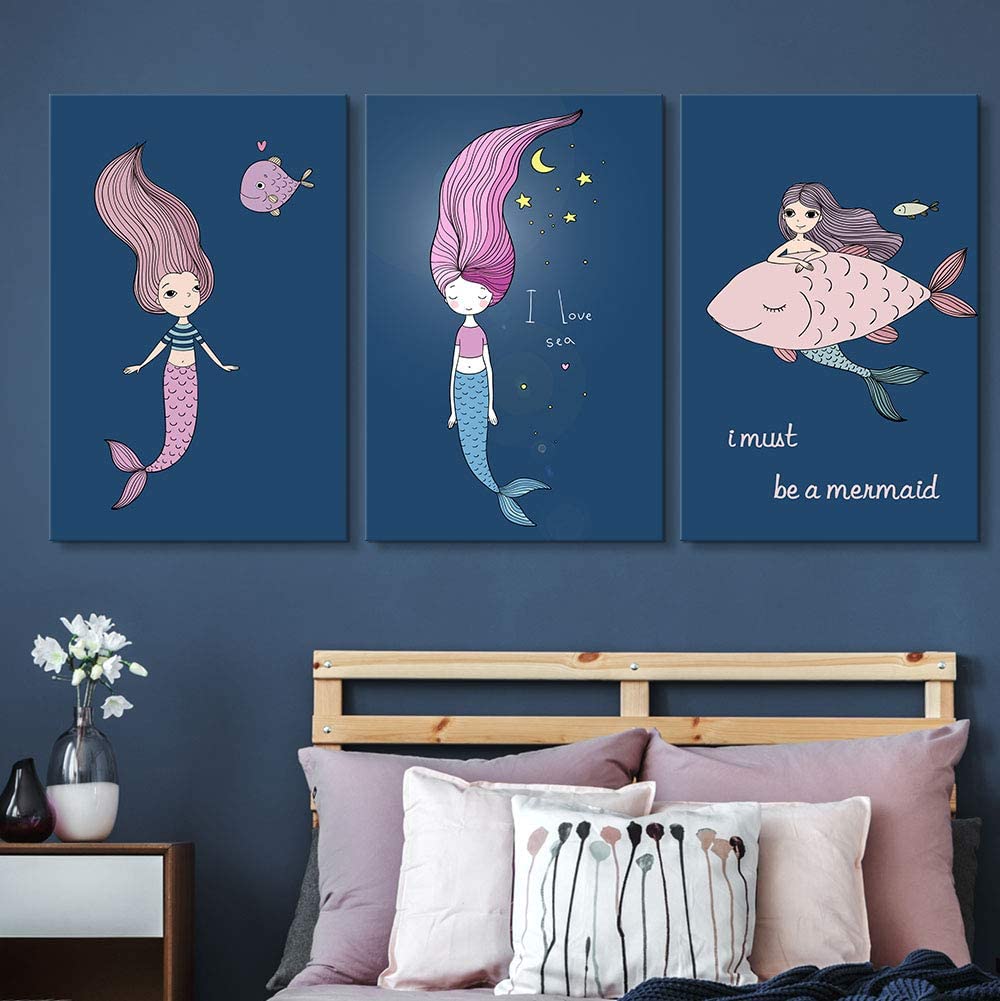 This wall art is made for a kids room. If you've got children who are fond of these fantastic beings, mermaid bedroom ideas like this are perhaps the perfect gift. It perfectly combines two things that children love — mermaids and cartoons.
You will also love the fact that the painting works best for dark-colored walls. It's high-quality and very lifelike, giving you a proper depiction of these mythical creatures.
Lifelike, Full-Wall Murals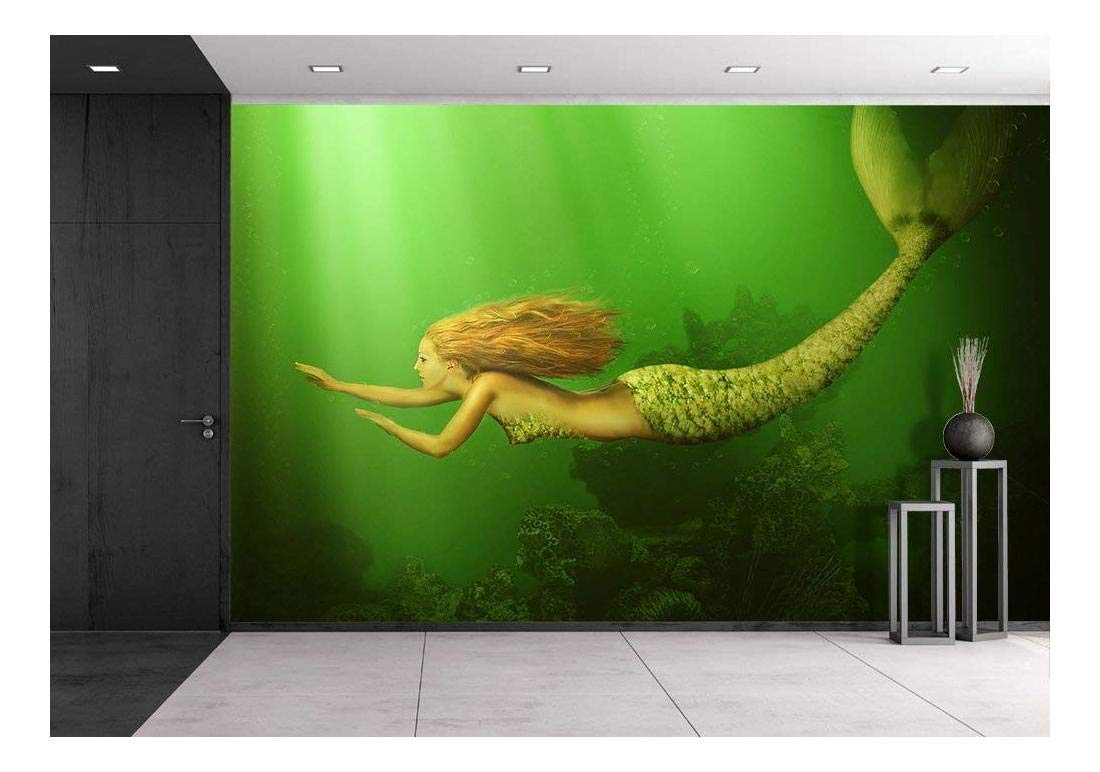 Almost every art aficionado loves full-wall murals. Well, mermaid bedroom ideas and decor come in full-wall sizes too. The work of art is beautiful and highly coordinated, with all the details available for you to see and embrace.
Since this is a full-wall painting, you don't have to worry about the type of wall it fits. It glosses over your entire wall.
Sunset Mermaid Bedroom Ideas
Last but definitely not the least on our list is this gem. It's clear and simple, but there's no doubt that it can transform how your room looks.
This picture has all the aspects of natural life in it. You get the depiction of the mythical creature, as well as a beautiful illustration of the ocean and the sun as it sets. The sun's glow further beautifies the sky.
Conclusion
The beauty of mermaids is one that can't easily be accurately described. However, the images we've laid out for you have done a pretty good job of depicting how stunning these creatures are.
If you're an aficionado, getting any of these mermaid bedroom ideas is a great way to express your appreciation of them and communicating it through decor.