We have to mention Banksy home decor when we talk about graffiti interior design style.
Banksy, this name will forever appear in the history of street art. Yet, so far nobody has seen him. There is no picture of him on Google. Everything about him is a mystery. Yet, he was a top 100 artist of TIME Magazine in 2010.
We do know that he is from England, but their government doesn't like him. He printed "fake pounds" and even insulted the queen. Yes, you heard me. His artwork insulted the queen. That doesn't matter though, even "Sherlock Holmes" wouldn't be able to find him.
As one of today's most famous street artists, Banksy was originally known for his graffiti. His work combines spray paint and stencil making techniques with commercial, political, and contemporary images that incorporate ironic social commentary and humor.
In recent years, different pieces of Banksy artwork have been sold for high prices at auction. Lots of collectors and celebrities spend millions of dollars to buy them. For this reason, Banksy art has become more than a symbol of graffiti and street art.
His artwork has become a tradition, with more interior designers incorporating Banksy wall art prints into room layouts. Here are 4 examples of how to use Banksy decor in your home.
UK No.1 Favorite Artwork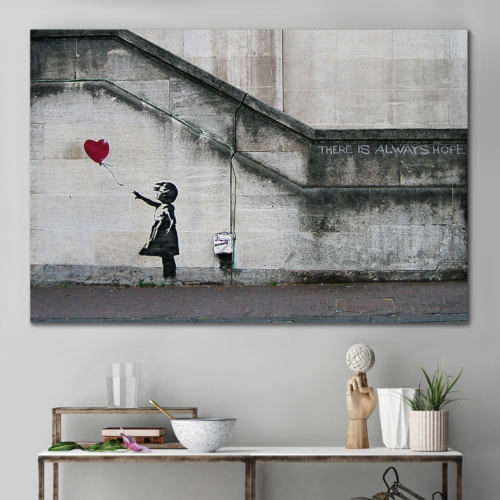 According to YouGov's research, Banksy is the 4th most popular artist and the 5th most famous artist among the British. From this research, we can conclude that the British prefer Banksy to even Picasso. His ranking is only lower than Da Vinci, Van Gogh, and Michelangelo. Moreover, in the younger generation, people see Banksy as their favorite artist. Furthermore, in 2017, Banksy' graffiti work "Girl With Balloon" became Britain's favorite work of art.
Among all of his graffiti artwork, Girl With Balloon is quite possibly one of Banksy's most famous pieces of art. It shows a little girl with a hand reaching toward a heart-shaped balloon that is drifting away. This work appeared in London and symbolizes hope.
Additionally, it should be noted, an official copy of this piece suddenly shredded itself during a 2018 Sotheby's auction. This was done by a device that was hidden in the artwork by Banksy. Banksy admitted that he planned the shredding and decided the changed piece needed an adjusted nickname, Love is in the Bin.
This event happened on the spot. Some people thought Banksy had predicted this artwork would appear in the auction. To prevent this from happening, he hid the small shredder into the frame. Even so, what he might have not expected was that after this artwork was damaged, the price went up from 1.04 million pounds to nearly 2 million pounds. Only the greatest artists could ever achieve their work being worth more damaged than fully intact. Maybe this is the charm of Banksy's graffiti art.
Therefore, if you would like to try a graffiti interior design style, this Banksy home decor reproduction artwork is a must-buy.
Don't Mess With The Panda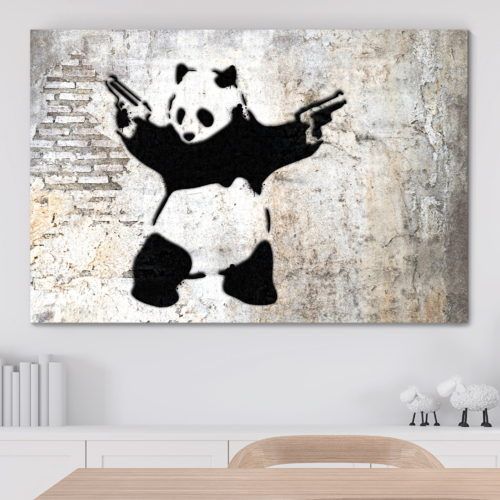 This work of art depicts a panda, but he is not the normal cute fuzzy Panda we are used to. He is holding two guns in his hands. He seems angry and ready to fire anytime. Apart from this, the panda looks like a western cowboy. But is that it? Is this piece of Banksy home decor telling people to be violent? Certainly not.
In this artwork, Banksy is expressing his view that everyone is equal. He thinks that if the balance is broken, things may become dangerous. People should try to love and understand each other. Hence, Panda with Guns is a great option to include in your Banksy home decor. Some may even put this in the scope of abstract interior design in home decor. This work is most certainly a part of street art culture.
Love Is In The Air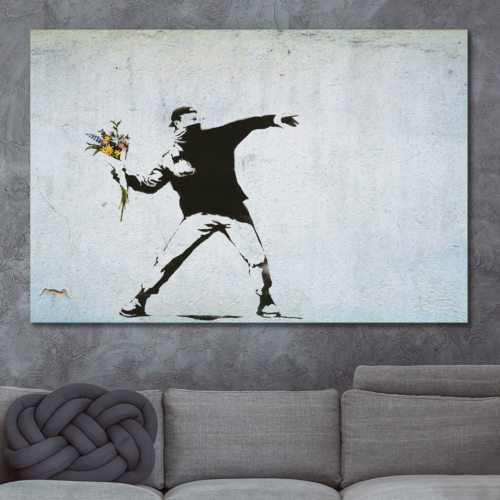 Most of Banksy's fans love him because he has a warm heart. He hates war and loves peace. For this reason, he often uses his graffiti art to satirize the government and politicians. Hence, he is not welcomed by most governments and his artwork is usually removed after just a few days.
Now we are going to talk about another Banksy artwork, which was created in a very dangerous place, Jerusalem. During that time, it was practically a war zone. Some say, when Banksy was creating this artwork, the soldiers were looking at him and telling him not to do that. Guess what? Banksy ignored them, even though they were armed.
This iconic work of street art first appeared on the border of Palestine. It is very controversial. It shows a protestor throwing a bouquet where one would generally expect a handheld explosive.
By doing that, Banksy is advocating for peace instead of war. This is him trying to send a message to governments and people. To tell them, he believes dropping the weapons and embracing peace is a good choice. People have different cultures, and conflicts are quite common. However, Banksy believes that war is not the answer. That we should always try to understand each other. To let love and dialogue happen between the two countries.
That's it. Banksy showed us courage and love through Rage, The Flower Thrower. He was using this art to tell the whole world he thinks peace and love are more important than anything else. With this in mind, this is a fantastic choice when you use Banksy home decor for your space.
Tagging Robot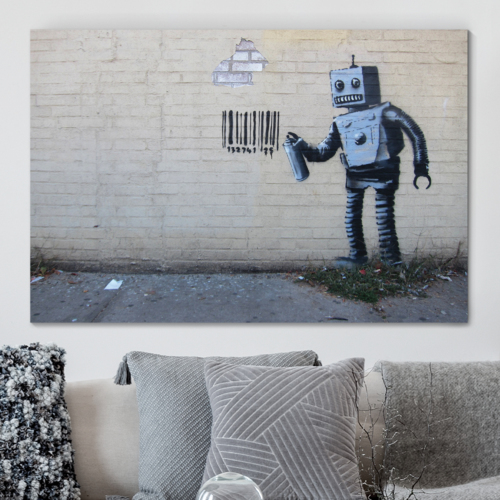 We have seen many Banksy Robot works before. There is also Girl and ATM Cash Machine Robot and Robot Boxhead Boy. This is a new Banksy robot work of art, A Tagging Robot. This artwork was produced during Banksy's month-long "Better Out Than In" tour.
The reason we suggest that this work is interesting is that it implies something. This number under the barcode is the code for the human DNA sequence. Do you find that thought-provoking? This is an interesting piece of Banksy home decor, which you should consider for your space.
Get Your Own Banksy Home Decor
All in all, Banksy and his art represent independence, rebellion, creation, and indifference. He never repeats his work. He also never cares when his street wall art gets removed. Lots of cities do leave his artwork though.
As a result, lots of government officials dislike him. They blame him for damaging public property. Politicians don't like him either, because his art often satirizes them.
Now you can have a Banksy art style decor at home, which will pull you into Banksy's world whenever you step into the room!