If your friend is crazy about cats, this is your chance to get them some cat-themed gifts. Instead of sticking to regular gifts like cat-themed t-shirts and ornaments, you can consider wall decor. It is unique, exciting, and thoughtful.
Perhaps, as a cat lover, her home might be already full of cat gifts and –fur! Well, yes, that's normal, but what about adding wall decor to the gift collection? Cat framed art will easily add a personalized touch and inviting look to the surroundings.
Your friend will be over the moon when you give them cat-themed gifts because cat lovers love everything about cats. However, cats are naturally beautiful, playful, and friendly, even though most dog owners say otherwise.
John Amodeo, Ph.D., MFT, the author of Dancing with Fire: A Mindful Way to Loving Relationships, shares a detailed article on why humans love cats. From cats, you get the affection that you long for, and it's something the author discusses with facts in the article.
Similar affection can be created by adding cat wall décors to your home. Moreover, cats just being cats can quickly generate a lot of emotions for the entire house. The wall décors of them jumping, lounging, stretching, and playing, to name a few.
Now that you know what to offer to a friend who loves cats check our collection to shortlist your choices of gifts. Here we go:
All You See Is The Black Cat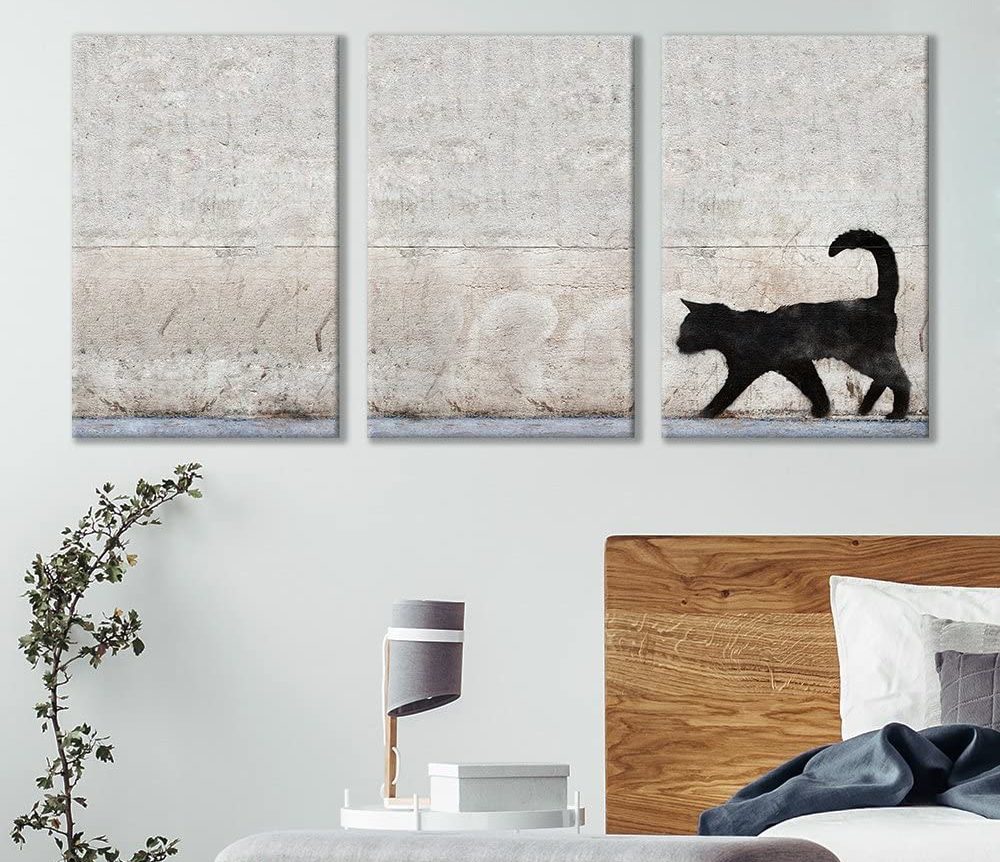 Black and white together can create a sophisticated yet stylish look just like the wall decor above. The 3-piece wall canvas has nothing but a black cat that signals for you to grow beyond your potential.
Spiritually speaking, black cats are associated with different superstitions. One part of the world considers it good, whereas the rest finds it bad. However, the color black has the potential to seize the focus.
The light colors in the background make the wall decor a unique cat-themed gift. Using two light shades in line is a challenge that has been successfully depicted in the picture above.
The simplicity of the overall wall decor offers more attention to the black beauty in the canvas, and that's why it's one of the ideal cat lover gifts.
The Epigrammatic Look – 3 Panel Cat Themed Wall Art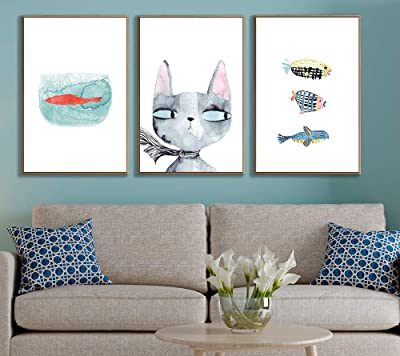 This wall decor is amusing, intelligent, and concise. One might consider placing each piece on different walls as the overall painting has no connection. But if you try doing it, you will realize the loss of the epigrammatic look.
The beauty in this canvas is the difference it holds together, making it one of the perfect cat-themed gifts for girls. It is an ultimate level of creativity to add two ends into one frame; fish and cat.
The artist made sure to add different kinds of fish to the frame, making it a thought-provoking painting. The confused yet impatient look in the cat's eye flavors the artwork distinctively!
Among all the cat-themed gifts we've gathered, this particular canvas has proved that you don't need bright shades to highlight prominent features. All three pieces have lighter shades, yet we do not let our gaze move away from this trailblazing masterpiece.
Candid Yet Focus Stare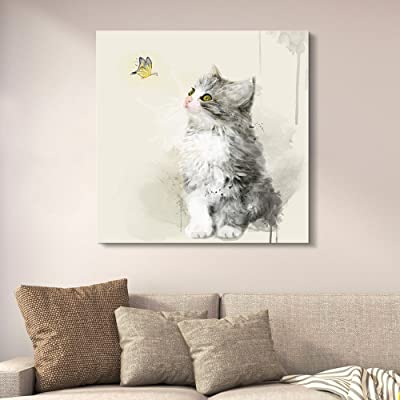 Selecting gifts for cat lovers is super simple because you only need to check whether there's a cat involved. But this canvas is not about engaging a cat for the sake of it; instead, it is a sensible piece of work.
If you take a look at the picture, you can see the tiny yellowish butterfly making a stance in front of the cat. By nature, cats have the sensation to catch anything that moves, so in this painting, the artist has entirely drawn a candid yet focused stare. Overall, it looks authentic.
In all the cat-themed gifts we have mentioned, this also takes greater joy in adding light shades to the picture. The fluffy cat has been portrayed with extreme beauty making us stare longer and longer.
Warmth in The Snuggle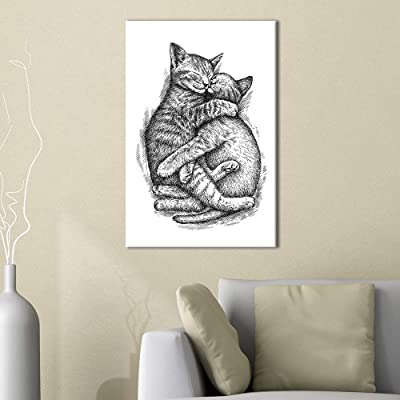 When your friend says, "I love cats," they mean it, so shouldn't you find the absolute perfect gift for her? The above wall decor creates warmth just like the snuggling cats. The drawing portrays and spreads love and endearment to the interior of your home.
When looking for cat-themed gifts, you must make sure that the canvas best suits your friend's home. However, you don't have to worry much if you are purchasing light shade canvases like these.
As the background is white and the snuggling cats are sketched, it will suit any walls despite its paint color. You can also place any furniture without thinking twice. That's a significant feature in this wall decoration.
'She Sees You'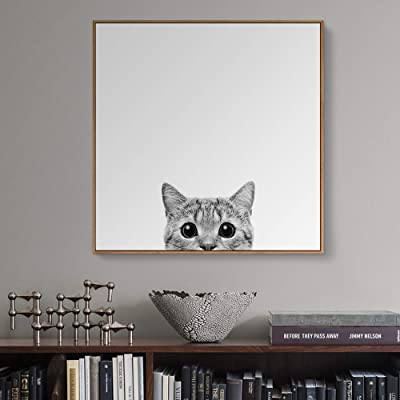 This is one of my personal favorites in the collection because of the tiny creature's empathic look. Her petrified look makes us weak, and that's a cat's trait. Cats can drive us crazy through their cute, naughty, and witty behaviors.
In this wall decor, we can see that the artist has drawn a cat playing peekaboo for the rhetorical answer "She See You." The creativity of the artist is mind-blowing. Also, the borders of the frame complete the canvas. This can be one of the gifts for a cat lover who owns a home library.
Won't this canvas give the whole "shush, it's a library," warning?
Wrapping Up Cat Themed Wall Art
We have discussed five terrific cat-themed gifts for your cat-lover friend. These gifts are not typical but unique. We assure you that she will fall in love with the art decor as the canvases consume the wall's ample space. Thus, she can have cats all over her place, making it a cat-heaven!
Decorating the home with cat wall decor will make your friends happy and all those who visit. They will feel the sense of warmth, happiness, and vibrant nature that cats resonate with.
Now is the time to get started with your gift shopping!