What's a movie buff's home without cinema room decor? This style of decor is an excellent choice to beautify your walls and hallways with. Cinema room decor depicts artworks and paintings of theatre and cinema elements that represent the movie lifestyle and culture.
Are you a fan of classic movies and love the old theatre days? If so, then maybe this wall decor style is just for you!
When placing it in your home, you may have to consider a few things.
What does the artwork say to you whenever you look at it, and where is it likely to have the most desired effect on you? Is it a piece so beautiful that you would love everyone that visits you to enjoy it with you?
These are typical factors that would determine the best place for the canvas paintings in your home. Ready for the show? Lights, camera, action!
Cinema Room Decor Styles That Remain Evergreen
Want to discover the best kind of cinema decor for your place? Take a look at the seven options below.
1. Classical Collage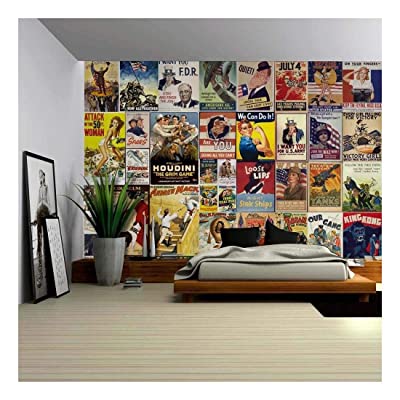 What better way is there to connect with movie freaks like you than to have them excited the moment they see this wall mural?
This collage of movie covers can give your sitting room a cinematic ambiance. The full wall cover can already have your guests entertained as they engage you in recounting scenes and moments from their favorite movies.
2. Vintage Cinema Room Decor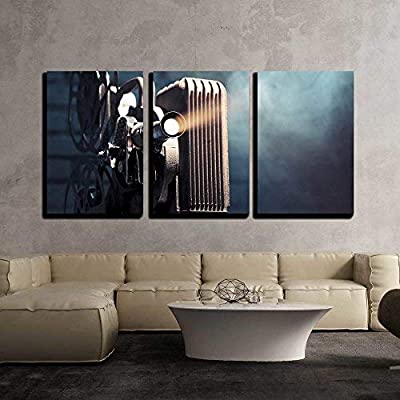 This old movie projector painting definitely brings back memories of romantic movie dates at the theatre and major highlights of past years. Its glowing aura can leave you enchanted as a wave of nostalgia sweeps through you.
It brings back memories worth retrieving and experiences worth reliving. This 3-piece art print would fit perfectly in a cool setting, such as your bedroom.
The bathroom is another place it can have a lasting effect. Bask away into the sight while in the tub.
3. Still Got 'em Reel Stacks?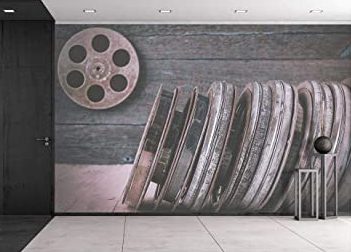 If you've been a movie fan for a long time, then you might have stacks of DVDs, VHS or maybe even some old reels of your favorite films. You may even still have some right now. If you do, you're definitely smiling now at how much of a sucker for those films you are.
These reels hold some immeasurable value, and it isn't easy just to throw them out. So, on the shelf, they'll sit, like the pretty little antiques that they are.
Imagine placing this reel stack wall decor just above that shelf.
4. Dreamy Cinema Room Decor
That serene moment when the stage is set, the cinema falls silent, and the movie projector lights up the darkroom would always be one of the most cherished by movie fans. Even when you can easily download the movie and watch it in the comfort of your home, you prefer the theatre. You wouldn't miss the theatre experience for anything.
The old school cinematic culture is dwindling, but you stick around still. It almost feels like you're trapped in a beautiful dream you don't want to wake up from. The life of a movie freak, a true film-worthy thriller.
This tapestry is just the perfect movie theatre living room decor to grace your wall with. It can bring the theatre energy right to your home.
5. The Film Kiss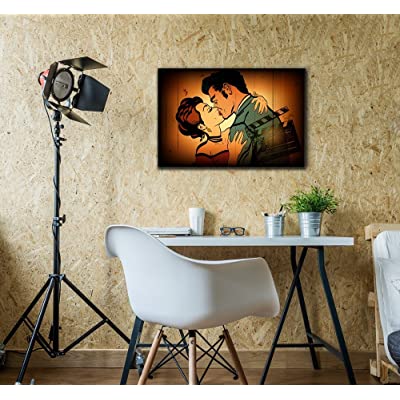 This decor depicts the highly anticipated moment when the movie protagonist holds his lover in his embrace and gives her a passionate kiss. This is almost always the magical climax for the love story in the film.
6. The Graphic Reel Cinema Room Decor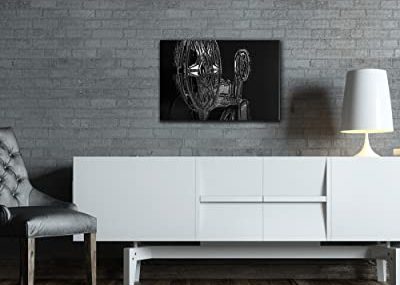 This piece seems to recognize that its time has come and gone. The cinema box room decor depicts an old motion picture projector, not in use today.
7. The Future Remains Bright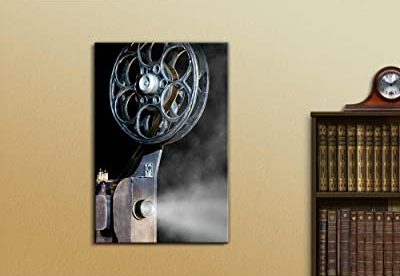 This canvas painting is just the movie theatre room decor you need to remind you about your love for classic cinema.
You can decide to place it anywhere you want in your home. You can't go wrong with wherever you choose.
Conclusion
These examples of cinema room decor, no doubt, transcend time and are true endearments of the art. They are bound to make your home come alive with a cinematic atmosphere.
Surround yourself with these pieces that portray your love for the theatre and welcome people into your world with them.