You can use the walls in your kitchen to tell stories. There are so many different ways to do it. You can use anything from fruit themed kitchen decor to cute culinary artwork. Yet, when you begin decorating, you must first set the tone by analyzing the kitchen's atmosphere.
One obvious option is to add a delicious tray of mouthwatering food themed art to the wall. Regardless of the type of canvas you add, make sure to tie the elements to your kitchen's interior.
Now, let's dive in to find the most enchanting kitchen wall ideas.
Lemon Fruit Themed Kitchen Decor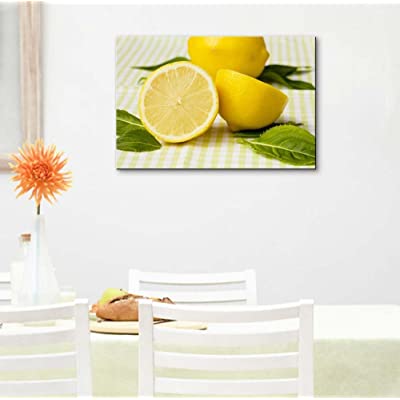 "When life gives you lemons, make lemonade," is a famous saying. Sometimes, you might let your mind run wild imagining how creative you can get in your kitchen.
The yellow and white checked table cloth in the art doesn't create a contrasting look. Rather, the fresh leaves complete it.
Adorning your kitchen walls with fruit themed kitchen decor shouldn't be too difficult of a decision. It's hard to go wrong if you stick to simple canvases like this.
Healthy Food Inspiration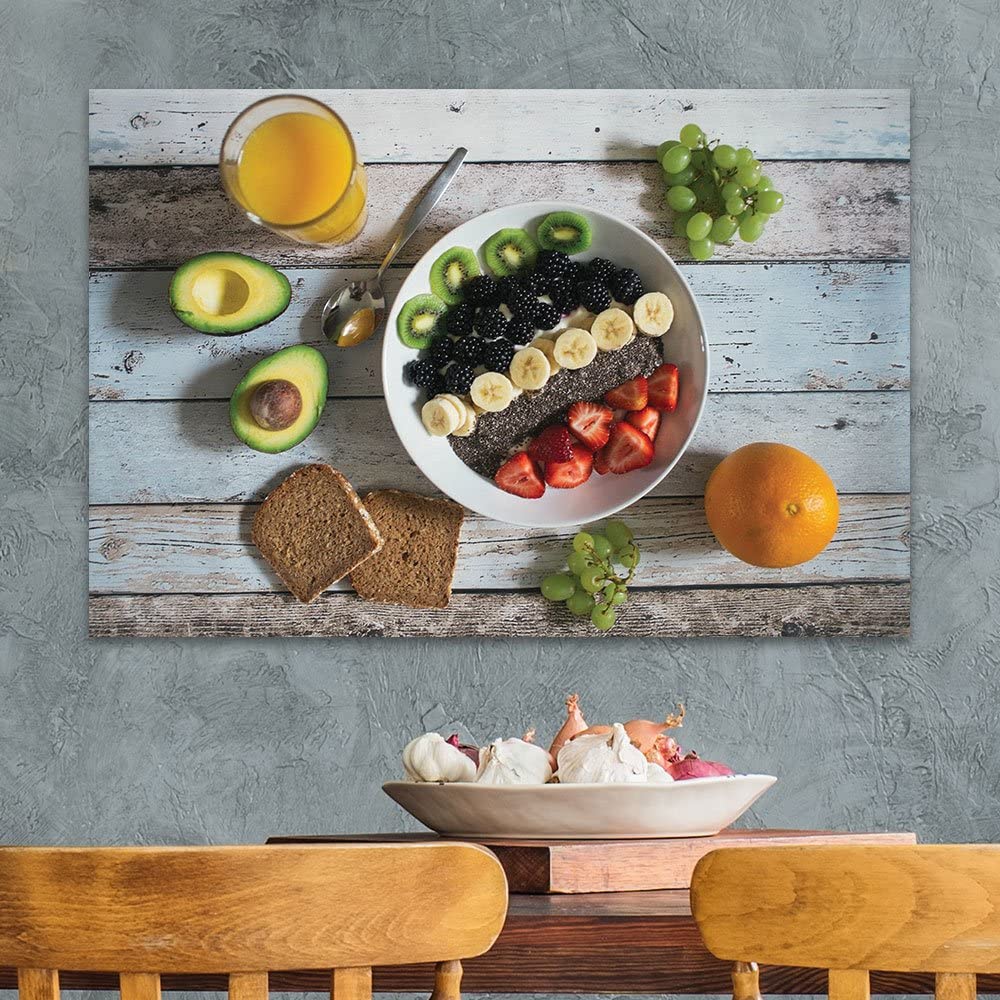 Maybe you want to inspire your family to eat healthy. If you hang healthy choices on the wall that look delicious, it might inspire your family to eat healthier!
You can find lots of art that showcases healthy food in our fruit themed kitchen decor collection.
Even if your kitchen has little to no decor, one piece of art like this can elevate the setting.
What's more is that the natural food colors can also work wonders. So, it's not surprising if this canvas creates a vibrant change in your kitchen!
Fun And Abstract Fruit Kitchen Decor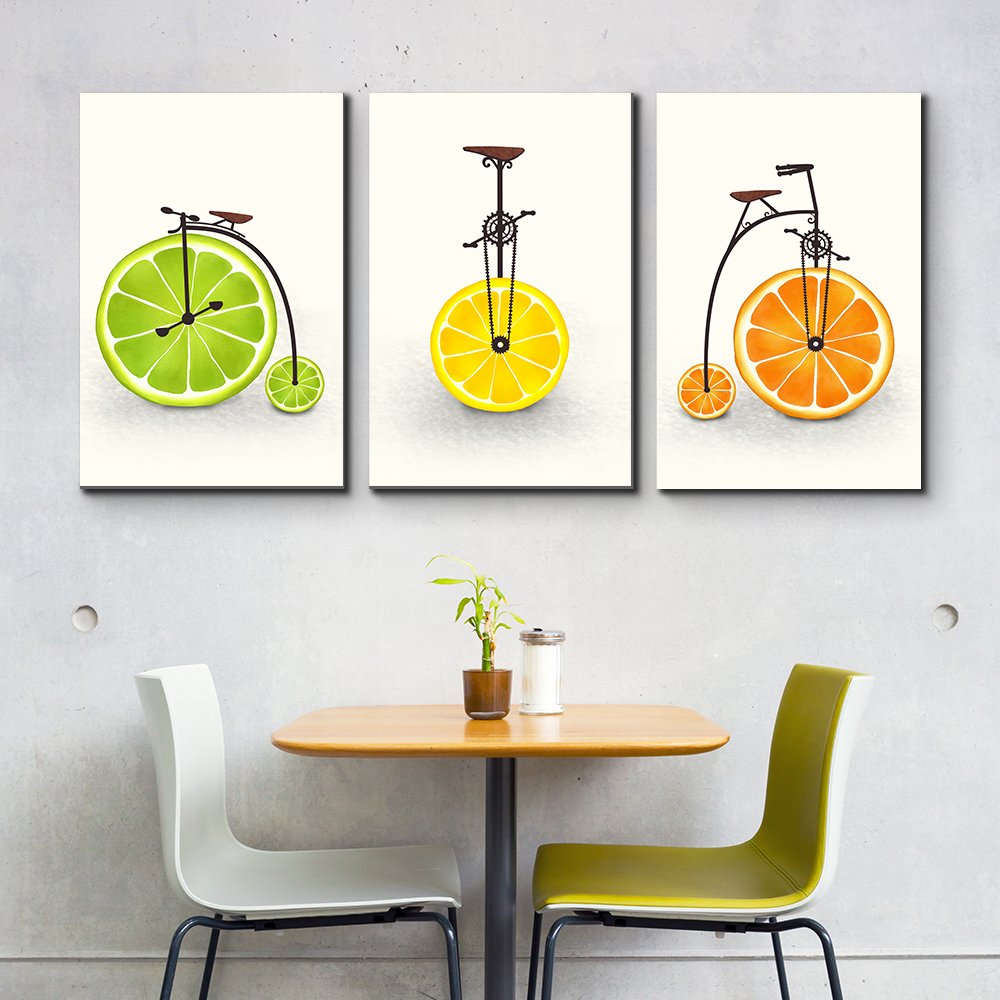 This 3-Panel set features bicycles that use citrus slices as wheels.
Three contrasting yet complementing colors also make the picture more fun and engaging.
Placing this fruit themed kitchen decor in your kitchen wall could be a good choice as it offers a fun vibe.
Getting creative with food elements is not easy but the artist deserves a standing ovation for this piece!
Splashing Lemons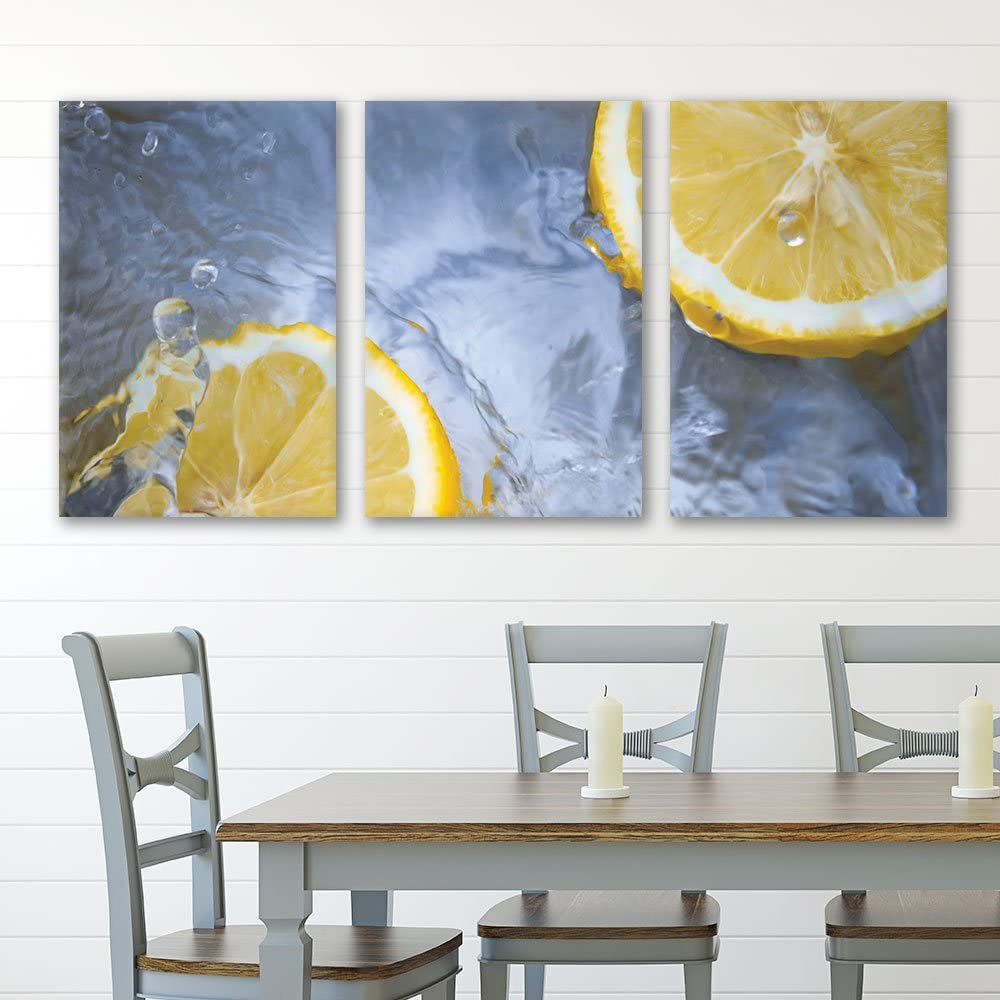 This fruit themed kitchen decor can compliment almost any kitchen. Unlike other wall art on this list, this one can match mostly every wall color.
This three-piece wall art includes very simple elements, such as water and lemons. The water splashes make the canvas look even more authentic.
The naturality of the picture can create a refreshing vibe. Though cooking is therapeutic, there are times when you get exhausted. Having this art in your kitchen could lighten up your mood.
A Refreshing Orange Slice As A Fruit Themed Kitchen Idea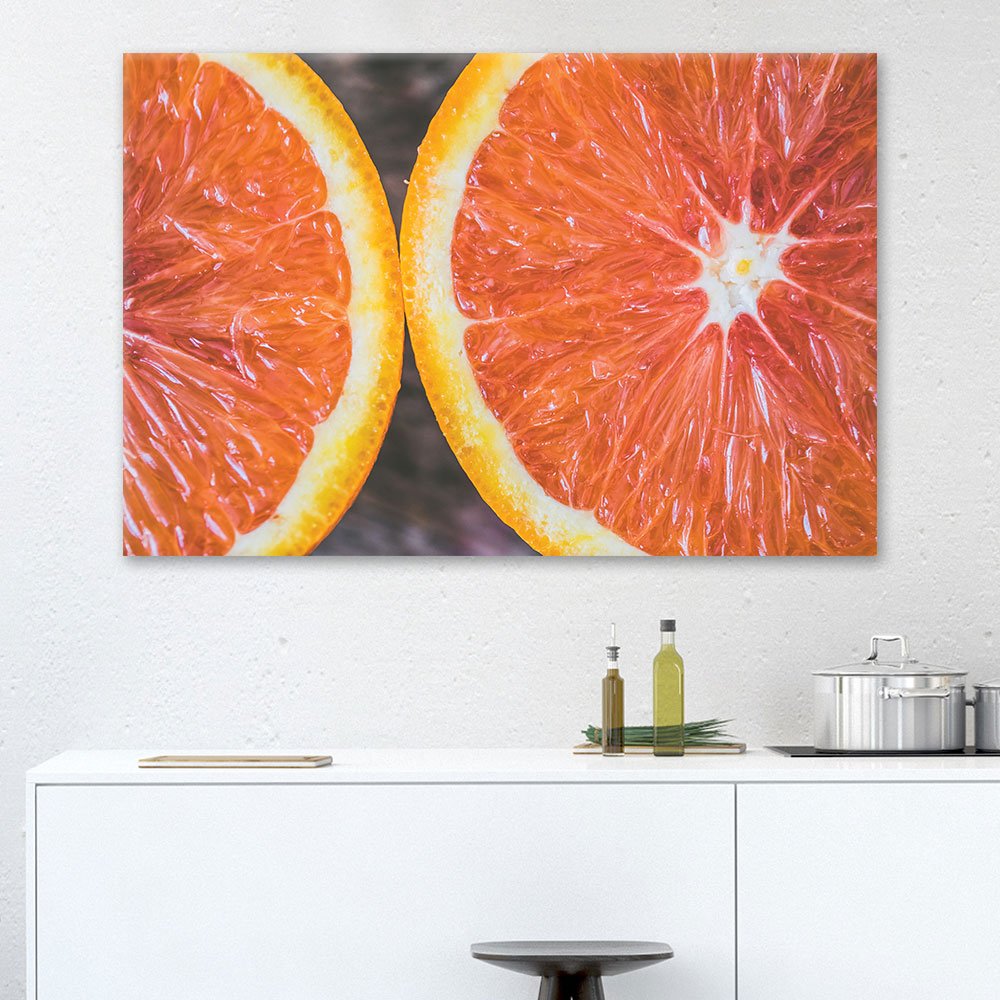 When you see this piece of art, you can tell that the fruit is very fresh. If you aren't paying attention, you might even briefly think the fruit is actually on your wall.
The large canvas consumes a massive part of the wall. Thus, you might not need any other accessories to beautify the interior.
Adding fruit themed kitchen decor can really positively enhance the vibes in your kitchen. Art like the one pictured above also gives you a chance to integrate more bright colors into your kitchen.
Fun Fruit Themed Watermelon Slices Eating Seeds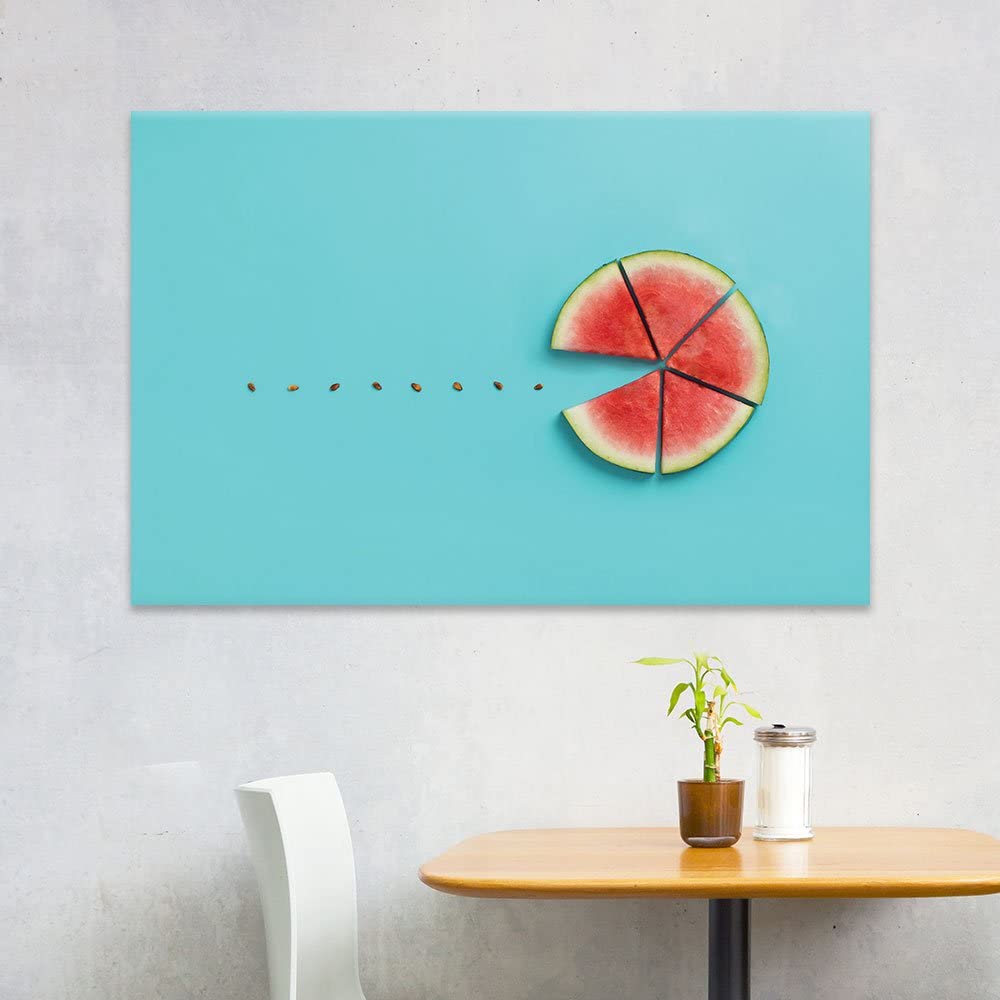 This work is exceptionally creative because the seeds are placed in front of the melon as if it is chasing them.
The light blue background complements the natural colors of the fruit by giving the picture a final touch.
Your kids will also likely love this type of fun kitchen decor. They might find this art more relatable than any of the artwork we discussed above.
Dried Fruit Art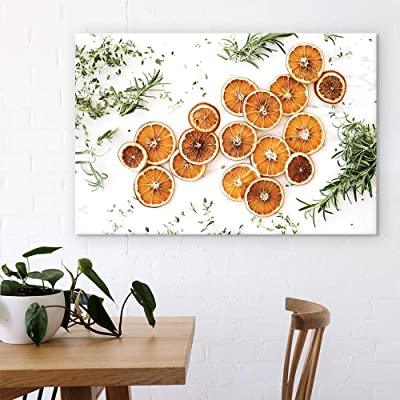 Most fruit artwork sticks to fresh fruit. However, dried fruit has its beauty too.
These fruit themed kitchen accessories really stand out from the crowd.
The dried oranges look so aesthetically pleasing when they are on a white background with a little bit of fresh green. The rustic color of the dried oranges highlights the greens without hindering its own beauty.
Placing this wall decor in your kitchen might level up your kitchen.
Get Creative With Colors
Hot pink and strawberry red are not compatible colors, or that's what we believe. Yet, artists who think out of the box believe otherwise.
They decide to play with these colors, and that's how masterpieces like the above canvas get created.
When comparing all the fruit themed kitchen decor on our list, you can see that this one looks different.
Homeowners who are not ready to play with colors or experiment new things might not go with this bold choice.
But if you are ready to experiment and love new stuff, this could be for you.
In Conclusion
We believe that one of the easiest ways to transform your kitchen into a lovely and inviting space is through fruit themed kitchen decor. Canvas art is the best choice in terms of cost, selection, and variety.
You don't have to do anything more than select the best-suited wall decor to nail your kitchen's interior. Have fun!