Need some inspiration to decorate for children? Our kids room decor ideas are the perfect place to start!
Some of the most popular choices in kid's room decor ideas are real-life pictures turned into art of things like animals, greenery, and jungles. We have many kids room decor ideas on a budget on our list. No need to spend a fortune on decor!
In this post, we've compiled 18 kids room decor ideas that are too cute to ignore!
Kids Room Decor Ideas, Where to Start?
It may sound easy to decorate a kid's room. Only when you start do you realize that it's actually not that easy!
To make room decorating easier for you, we have a few tips, to begin with!
Start with a color theme. You don't have to choose pink for girls and blue for boys. Just have a little fun with it. Maybe consider using your kid's favorite colors in the room decor.
Now, animals are very popular room decor ideas for kids. They love animals. There are animals in their rhymes, cartoons, and sometimes even homes (pets, you know)!
You can pick a painting with their favorite animal? The type of pet they love or perhaps their favorite cartoon?
Just start exploring different ideas. Go through our collections and you'll definitely find the perfect kids room decor ideas for your little one's room!
Mr. Deer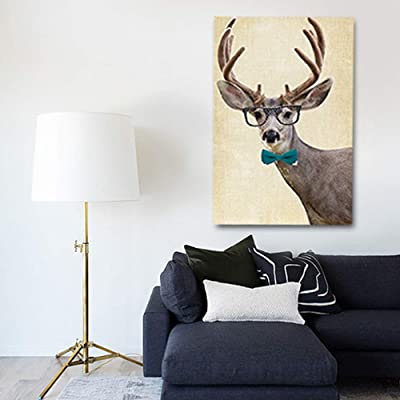 Kids love the deer cartoons. There are lots of famous deer characters that
kids
encounter in their childhood.
If your child loves deer too then this horned deer is an excellent choice for you!
It's simple, elegant, and cute. The perfect portrait for your kid's room or even the living room.
The Flying Whale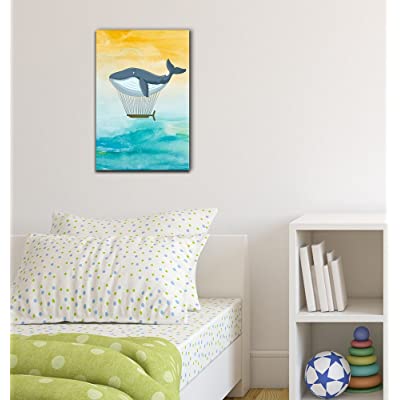 Sealife is one of the top choices for nurseries and children's playrooms.
A nautical theme gives the bedroom a classic look with a sense of calmness.
This portrait could brighten up the bedroom and your little one's mood. An excellent kids room decor idea for a small room! It's simple, interesting, and just right for the kids!
The Flamingo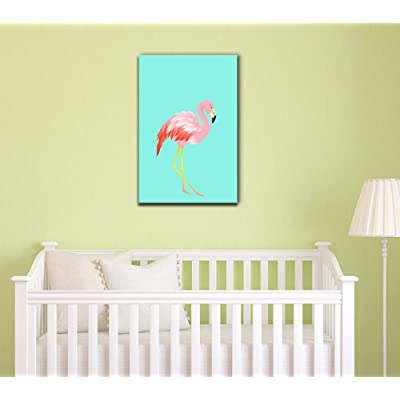 This canvas featuring a flamingo is a great kid's room decor idea. The pink bird with a blue background is an excellent pick for a nursery!
Leaping with a Fox on a Snowy Evening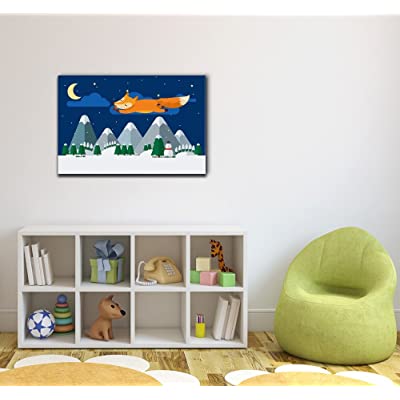 Lots of kids love to play in the snow. This little fox is soaring through the night sky.
If your little one loves winter, then consider this canvas for their space!
The Sassy Cat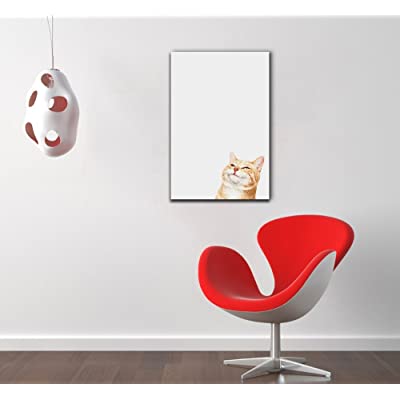 Cats are many people's favorite household pets. This cat is giving an ever personified sassy glance.
If you're a cat person then here's your favorite furry friend in its natural state.
This minimalistic brown and white painting is great for any pet-loving child!
Cute Bear Kids Room Decor Ideas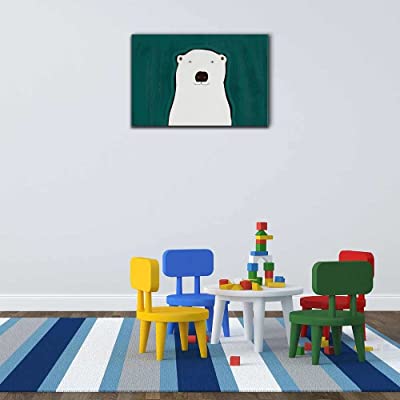 If eyes are the window to the soul then this polar has a beautiful and innocent soul.
This is a work that prints innocence on canvas. This polar bear with a green background is simply classic. It's the kind of painting that makes you realize how beautiful simplicity is!
The Baby Pigs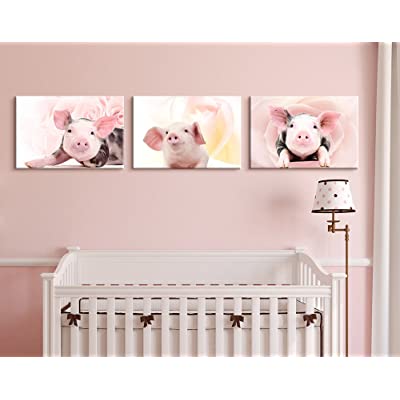 This three-panel canvas of baby pigs can be labeled as one of the cutest pieces on our list.
Considering the color choice, the painting could be excellent for a pink bedroom or nursery.
Bears and Penguins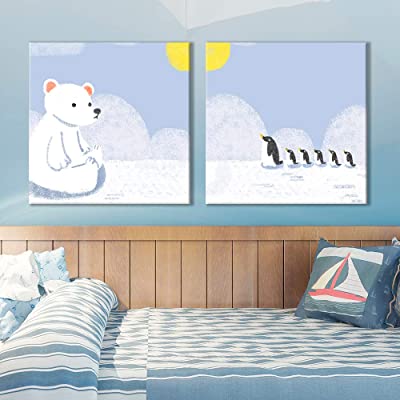 A classic kid's room decor idea!
This painting combines the three favorite things of any child.
Snow, penguins, and a big cute bear!
Our cute little Penguins are walking as a family to the lonely bear in the other painting. With white as the dominant color in the painting, this portrait will look great on all wall colors.
The art can be interpreted as sending the message of being together as a family and helping those who need us.
The Sun and the Stars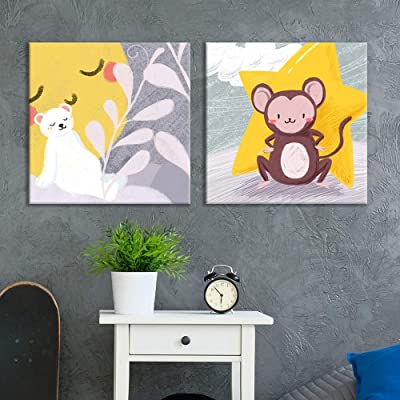 Unlike other decor items on this list, this one takes a minute to sink in.
With the stars and sun in the background, and the cute baby animals in front, the art may be overloaded with cuteness. You can hang this painting in your kid's bedrooms, nursery, or play area.
Friendly Jungle Animal Kids Room Decor Ideas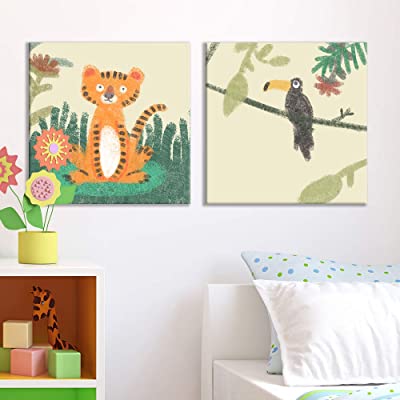 These jungle animals are so much fun! All the greens surrounding the animals who are looking so innocent!
The best part?
This two-panel painting can be hung together or separately. It would look complete and great either way!
The Elephant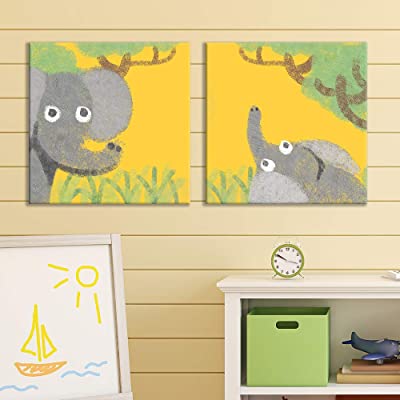 Elephants are the giants of the jungle. With their large size and long nose, kids love them. A practical demonstration that love comes in all shapes and sizes.
The painting has the best combination of colors, brown and yellow with green (here and there). Let's not forget the man of the hour, our big grey elephant.
The Bear and Swan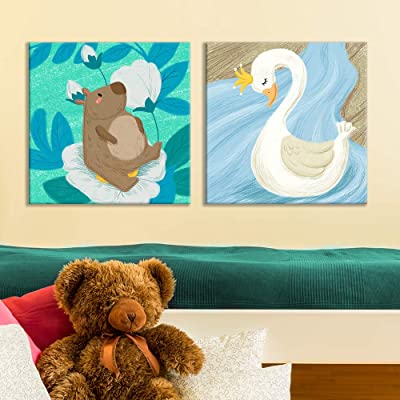 This two-panel painting presents two different stories. Two creatures living in different yet the same world.
On one side, we have the chubby bear and on the other side is a graceful swan with a crown on top.
A wonderful contrasting combination of portraits.
Ice Skiing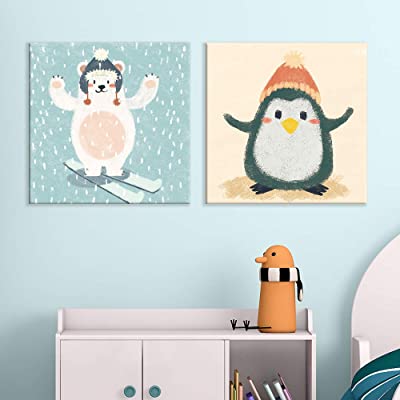 The age-old combination, snow, and skiing!
Well, if we can go skiing then why can't the little bear?
This canvas has everything. The ultimate colors, animals, and especially the idea. The perfect art for your kid's room.
Sheep and Fox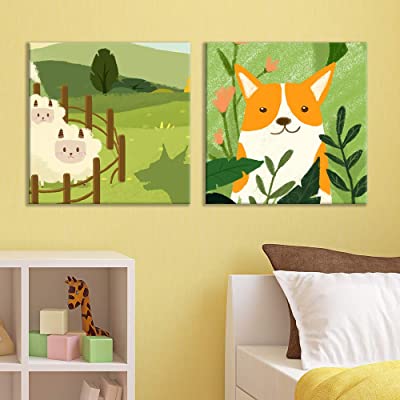 The classic duo of the sheep and Fox is a cartoonist's favorite.
Where there's sheep, there's always a wolf or a fox lurking in the shadows. Eager for a chance to get his dinner.
The two-panel set is another example of opposites. You can hang them on the same wall or separately, but they will definitely be an excellent choice for your kid's bedroom, playroom, and the study!
The Lion and the Pig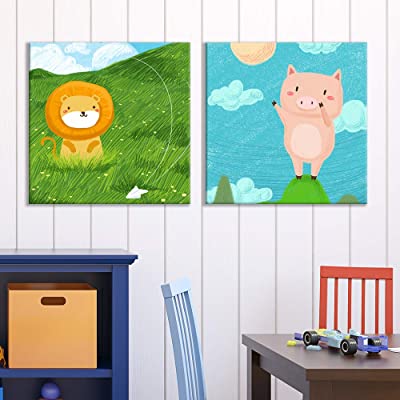 This artwork is a lot of fun. The lion is cute and sitting in a grassy field and in the other panel there is a pig on top of a mountain.
The Helpful Deer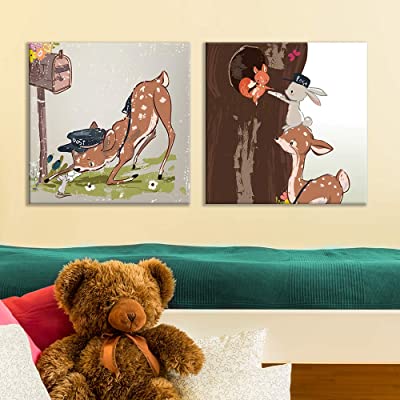 In this canvas, we see an adorable helpful deer.
In the two-panel set, you can see a deer helping small animals around the forest. The wall art reminds one of the old animated movies. A classic portrait perfect for all wall colors and rooms!
Sharing is Caring Kids Room Decor Ideas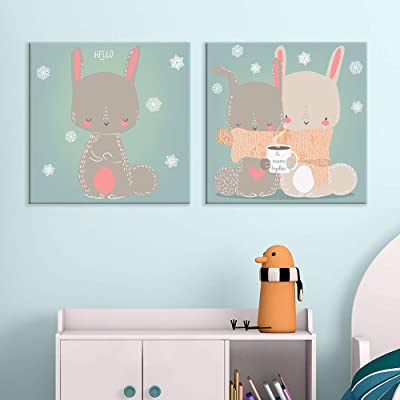 If you're decorating your twins rooms then this is the perfect painting for them!
In this two-panel painting, the first rabbit is sitting alone but then the second one comes over to play. The perfect way to teach them the importance of sharing.
The choice of colors is very light and would go with almost all wall colors especially the darker shades!
Flying with a Balloon Kids Room Decor Ideas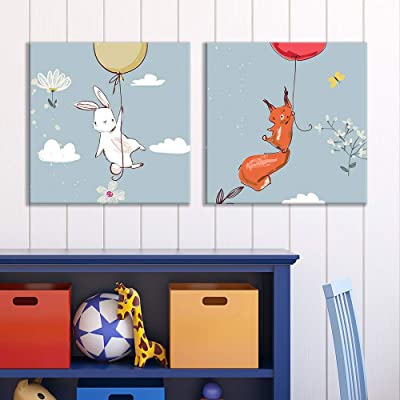 Do you ever wish you could fly?
Some kids dream of flying up in the sky and seeing everyone from up there. So, here's some wall art for your creative child!
Let there be no bounds on their imaginations!
Found the right kids room decor idea yet?