If you enjoy classic artwork, I recommend you decorate your space with some replica Klimt paintings for home decor.
Gustav Klimt was an Austrian symbolist painter. His paintings have special symbolic decorative patterns as characteristics.
Klimt's father worked in gold and silver carving and craft-making. Under the influence of the family, Klimt entered the Vienna School of Arts and Crafts to study.
After his artistic training, Klimt produced works that are both decorative and colorful. His art has been used on a wide range of decorative items such as umbrellas and pillows.
Klimt paintings for home decor might give you an amazing decorative effect in your home. In this post, I will review the top 7 Klimt paintings for you!
The Kiss – One Of The Most Popular Klimt Paintings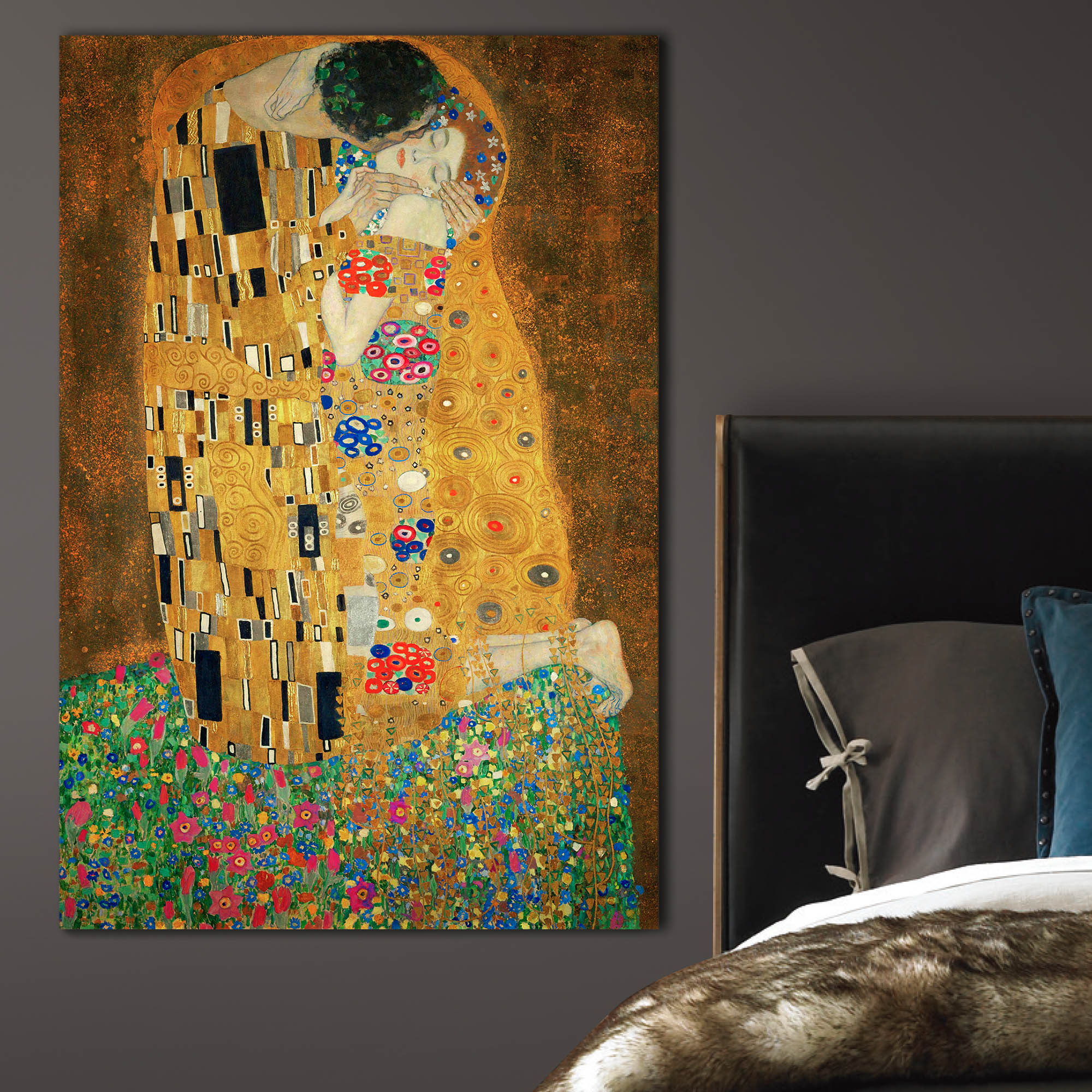 Shop This Artwork
This is potentially the best known of Klimt's famous paintings, it is decorative and a well-received masterpiece. Decorative elements such as gold flakes and silver foil in the canvas make it look shiny and golden.
Against this golden background, a man and a woman kiss on a bed of soft grass full of flowers. The man holds the woman's head in his hands and kisses her face. The woman's left-hand holds the man's right hand, her right hand placed on the man's neck, her eyes are closed.
The rectangular patterns on the man's clothing and the circular symbols on the women are so mysterious. They might get you thinking, what do these symbols represent?
It would be better not to put it in a room with rich colors to avoid a color conflict. If you have an empty wall with a solid color, it might be a good place for it.
Water Serpents II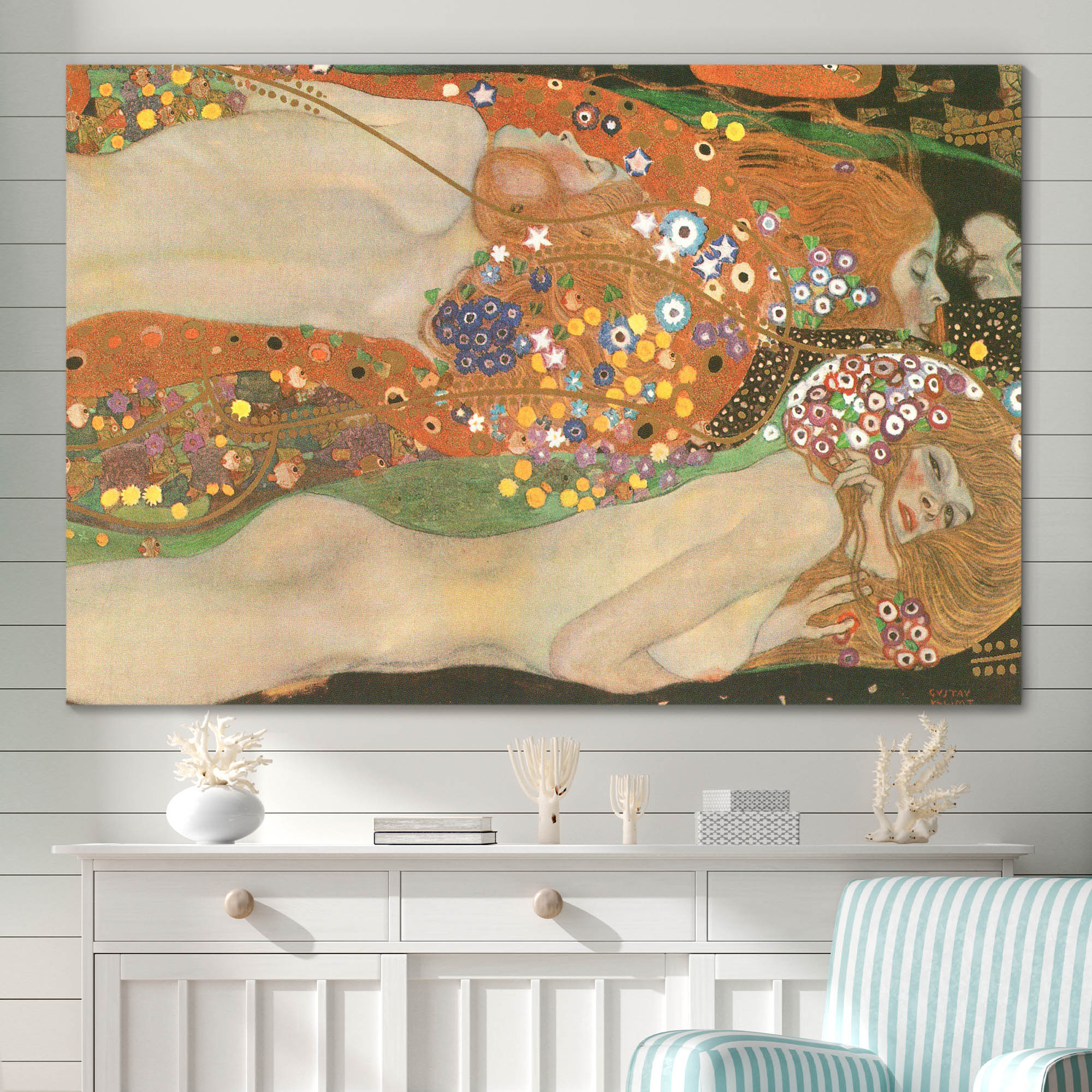 Shop This Artwork
This is an abstract decorative canvas composition. It shows Klimt's tendency to pursue eccentricity, deformity, and eroticism in his later years of creation.
The bodies in the work are slender and deformed, showing a decadent beauty. There are four girls in the picture, some of them have their eyes closed, some squint slightly. It seems they are enjoying themselves.
Klimt's grasp of space is amazing. His sense of space makes the canvas permeate with a unique temperament. It shows an abstract painting composed of dots and lines. You don't feel that this picture looks messy at all, but has a distinct hierarchy.
Put this canvas in your room to add a sense of art to your home. No matter if you put it in your bedroom or living room, it is good decor.
Read more about using Klimt style in home decor.
Danae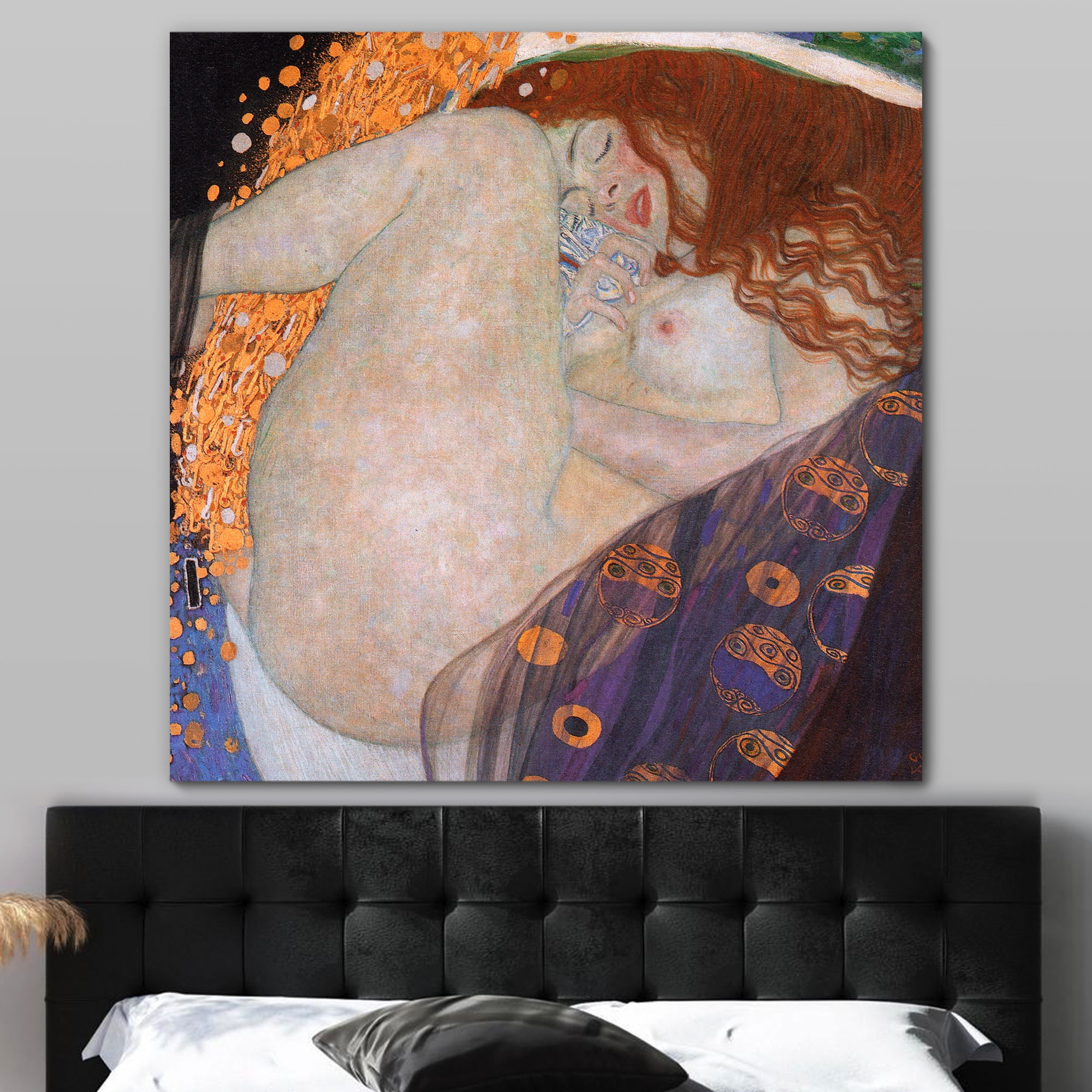 Shop This Artwork
Danae is the daughter of Acrisius, the king of Helios in Greek mythology.
On the canvas, the beautiful and glamorous Danae is curled up in the square frame. A dynamic and rhythmic black patterned scarf and golden dots are surrounding her.
These vivid lines and dots divide the picture, in an abstract and orderly way. The patterns are colorful but very harmonious and unified. Klimt paintings for home decor can help create an aesthetic atmosphere.
Under the splendid appearance, you might see the silence of Danae in the art. There is practically no better place to hang it than a bedroom.
Portrait Of Adele Bloch-Bauer I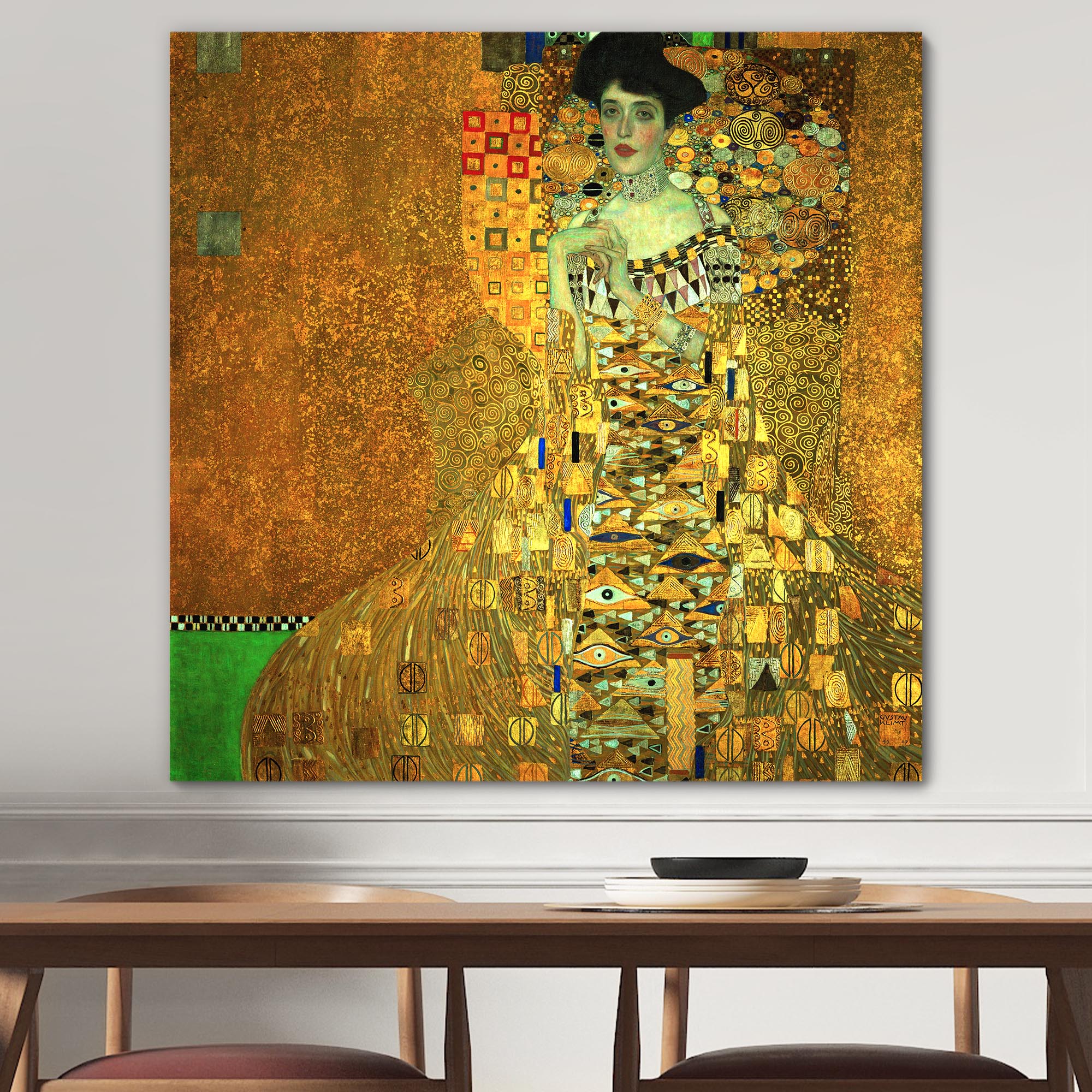 Shop This Artwork
This portrait is the last and most representative work of Gustav Klimt's paintings during his golden period.
The picture uses gold for the background shading. It depicts Adele Bloch-Bauer sitting on a chair with square and round patterns in front of a golden wall.
A necklace and bracelets inlaid with jewels on her neck and wrist. A golden dress made up of triangles and straight lines are on her clothing.
Both the background and the cloth make the whole canvas look noble and gorgeous. Hanging such Klimt paintings for home decor can make your room feel exquisite and retro.
Hygieia (Detail From Medicine)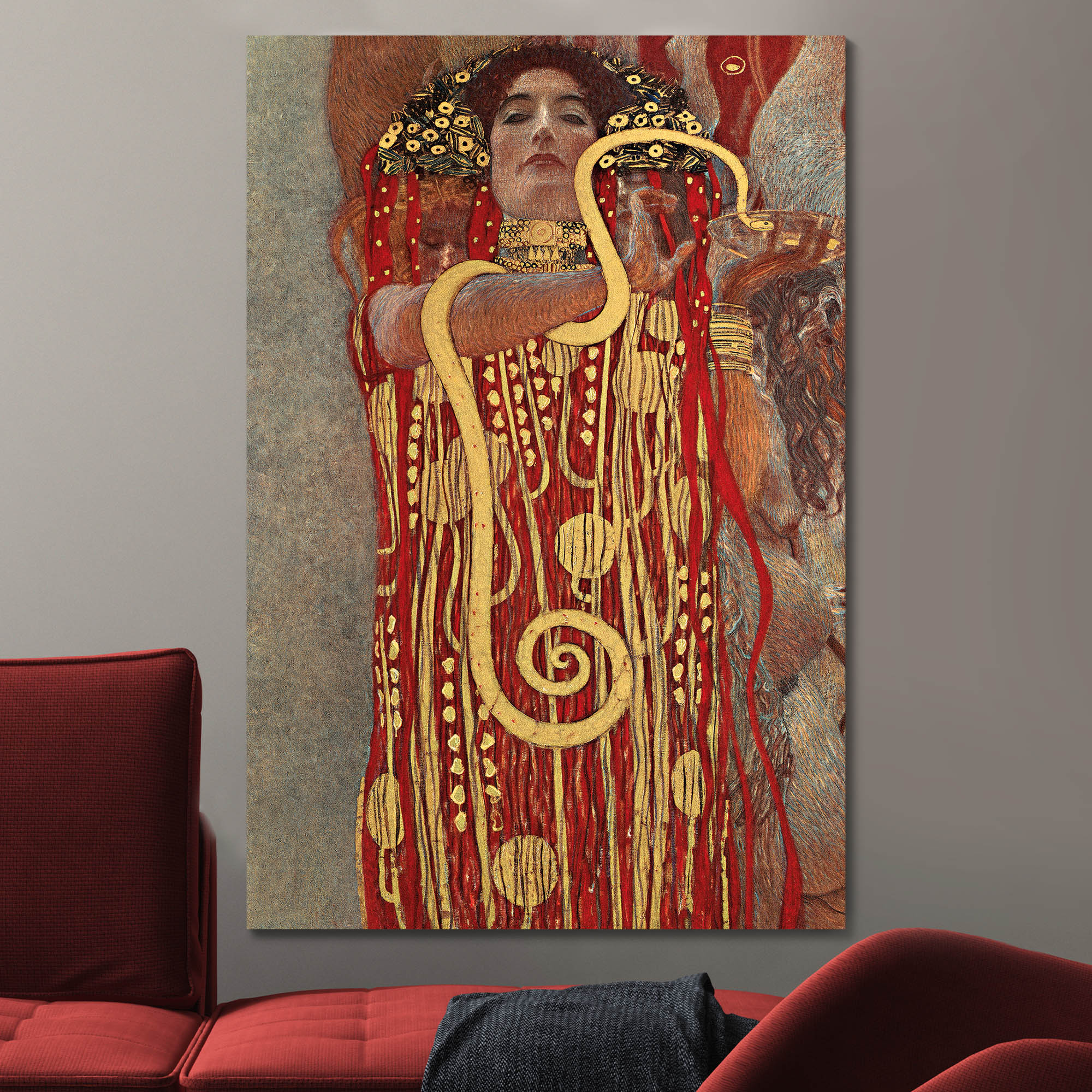 Shop This Artwork
Hygeia is the god of medicine. She is in charge of health, safety, and medical treatment in the ancient Greek religion.
This is a detail of Klimt's Medicine, one of the University of Vienna Ceiling Paintings. The precious images we see now are from previous photos or sketches. The original painting was destroyed in 1945.
On the canvas, a snake is wrapped around Hygeia's arm. Her expression indifferent, and her head looking down at the viewer.
The main colors of the canvas are deep red and yellow. If you have furniture of similar colors, you can consider some Klimt paintings for home decor to go with them. The canvas can make the atmosphere of the room mysterious and brilliant.
Lady With Fan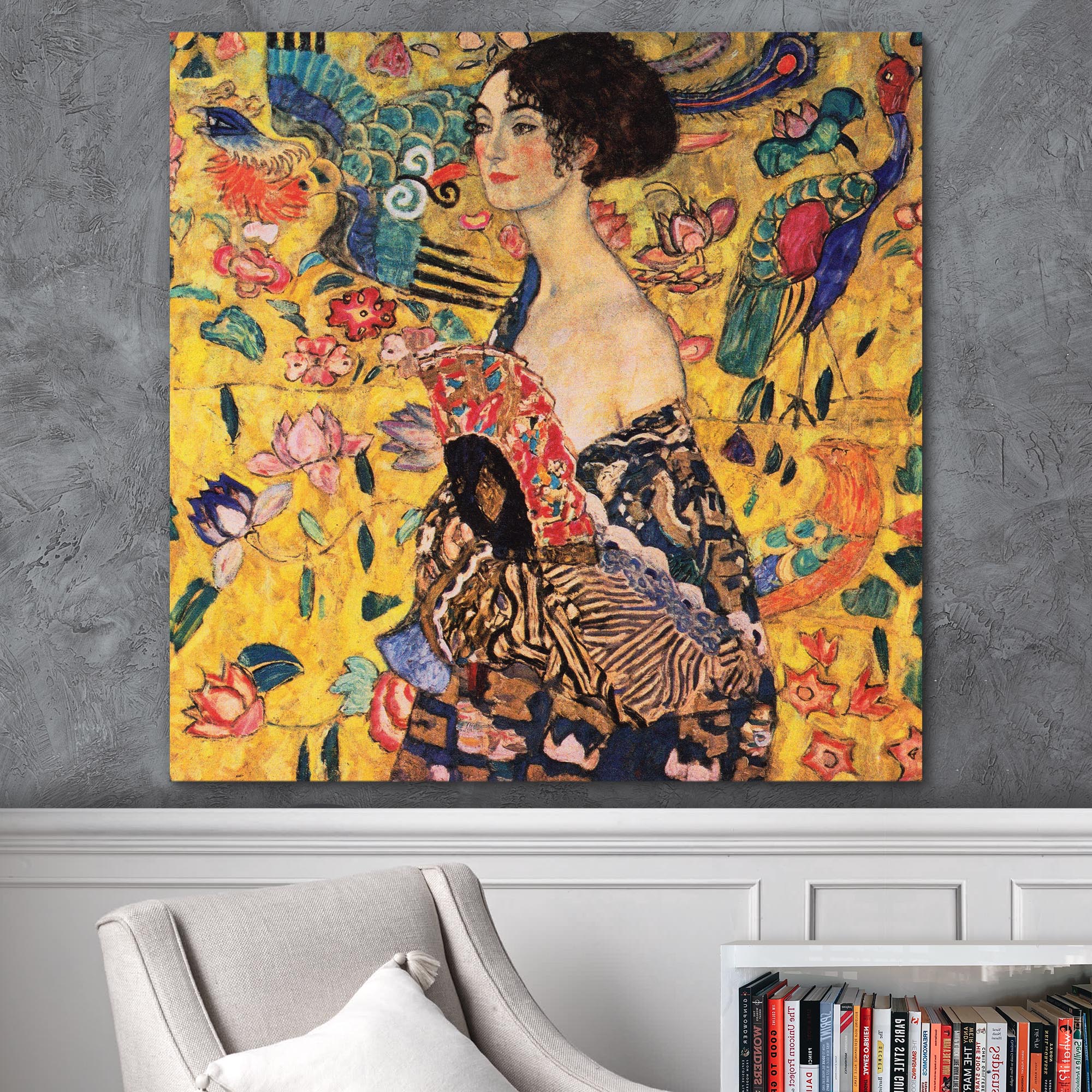 Shop This Artwork
Although Klimt never went to the East, he had a strong interest in Oriental art. The fan, the cloth, and the details in the background are all his expressions of oriental art.
When you see the curly hair of the woman, you might realize that this work is a combination of Eastern and Western art. Klimt integrated Oriental art into his works. This causes his work to have the philosophical content of symbolism and oriental decoration.
If you are fascinated by this oriental style Klimt paintings for home decor, hanging it in your study might be a good choice.
Tree Of Life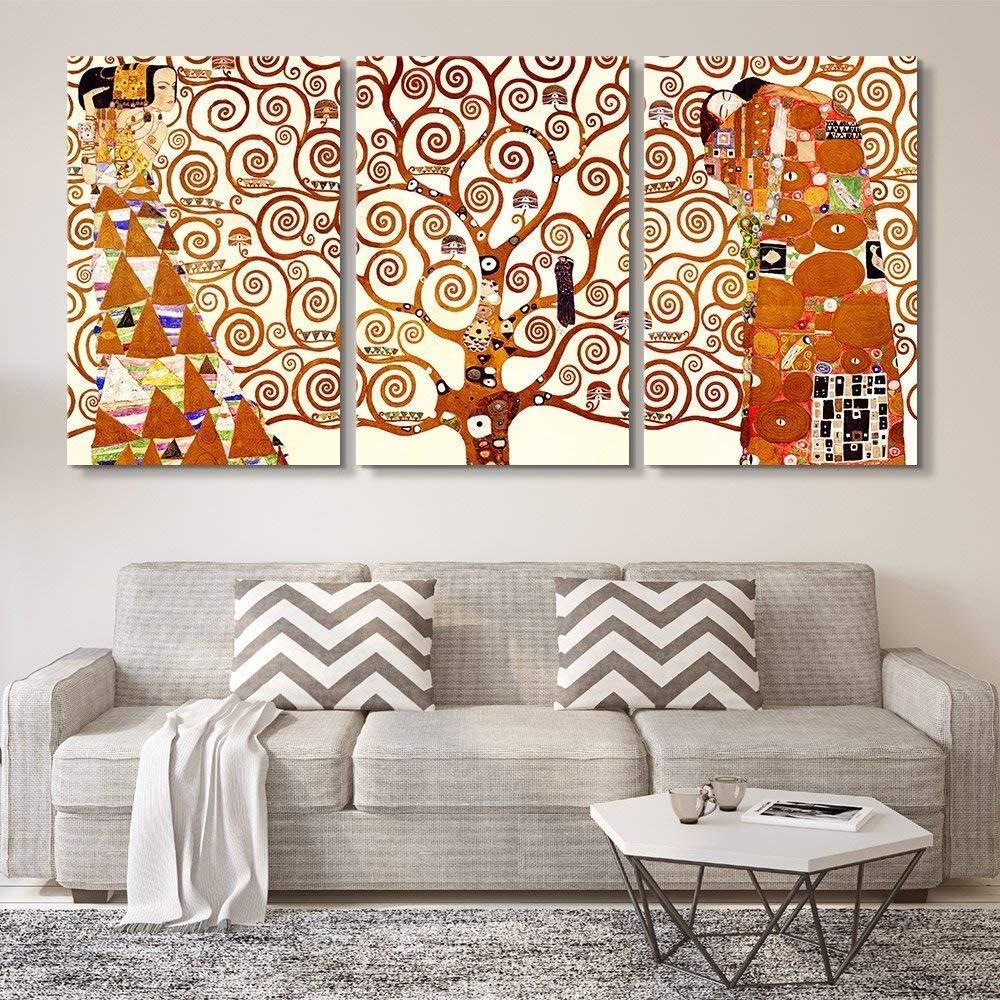 Shop This Artwork
"The Tree of Life" is a masterpiece and a great example of Gustav Klimt's landscape paintings. The work is originally from a mural he created in 1909 for the restaurant of the Stokelet apartments in Brussels.
This group of murals uses the technique of color inlay, which is very decorative. He also uses gold and silver foil to make the murals look magnificent.
In this work of art, Klimt used various flat decorative patterns and symbolism. The art depicts a woman and two people hugging. Except for the face, their entire appearance is covered in abstract geometric patterns. This formed an effect full of oriental colors and mysterious artistic conception.
The branches twisted, and spiraled, forming a tangle of the strong tree, and long vines. The branches stretch to the sky, reminiscent of vigorous vitality.
The canvas provides a feeling of abstraction, symbolism, and mysticism. Remember to choose an empty enough space to hang it in, then the beauty of the triptych can be better shown.
Conclusion
The heavy color and latent mysticism of Klimt's symbolism paintings are so attractive.
Decorate with Klimt paintings for home decor today!