Motorcycle bedroom decor is turning out to be a popular choice in interior design. This trend has been the rage in certain circles ever since the production of motorcycles began. Since that time, more men and women have started familiarizing themselves with the beauty of powerful motorized bikes.
More than a hundred years ago, no enthusiast would have imagined the bicycles and engines that have come out in our century. It all began in 1868 when Louis Perreaux presented the first patent design of the steam engine for the first pedal bicycle that experienced commercial success.
The trend continued in 1894 when Alois Wolfmuller and the brothers of Hildebrand introduced a patented gasoline engine that cooled with water. The engine came with a bicycle-type frame and became an instant commercial success for people who simply fell in love with the concept of motorcycles having an internal combustion engine.
From this point onward, the love and trend of motorcycles only gained momentum as things evolved. Eventually, everything changed, from the production to the technological progress, to the sociological, cultural, and economic factors that define the 20th century's success.
As technological innovations and designs improved and advanced, the elements, aesthetics, and the love for this powerful product became a permanent part of each individual's life who loved speed and thrill.
If you're a die-hard motorcycle lover, what's to stop you from decorating your bedroom in all things motorcycle? We have ideas for motorcycle home decor to help you start with your decor project.
The easiest and instant means of bringing motorcycle decor into your room is with motorcycle wall art. Here are some of the best ideas to grab for your room:
1. All Sleek And Metallic Motorcycle Bedroom Decor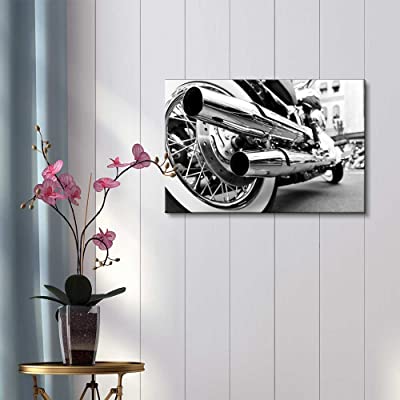 There are certain elements of a motorcycle that have a more powerful impact than others on its design. The exhaust system is the true representation of the power of this vehicle. From the header to the exit, the glossy, metallic curves define the reasons why bikes are your favorite.
This motorcycle wall art design speaks more about your love for power and speed than words ever could. If there's anything that could depict just how much you love motorcycles, this design would be the ideal choice.
2. Roadster Motorcycle Bedroom Decor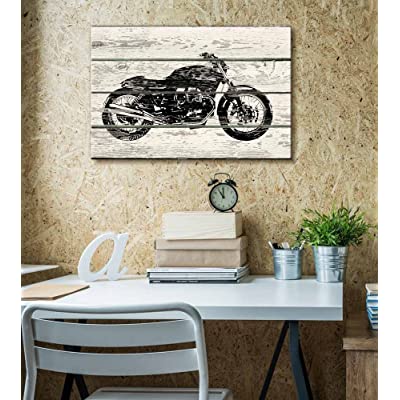 Roadsters once ruled all over the world. You can still find them commonly in Asia. Our Roadster wall art print will surely suffice in bringing your Roadster fantasies to your wall.
3. Chrome V Type Engines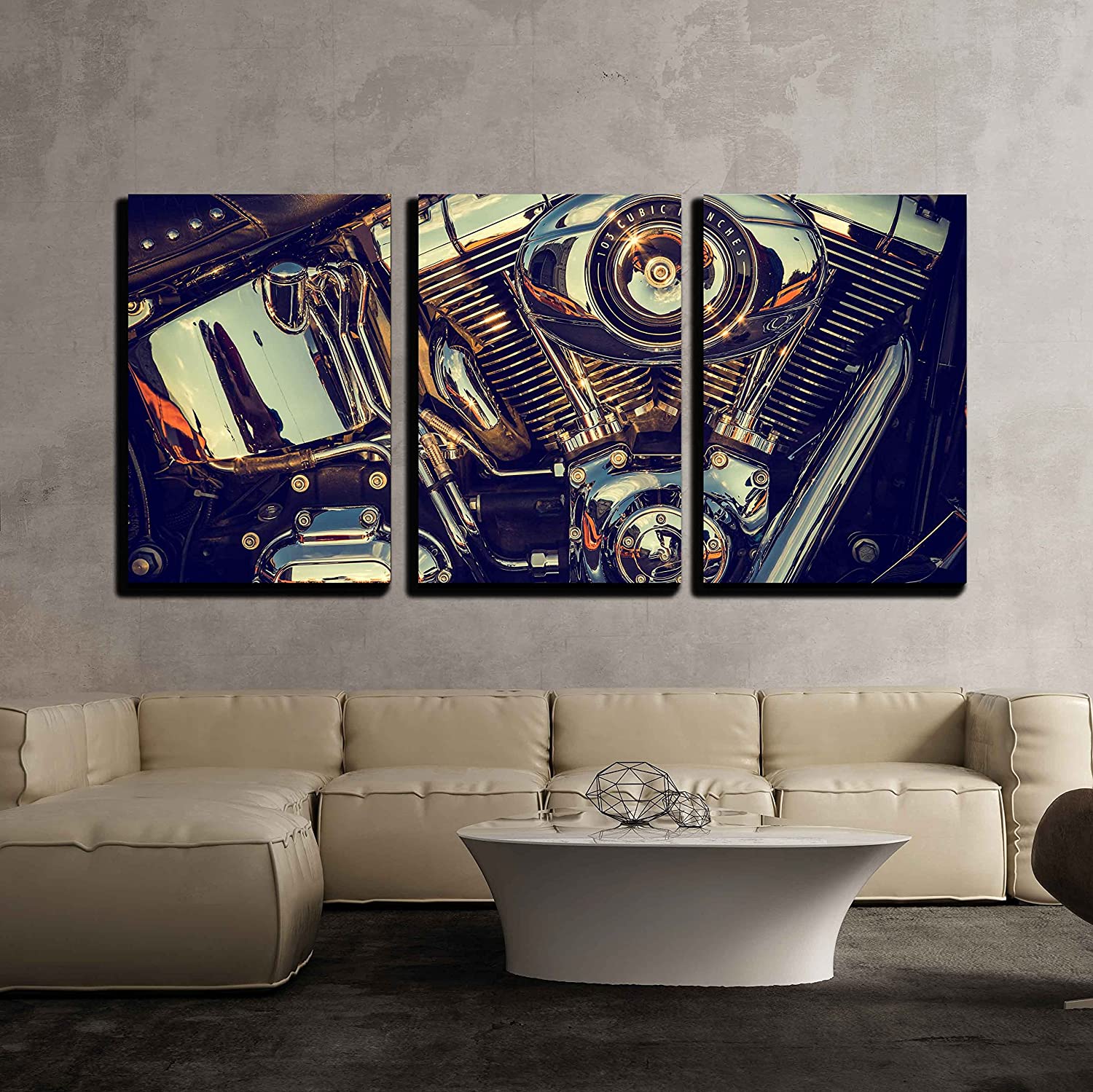 Life-sized panel wall art has an impact that hardly anything else can compete within the name of wall decor. Combine that with this powerful V type engine print, and you'll nearly have a realistic chopper-ride feeling right in your room.
4. The Cruiser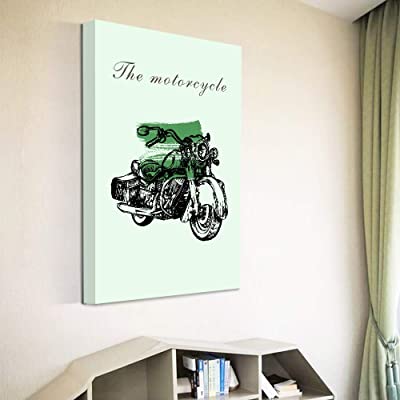 The most appealing detail of a motorcycle is the passion and freedom you get with it. This is embodied in the cruiser. Create an atmosphere of freedom, passion, and revel in it with this cruiser wall art canvas print.
5. Motorcycle Sports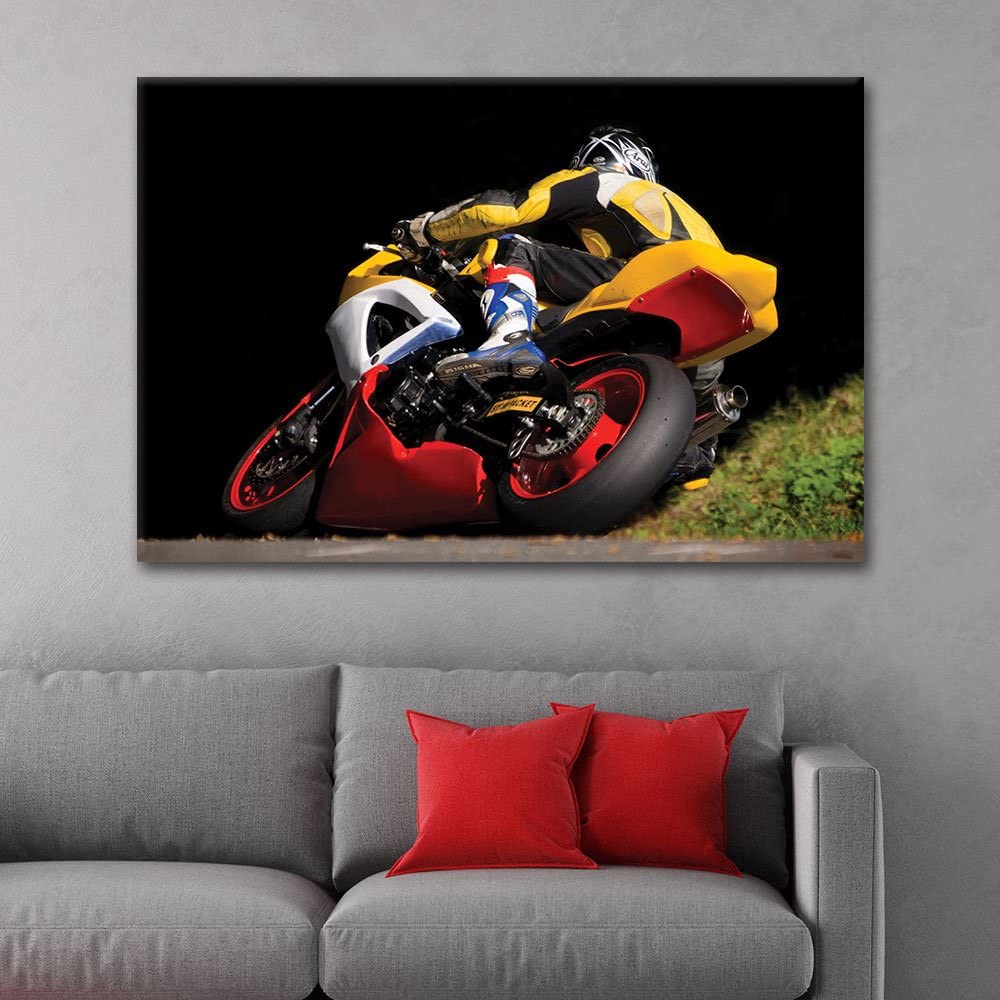 If you're looking for ideas for motorcycle man cave decor, we think this sports motorcycle wall print is the best option. Racing against time, testing your maximum potential, and the exuberance of whizzing into thin air, capture all that excitement and bring it right into your space with this sports motorcycle print.
6. Off-Road Dirt Bike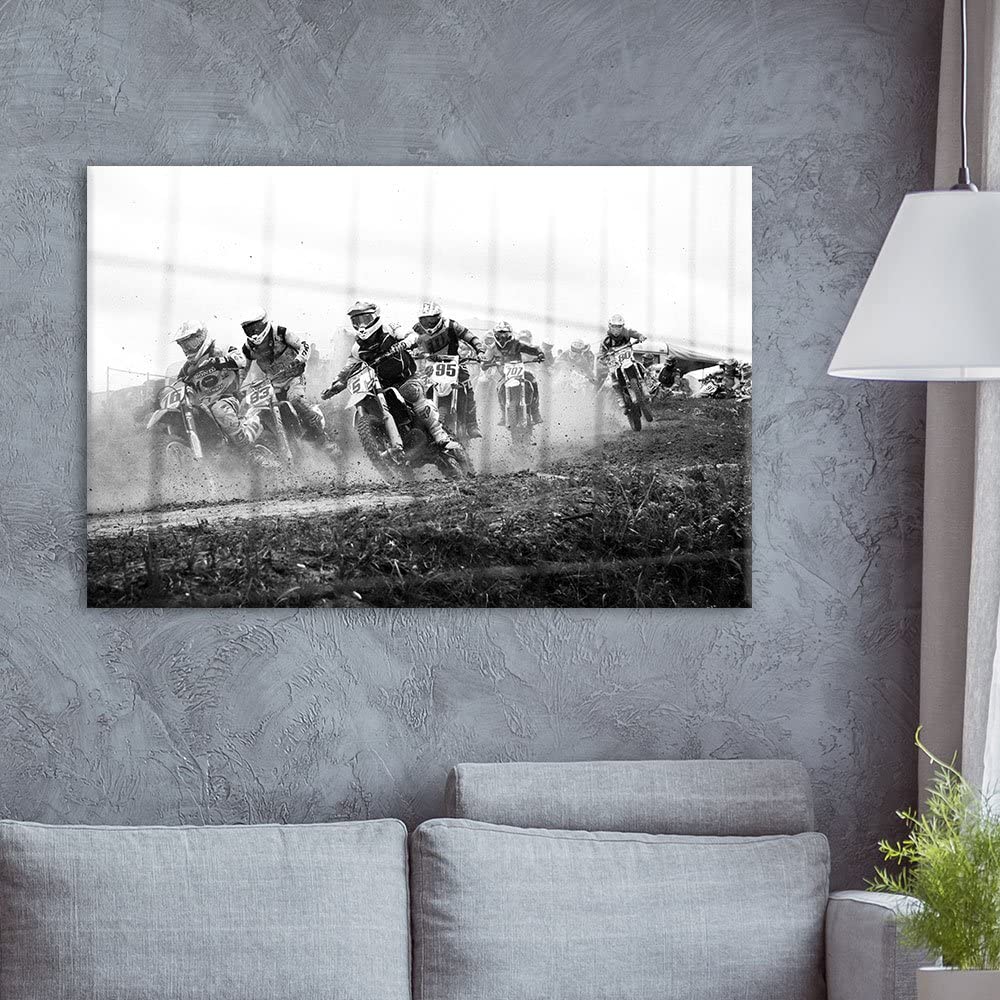 The tougher the terrain, the higher the thrill of biking through it. Are you enthralled by the mountain, desert, and high-flying Motocross action? You can enjoy a part of that feeling every time you look at this off-road dirt bikes canvas hanging gloriously in your space.
7. Scooter And Dog
People love scooters and dogs. Combine the two in one canvas image, and you probably will never be able to stop gazing adoringly at it. This motorcycle bedroom decor idea is the best way to add the right dose of cuteness and charm to your space.
8. Chopper Motorcycle Bedroom Decor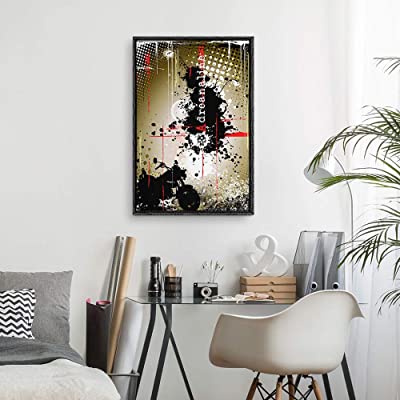 Choppers are every bike lover's dream. This whimsical image of a chopper's silhouette adds a touch of dreaminess and magical quality. You can achieve elegance and a dramatic touch while staying true to your motorcycle theme with this canvas print in your space.
9. Traditional Bobber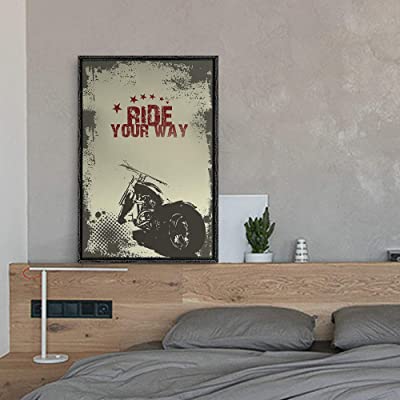 There is no match for the traditional charm, appeal, and aesthetical magic of a Bobber. This "bob-job" was popular from the 1930s through the 1990s, it enjoyed a reputation of being a custom motorcycle. The typical build, the excess bodywork, has ruled the hearts of so many bike lovers in the world since their introduction.
Final Thoughts
Motorcycles have been such an evolution in design that the attraction of the style has not diminished even slightly since the concept first came into being. The love and following for motorcycles grew to such a massive extent that now companies even offer themed decor products.
From canvas wall art prints to motorcycle themed decor pieces, there is an endless variety of options to choose from.