How to make your home interior bright and lively? Find amazing, sunflower decor ideas!
It could be easy to find decor ideas, but what's tough is implementing them.
You don't have to manually implement your ideas if you can find wall art that mimics your exact thoughts.
Art is as sensational as ever now. The Economic Times has an article about How city walls are becoming the artist's canvas.
You are in the right place to find your ideas for a sunflower wall decor canvas that could best suit your home.
We've gathered a list of sunflower-themed wall art ideas for you.
Happiness Is In Sunflower Decor Ideas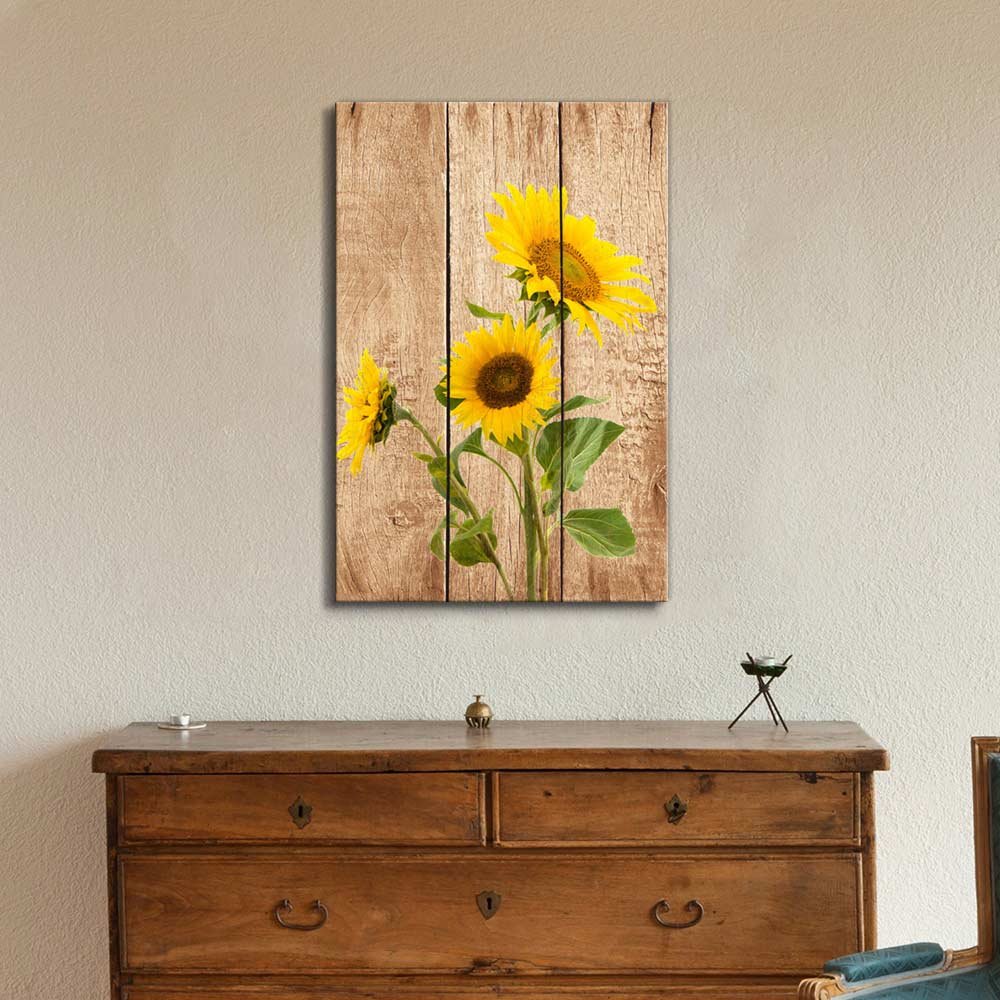 This could be one of the best
sunflower
kitchen decor ideas for your home. It is vigilant to keep the theme of your home steady when adding home decor.
This particular work combines wood with its final outlook, so it becomes a remarkable piece for a kitchen.
Unless your living room's interior goes along with the wooden frame, it might be out of place. Therefore, before adding wall art, you should make sure you like the theme of your space.
Wild Sunflowers In a Vase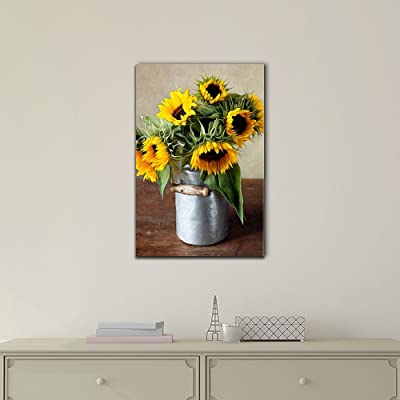 Yellow can brighten up your mood, and it's associated with positive effects such as sun and sunflowers.
The artwork looks as if the wildflowers are tamed to fit into the vase. Yet, it captivates the viewers with its colors and other elements like the unique vase and brown shades.
The flowers in the vase create a lifelike look with its 3D approach.
A Painting Canvas Repklica to Beautify Your Living Room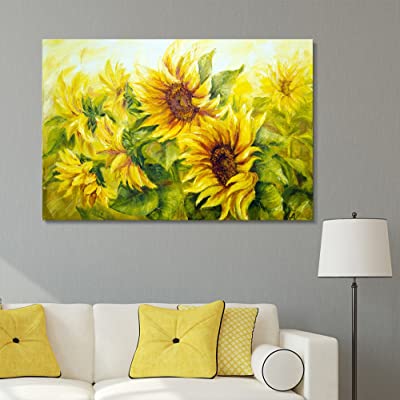 You can add sunshine to your living room with sunflower room decor ideas.
So the oil painting above uses mild yellow and green making it a peaceful piece of work.
The tones in the picture send positive energy to the atmosphere. If a piece of artwork is successful, it could create magic like that.
This painting is covered with flowers, so it makes the overall look wholesome.
Large Frame With Watercolor Art Sunflower Decor Ideas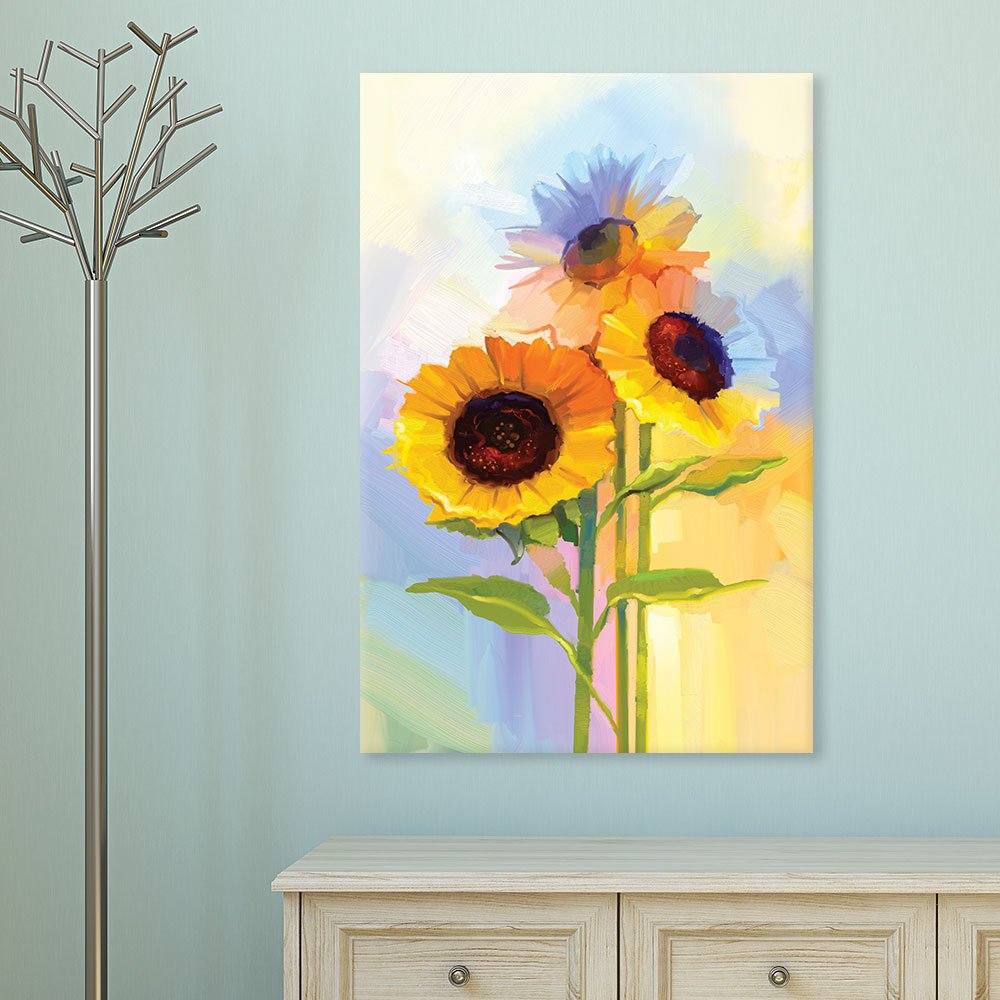 This expressive watercolor floral artwork goes beyond expectations.
The background shades overlap the sunflowers, and that is a creative element everyone could enjoy.
The bright yellow, along with other light shades, creates a picture-perfect piece of art.
You probably wont think twice before adding this simple wall painting to your gallery.
Raw, Edgy Drawings for Sunflower Decor Ideas Compliments Of Van Gogh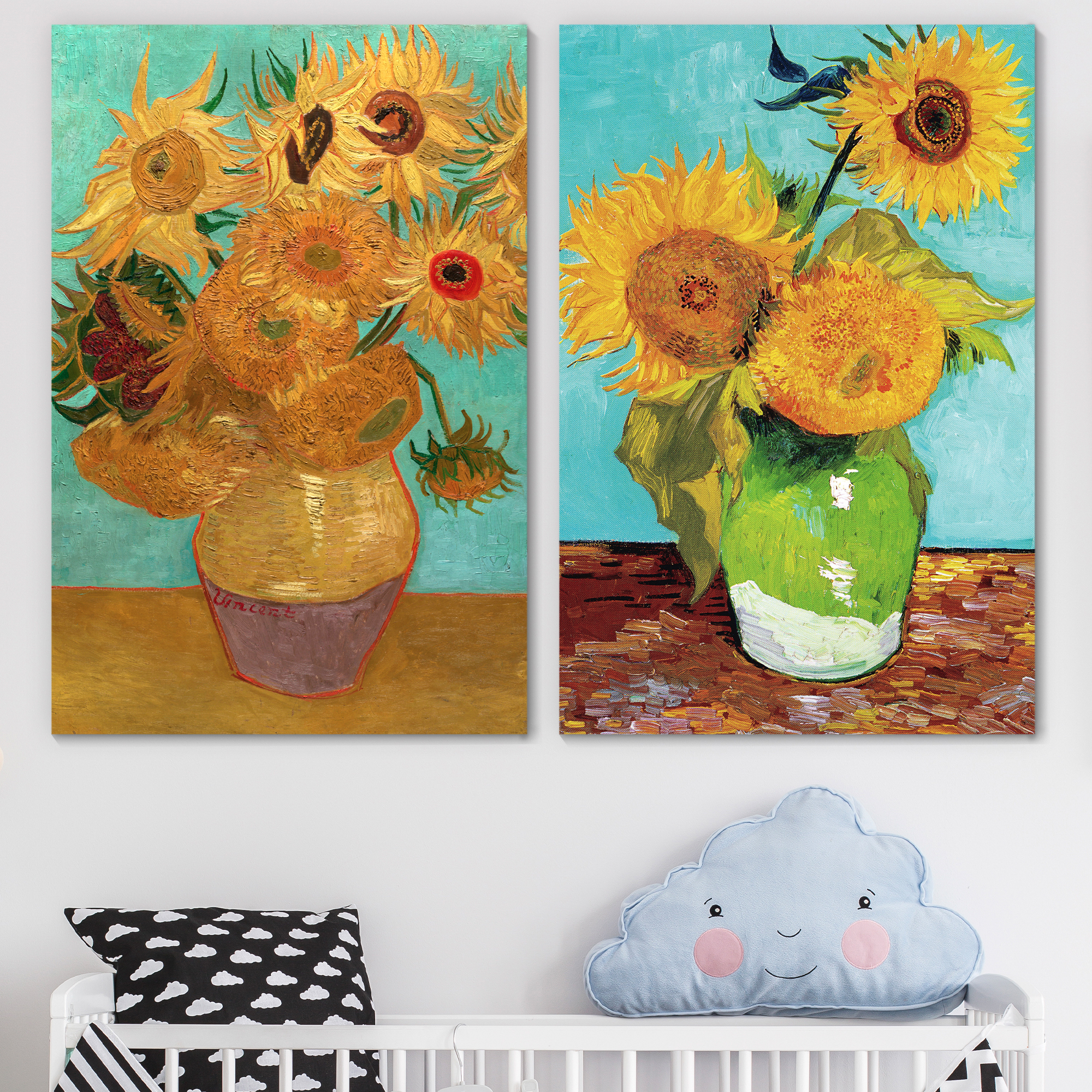 If you love raw and exotic sunflower decor ideas, this Van Gogh could satisfy your needs.
Not everyone has an interest in soft colors and simple designs; maybe you are one of those people.
This special painting is unique because these pieces of art are distinctively different. The artist used bright and irregular colors such as green, white, and brown.
The sunflowers are also depicted in a wild way so that when we take a closer look, it seems that the flowers are withering.
Isn't it exciting to witness different approaches in drawing?
Sunflower Garden Wall Murals For Your Bedroom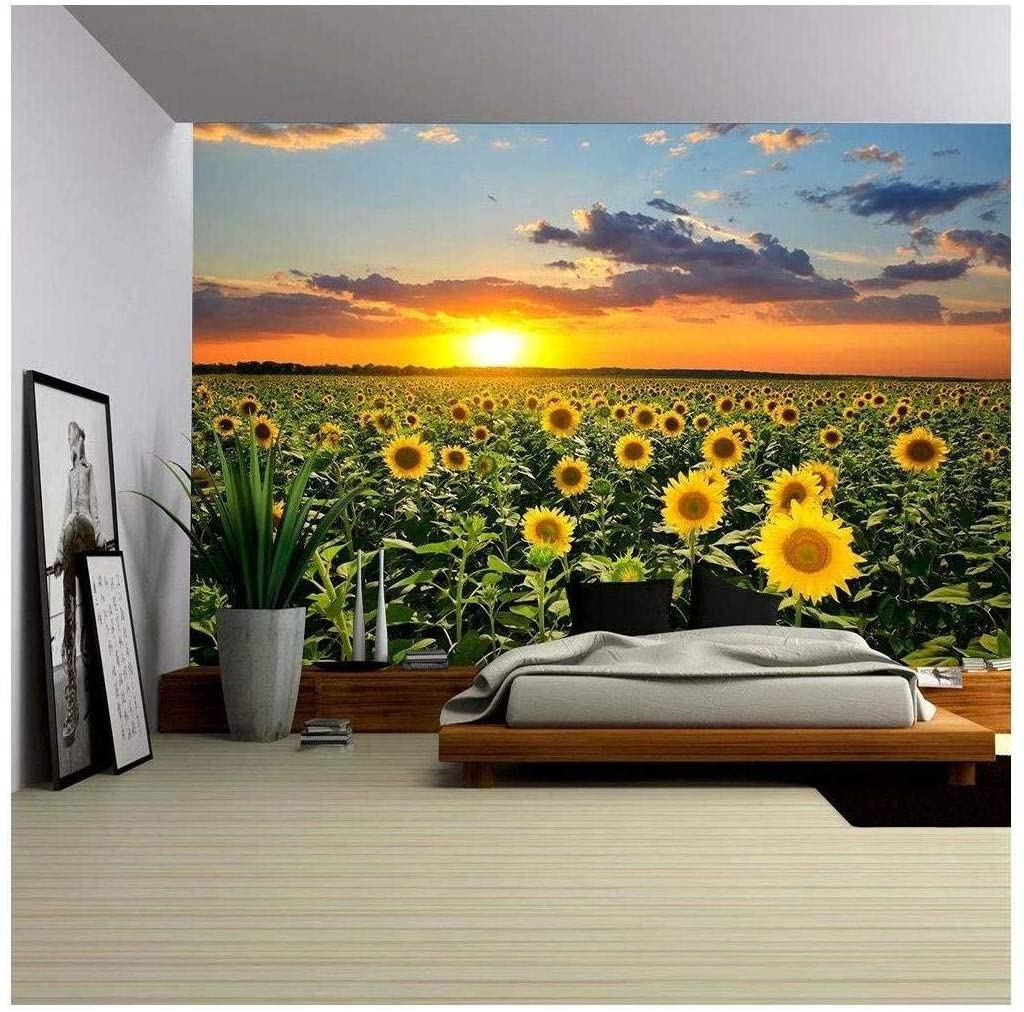 Wall murals have a different place in the hearts of artwork admirers. These kinds of paintings offer different experiences.
This could be one of the most excellent sunflower decor ideas for your room. Having this wall mural on your bedroom wall has its benefits.
As we said, yellow is known to create positivity so this art will reflect the energy to your entire room.
When you enter your room after a hectic day, you might feel calmer and comfortable to view this beautiful garden on your wall.
The naturalness in the picture is too vivid that you might feel that the sky is palpable.
3D Wallpaper Sunflower Decor Ideeas Take Your Experience To The Next Level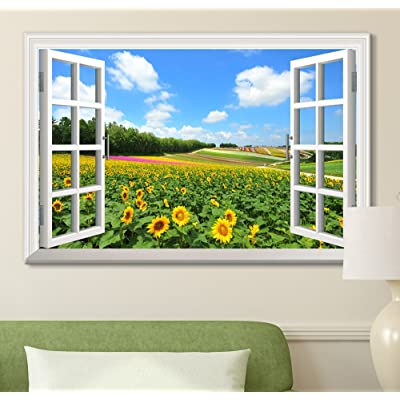 This wallpaper could promote your experience to the next level. Let alone your guests; sometimes, you might wonder whether you actually own a sunflower garden.
Though it sounds funny, the picture looks strangely real.
The artist has made sure to touch on different colors in the painting.
The weather is also perfectly crafted in the picture, offering viewers more of the natural beauty.
Curiosity Igniting Cow and Sunflower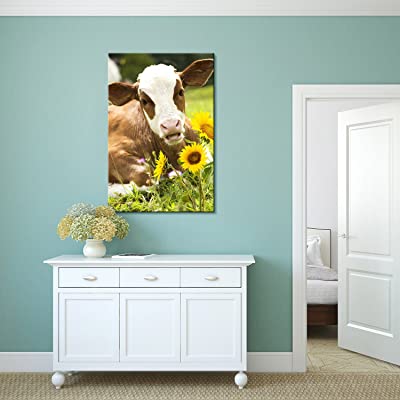 It is a surreal combination, but doesn't the art look enchanting?
This work ignites curiosity in viewers so you could put this in your living room. Give your visitors a chance to fuel their creativity.
Or this could provide one of the most impressive sunflower kitchen decor ideas. You might enjoy having this portrait in your kitchen while you cook.
The cow in the picture looks like it is enjoying the pose, and the flowers in front complement the pose flawlessly.
Among all the sunflower decor ideas, this particular work holds a different style.
Vintage Background Yet Modern Flowers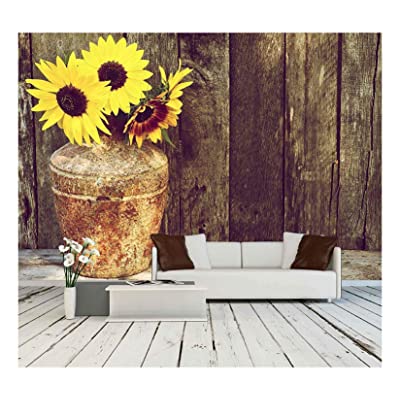 If you have a thing for vintage, you might not want to miss this amazing piece of art. Also, as per its elements, this could be one of the most refreshing sunflower bathroom decor ideas on our list.
This best represents the qualities of vintage products. The pot and the background go hand and hand in terms of colors and textures.
They offer a rustic look while the bright yellow sunflowers offer a fresh look.
The flowers emphasize the modern style through the background, and the pot highlights vintage style.
But, this piece looks iconic as it could bring both times together in one frame.
Beautiful Flowers Under the Simple Sky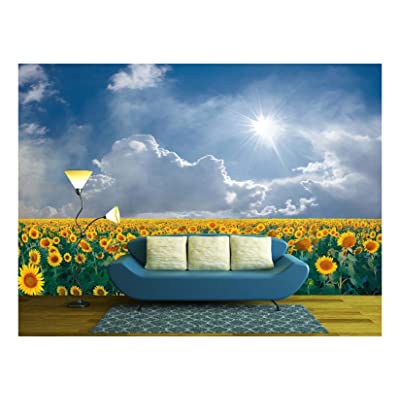 The last idea from the list of sunflower decor ideas is this staggering artwork.
This is another wall mural that you can have on your living room wall, given the elements in the painting.
Ravishing sky and the lovely sunflowers are radiant. You could feel its radiance spreading across the room.
If you want to keep your living room decor impressive yet straightforward, this wall art could help you with it.
Wrapping Up
The famous artist Vincent Van Gogh got inspired by this yellow floral. He painted several types of paintings with the sunflower-theme.
You can have floral sunshine on your wall too if you pick the right type of wall decor.