Wall art could never go out of style. This is due to the elegance that it introduces into an otherwise simple interior. And this is especially true of the classics – such as Van Gogh style.
You can take home decor to an exciting new level with copies of artistic masterpieces. Even if you are not into renowned arts, you can draw inspiration from art. One artist whose works continue to influence modern-day home decor is Van Gogh.
There are several things that the world remembers of this renowned artist. While his life story is tragic, his words form several inspirational quotes. His artworks, however, undoubtedly remain notable for influencing modern art and design.
Like many, you may seek expressions of some elements of nature in your interior. In that case, you will find Van Gogh home decor to be right for you. This article highlights some Van Gogh style in home decor that you need to see.
Bring In The Stars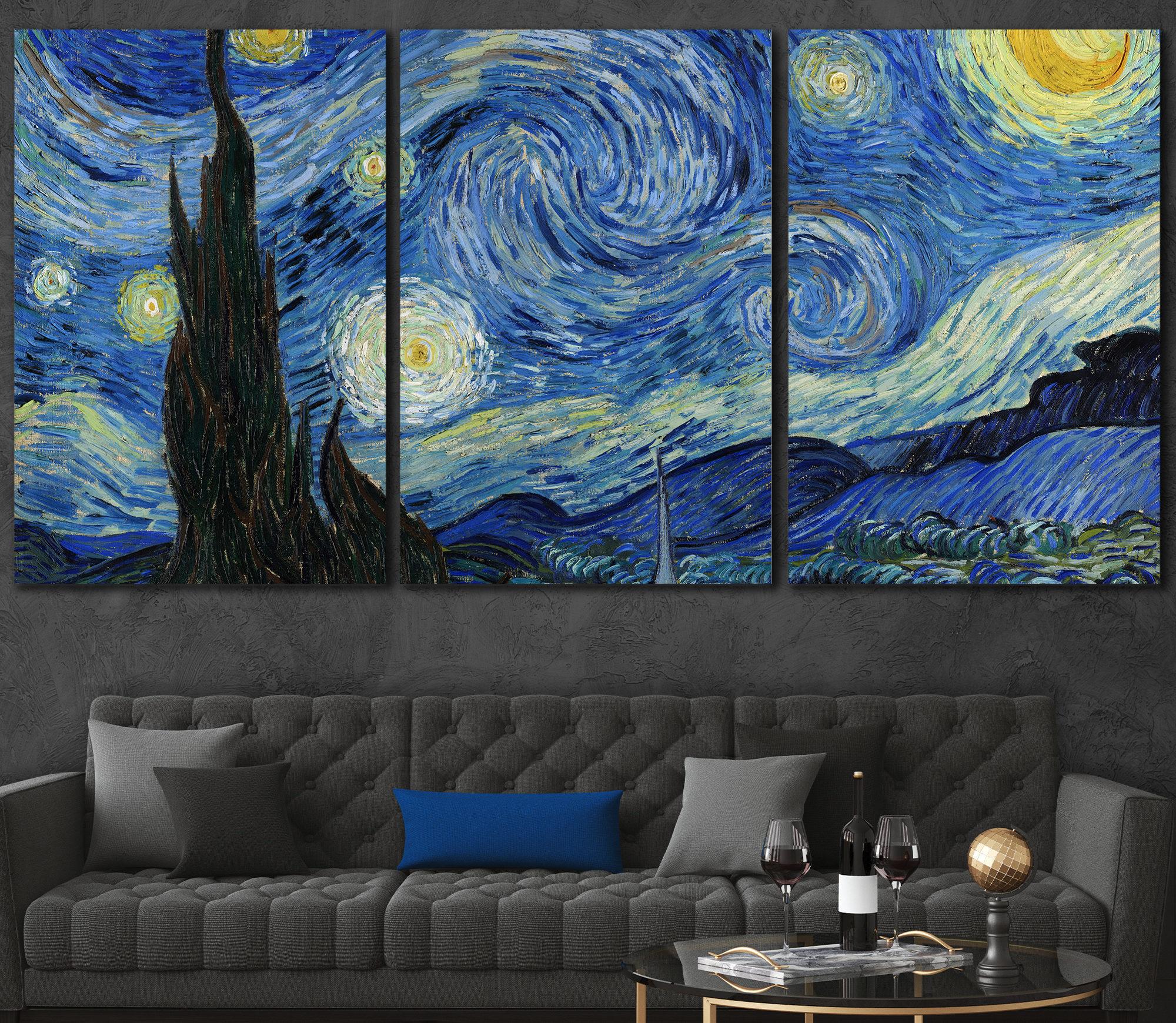 There are only a few things that represent dreams as well as the stars. Sadly, modernization often keeps us from appreciating the stars in their full glory. Following Van Gogh style, you could add the Starry Night to your wall.
The painting highlights Van Gogh's view of Saint-Rémy-de-Provence from his asylum room's window. Although painted by day, the bold and frenzied motions of the stars depict dreaminess. This makes Starry Night perfect for bedroom decor as well.
Consider adding furniture with patterns and colors that complement the theme. Opt for furniture with soft curves that replicate the swirls in the painting. Also, choose colors like subtle blues and yellows to put the whole room together.
Make Each Day A New Beginning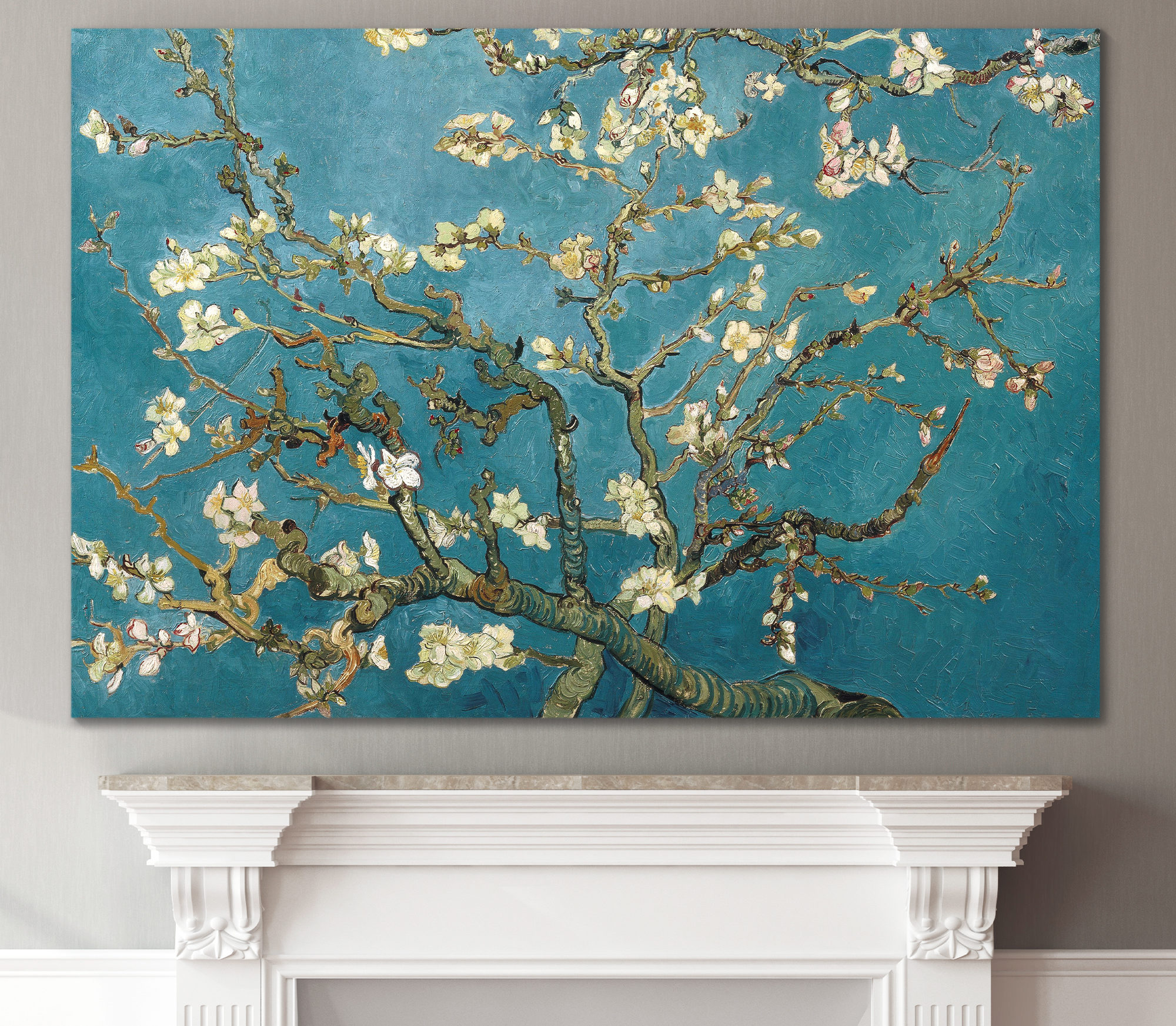 The flowering of almond trees announces the coming of spring. As such, they symbolize the start of new beginnings. By recreating this symbol, you can incorporate Van Gogh style in your home.
You cannot always have Spring but there is always a way to recreate it. One sure way to do so is to bring in wall art that represents spring. Think of flower blossoms.
Van Gogh's Almond Blossoms itself marked a new beginning. It followed the birth of his nephew named after him. For this masterpiece, he borrowed the symbolism from literal almond blossoms.
Create your Van Gogh home decor by introducing the beautiful almond flowers. With them on your wall, each day will remind you of Spring. Moreso, it will get you psyched to take on daily new beginnings.
Work With Complementary Colors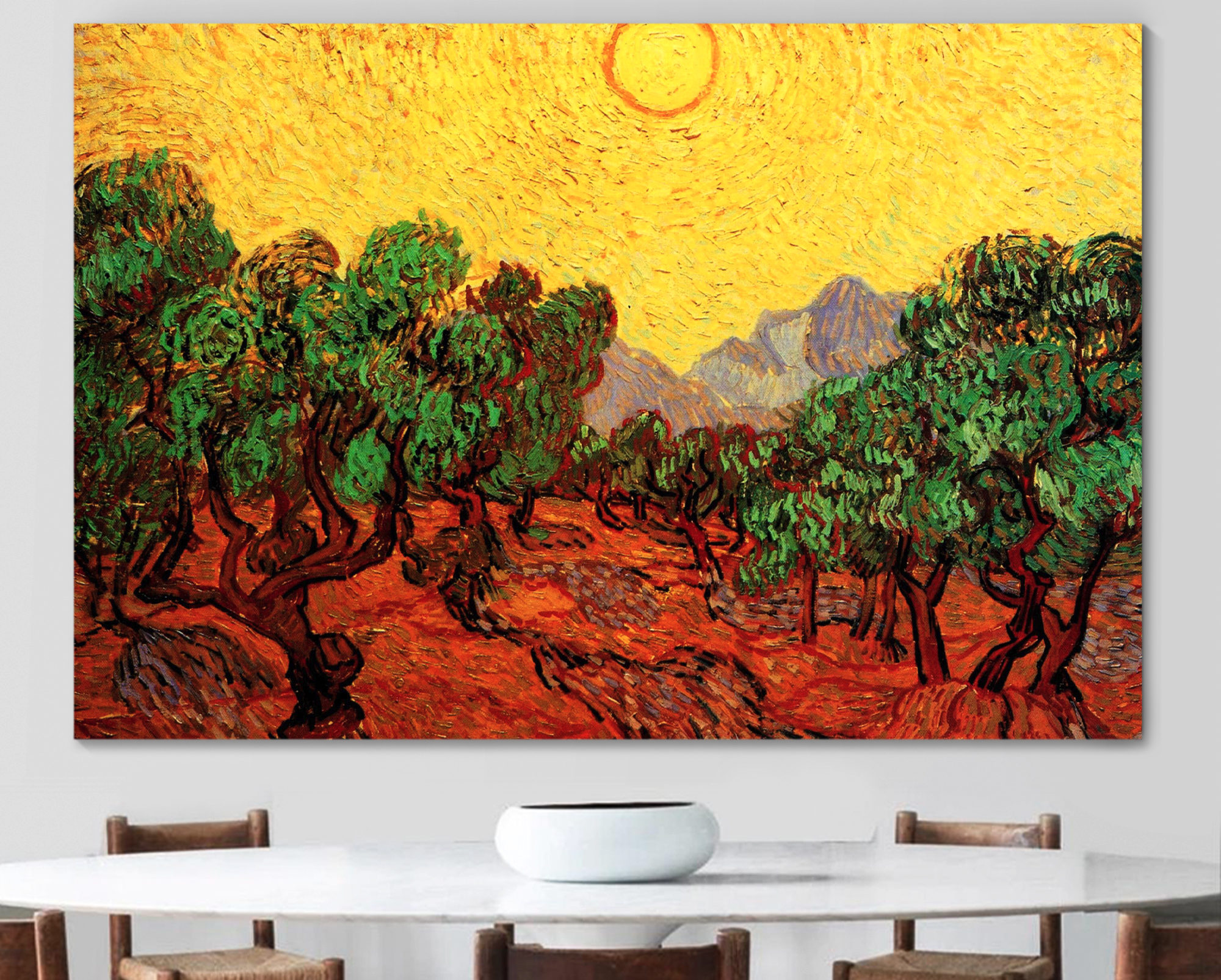 Basic knowledge of color shows us that complimentary colors go so well together. Van Gogh apparently knew this centuries ago. And for this reason, we can rely on his painting for color combination inspiration.
Olive Trees with Yellow Sky highlights the harmony that exists between colors. The intense yellow meets with the complimentary green and red at the bottom.
You can mimic the textures and colors in your Van Gogh home decor. Infuse red and green in your throw pillows and walls, for instance. Add texture by using stained floors or wooden furniture.
Bear in mind that these combinations usually feature high contrasts. As a result, it is important to use them in small doses. This is especially when you aim to emphasize a particular detail, like the painting.
Your room does not need to have only two colors. You may add an accent look by including silver and gold ornaments.
Place A Garden On Your Wall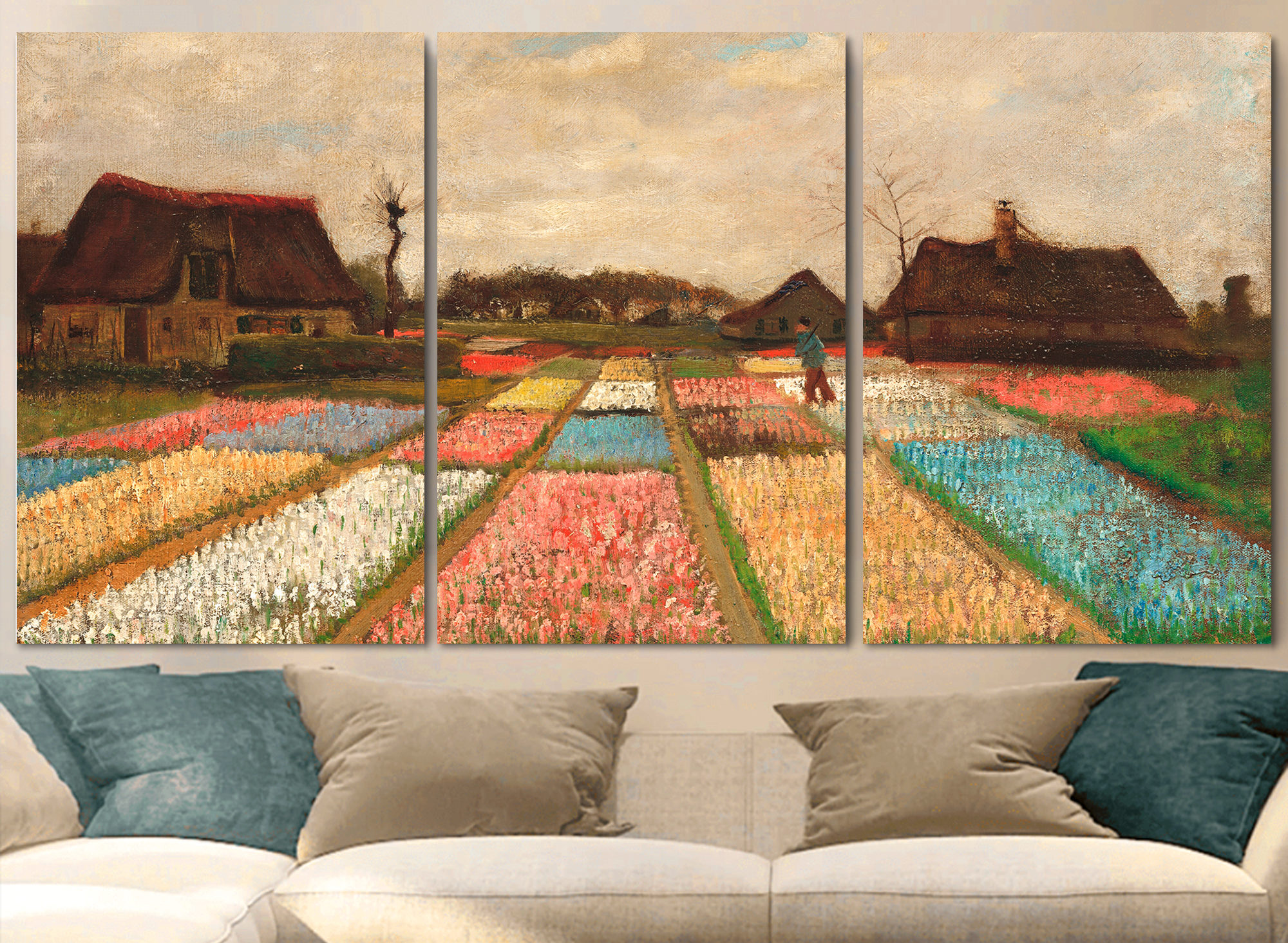 This style will come in handy if you are a lover of flowers. You may like to have a garden but do not have enough outdoor space. In that case, choose not only indoor gardening but also garden wall art.
Bulb Fields by Van Gogh are an excellent option for wall art. Being his first garden painting, this art has notable significance. The content of the painting is the source of its moniker – Flower Beds in Holland.
As is common with Van Gogh style, the painting portrays a play of colors. There are rectangular hyacinth plots of varying colors in the painting. These include red, pink, blue, and yellow.
The artwork contrasts a field of tulips with a cloudy sky in the background. Leafless trees and thatched cottage houses form a middle ground between the two extremes.
You can literally place the fields or gardens on your wall with this painting. Adding a few plants – natural or artificial – to the room will enhance the feel.
Catch The Eye Of Your Visitors With An Exquisite Still Life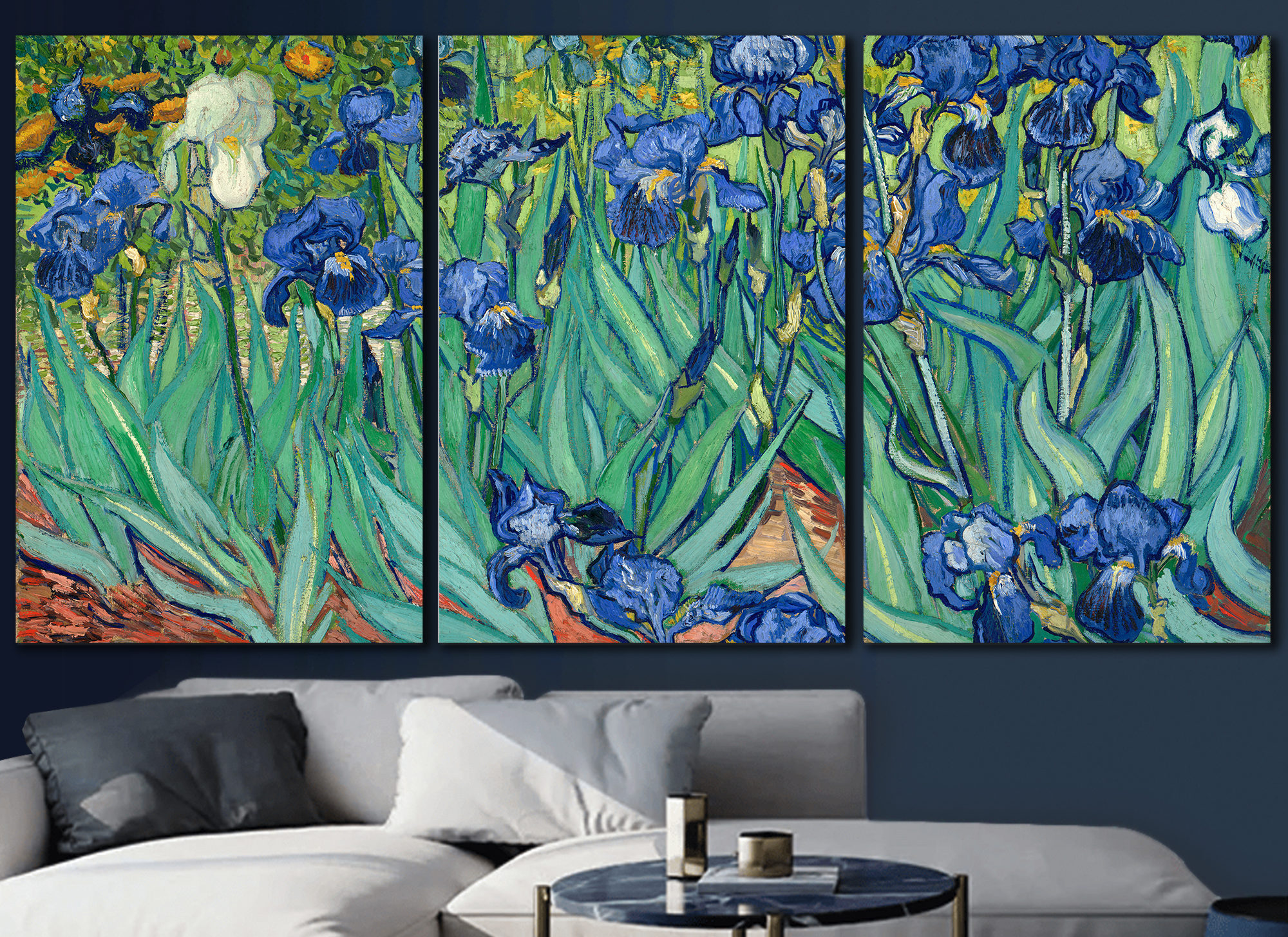 If you want visitors to notice your classic painting, go big or go obvious. Get a larger version or put it in the first place they are likely to see. Or do both.
Either option you choose, ensure that it is something worth exhibiting. Van Gogh's Irises have a long-standing reputation for being eye-catching. In reference to it, Van Gogh's brother said it "strikes the eye from afar."
There are similarities between this artwork and the Japanese woodblock prints. These include close-up views, strong outlines, and unusual angles.
As a study in color to himself, he attempted a strong color contrast here. Originally, Irises was a painting of purple flowers against a yellow background. With time, however, the purple faded into blue.
Made in the final year before his death, Irises portrays a life without tragedy. It is a fine blend of lightness, softness, and strong strokes.
There is individuality in the shapes and movements of each iris. Replicate this with soft swirls of color and forms in your furniture and ornaments.
Wrapping Up Van Gogh Style
If you appreciate the splendidness of art, then consider Van Gogh home decor. Having a Van Gogh style interior design adds aesthetic appeal to your home. In addition, it will be an ostensible proof of your artistic prowess to visitors.
Vivid colors, fluid strokes, and meaningful undertones characterize Van Gogh's artworks. His paintings prove that he breathed life into stills and landscapes. Through Van Gogh home decor examples, you too can breathe life into your interior.