If you're a visionary who loves to push limits, then graffiti home decor might be great for you!
Graffiti art represents so much. It signifies modernism, rebellion, and audacity. It's about pushing boundaries to prove that you can't put a stop to creativity!
Let's take a look at seventeen graffiti home decor ideas that will inspire you to be more creative every day!
Graffiti Home Decor: From Vandalism to Modernism
Graffiti art has maintained the status of vandalism for a long time. It's a controversial subject in the art world. Some people consider it pointless and some audacious.
Did you know?
Ancient cultures, like the Greeks and Romans, used graffiti to state their opinions. People used to write names, express their political views, and even poems on walls.
Graffiti is not only vandalism. Some people think it can also enhance and beautify your neighborhood, home, and bedroom.
All in all, we can agree on one thing, graffiti represents rebellion, and who doesn't love a bit of defiance of a change?
Love is Color Graffiti Home Decor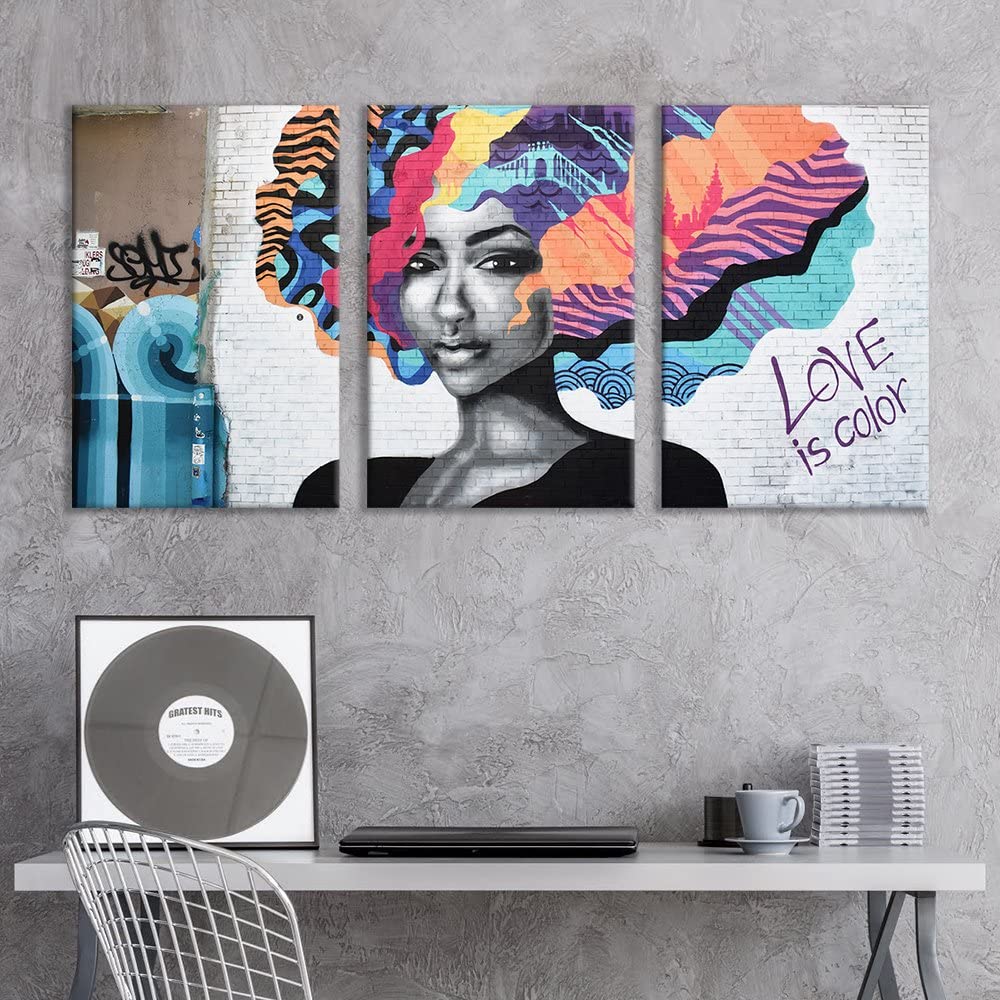 This three-panel print combines two popular contemporary art styles, graffiti, and abstract art.
The picture portrays a woman with abstract hair. Her hair is the most stunning and unique part. It looks like a rainbow with colors and smiles hidden inside!
An excellent place for this artwork is your living room. With its grey background, this graffiti decor will look fabulous on almost all wall colors.
Abstract Graffiti Home Decor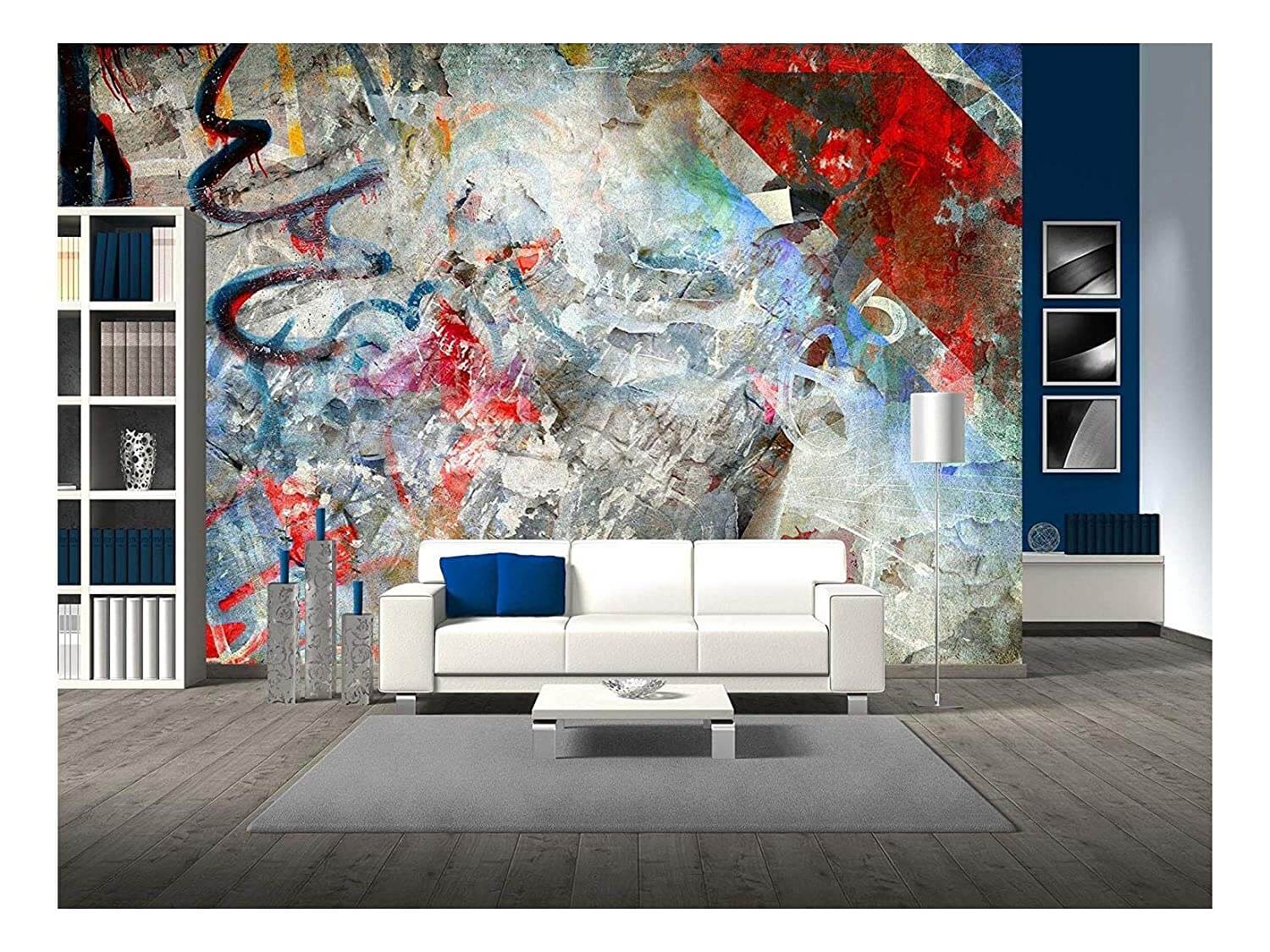 Graffiti artists love secrets and rebellious ideas.
This artwork prints both of those ideas on a canvas! The ideal abstract mural for your bedroom or a chic living room!
Let's Go Crazy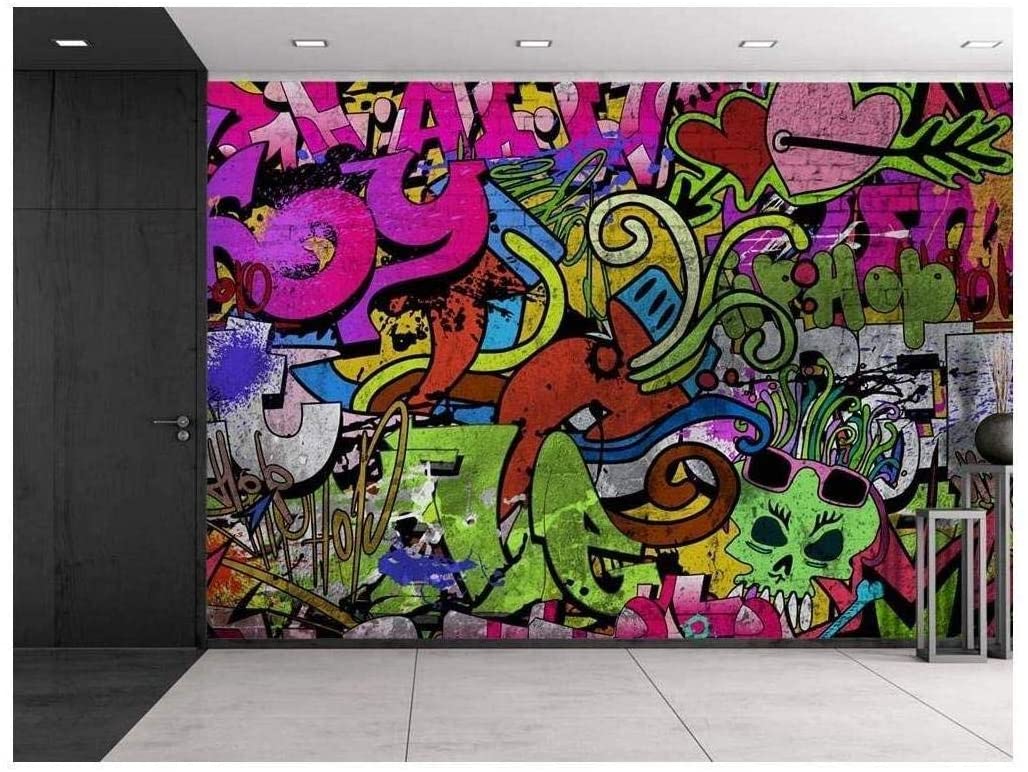 Do you ever want to let yourself go? To play with colors, dream, and explore neverland?
This mural can signify the desire to let go!
Draw without thinking and make something bold and beautiful!
Beauty In Chaos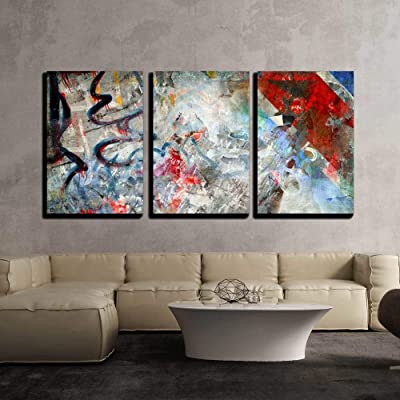 Around the world, the definition of beauty is unique. Some people like tan skin, some crave a fairer complexion and others like tattoos!
The notion of rugged beauty is expressed in this mural. Complete chaos and you can't help but fall for it!
The 90s Theme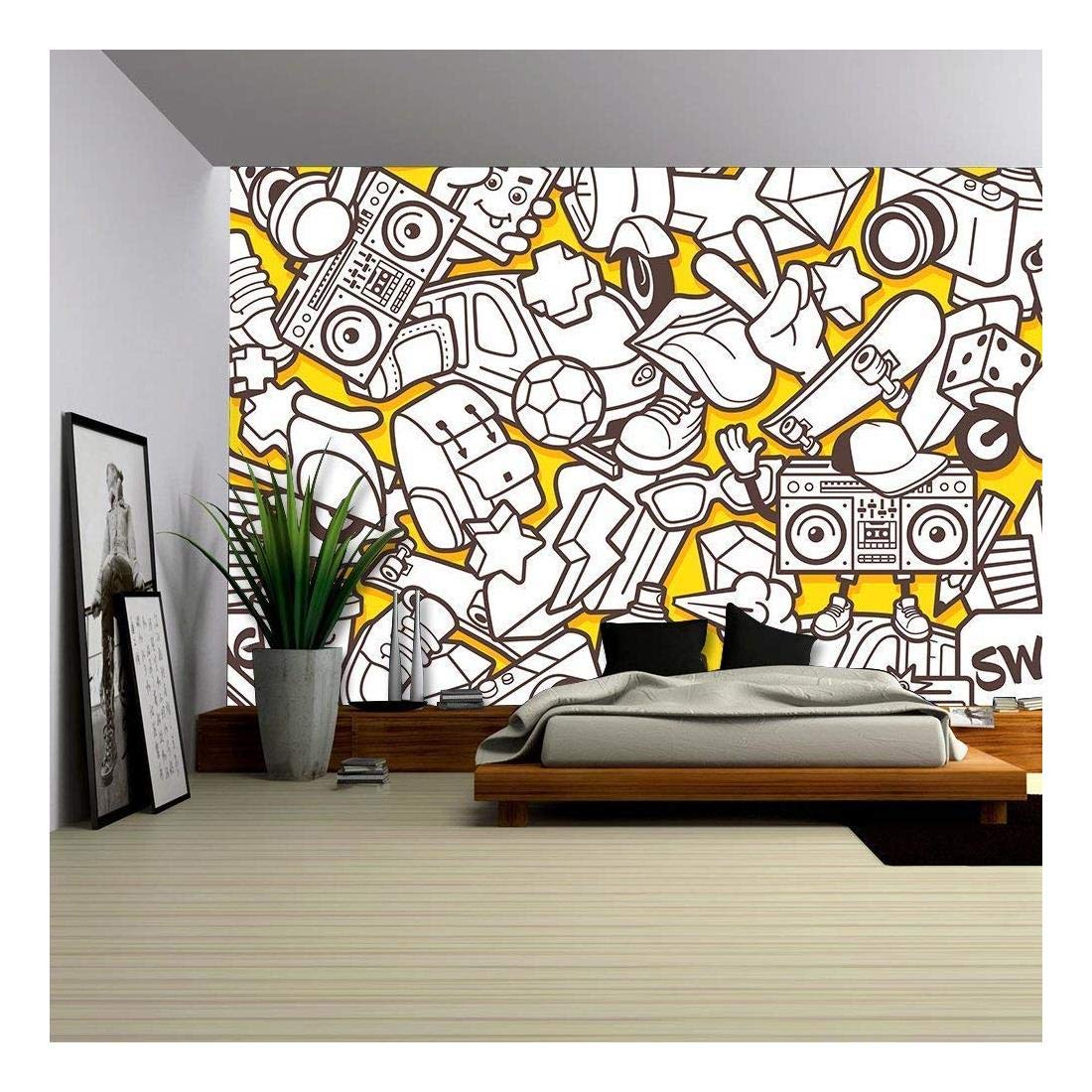 With the latest smartphones and wireless devices, we often overlook the simple things! Playing a board game with family, the jumble of cassettes, and skates!
Let's recall the beauty of the good old days with this 90s theme mural. The theme of the artwork is yellow and white. The color contrast is very sophisticated and bold. An excellent choice for your bedroom or your kid's room!
Back Alley Wall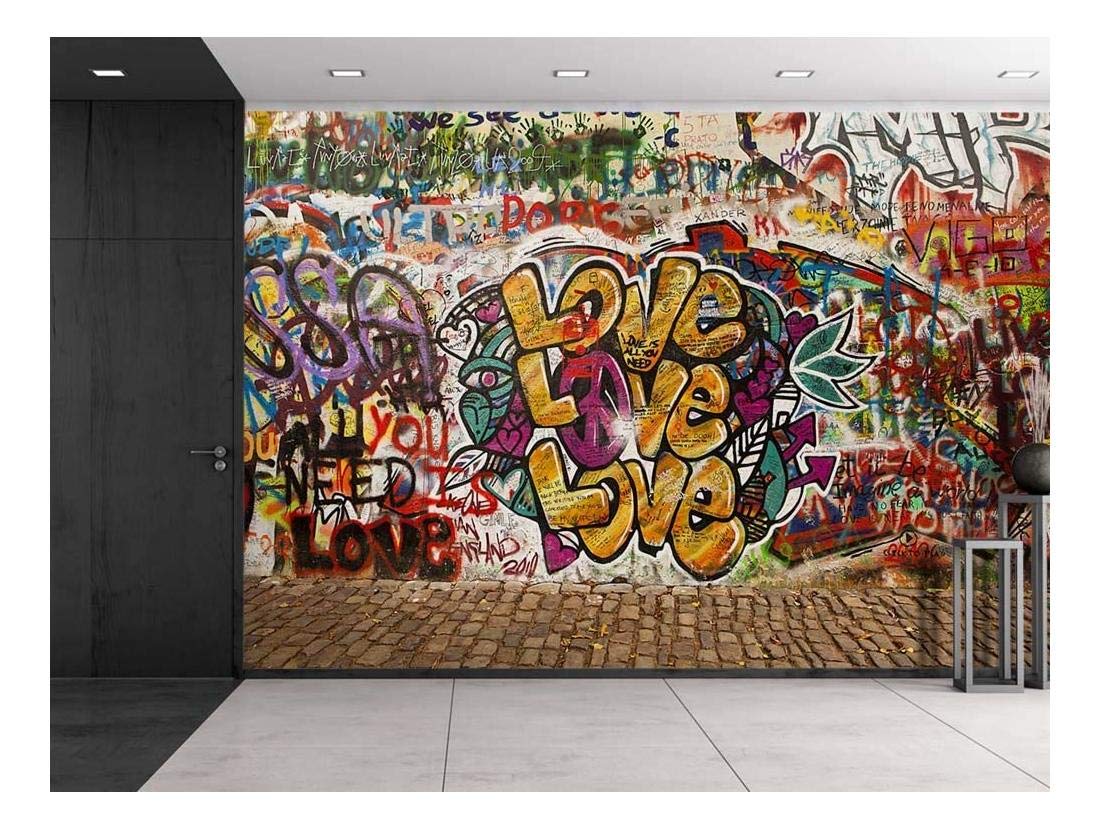 When walking on the street, you must've come across a graffiti-covered wall!
There's wild energy about it! There's no rhythm in this artwork, and that's the beauty of it.
Abstract Symbol Wall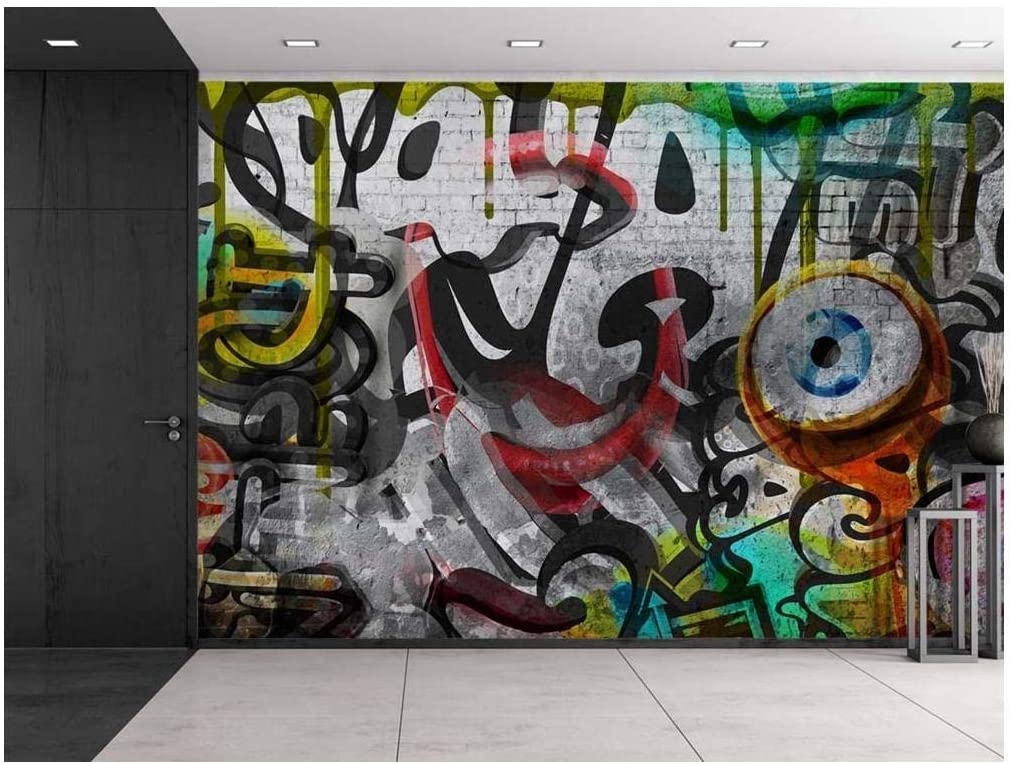 This abstract symbol mural is a masterpiece!
In the streets, this kind of piece is prone to obliteration. Thankfully, we don't have to worry about that at home!
With beautiful calligraphy and a singular mystery, this mural is fabulous. It's a particularly great pick for your bedroom, living room, or game room.
Colors on Mural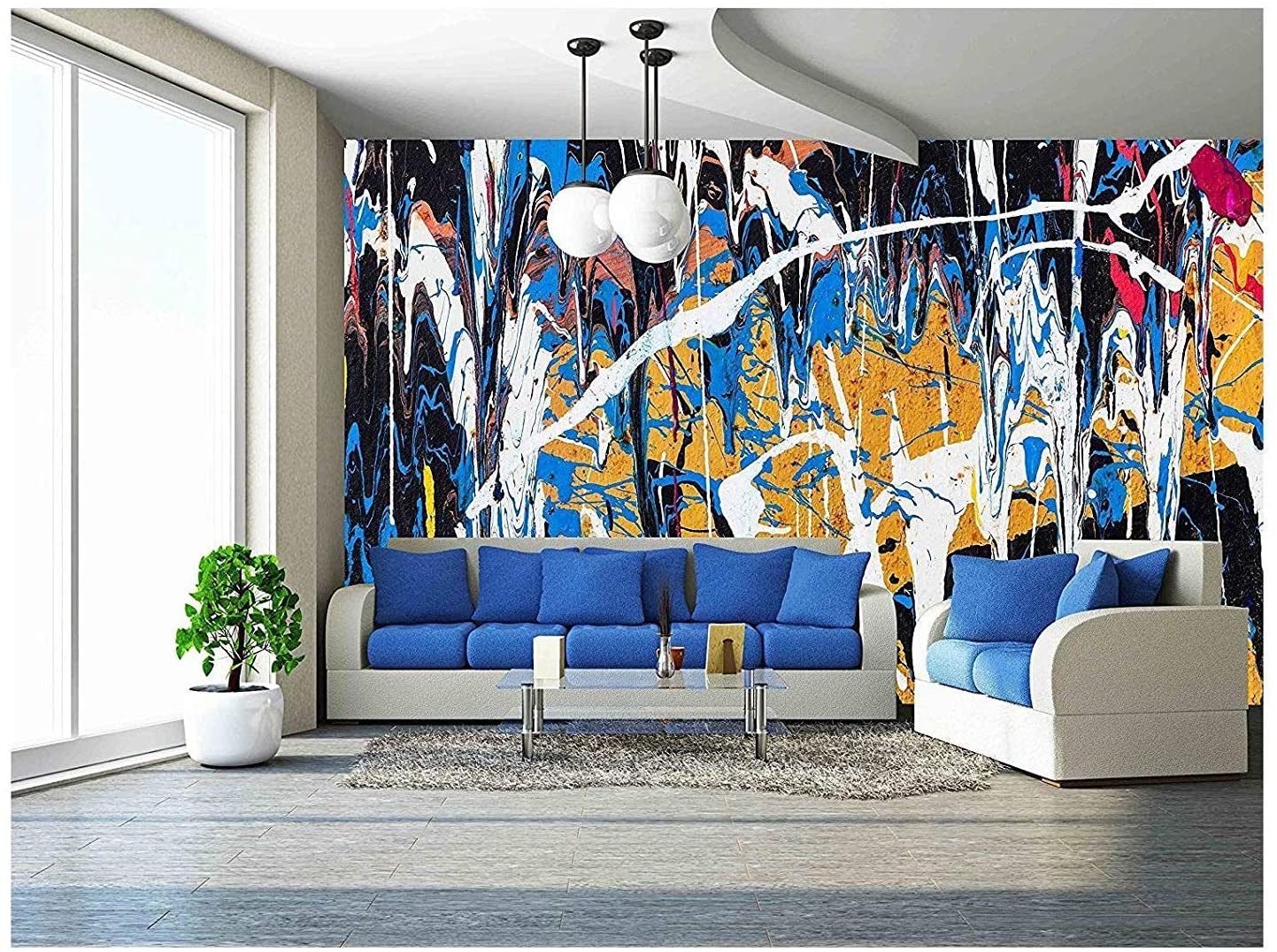 This graffiti art home decor is one of the most chaotic and brilliant pieces in our collection! It has colors, sophistication, and the right amount of entropy to keep the mystery alive.
The mural goes well with simple furniture and is an excellent pick for the living room.
Scary Faces Pop Graffiti Home Decor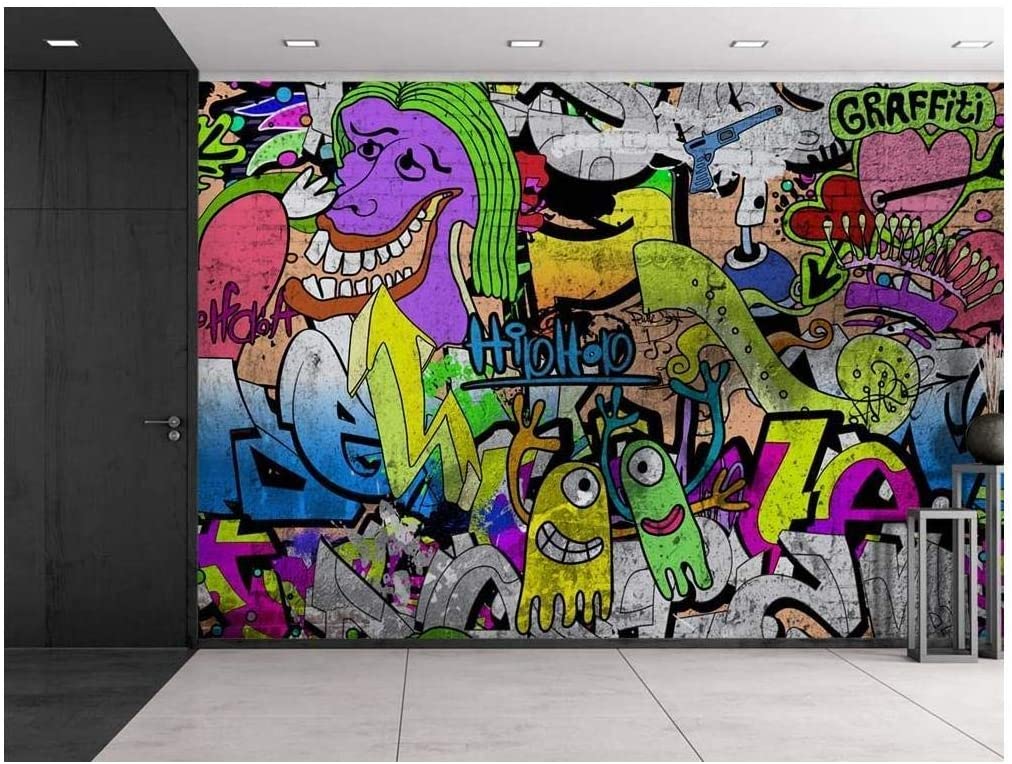 A joke never gets old, as long as it's spot on.
Exactly like that, this animated graffiti home decor brings smiles into your bedroom. The picture is an excellent combination of vivid colors, faces, and calligraphy.
The Doodle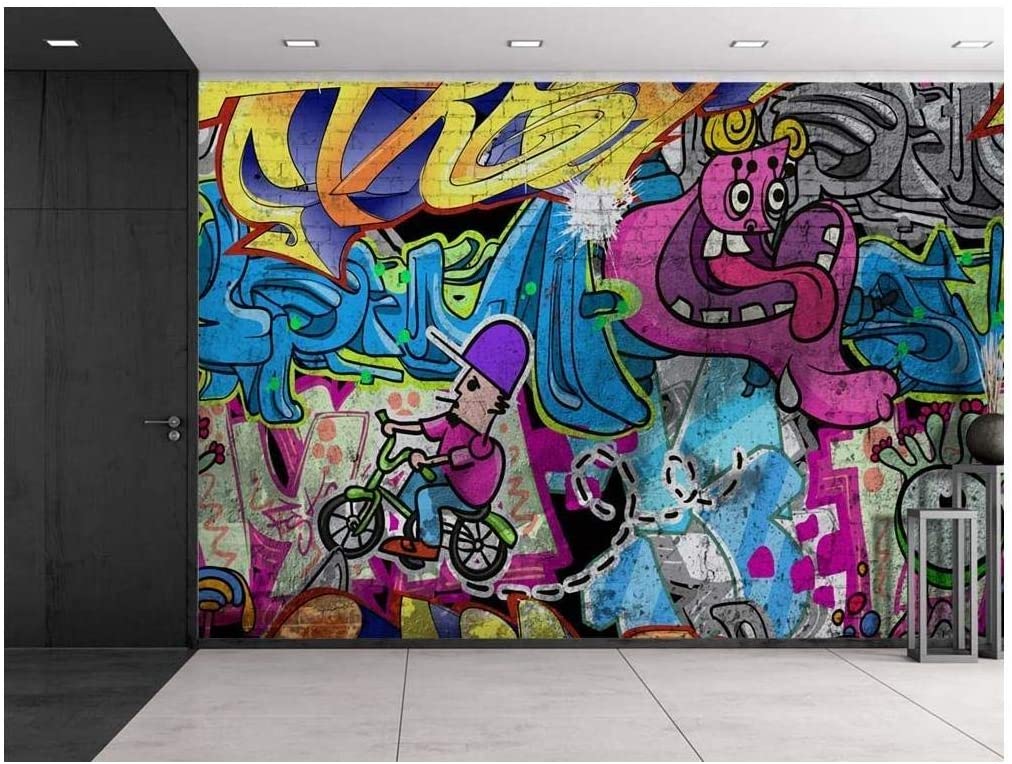 So much Graffiti looks just like doodling. Drawing without forethought and just drawing what pops into your mind.
Put up this unusual mural in your bedroom and let creativity be the first thing you see every day!
Audacity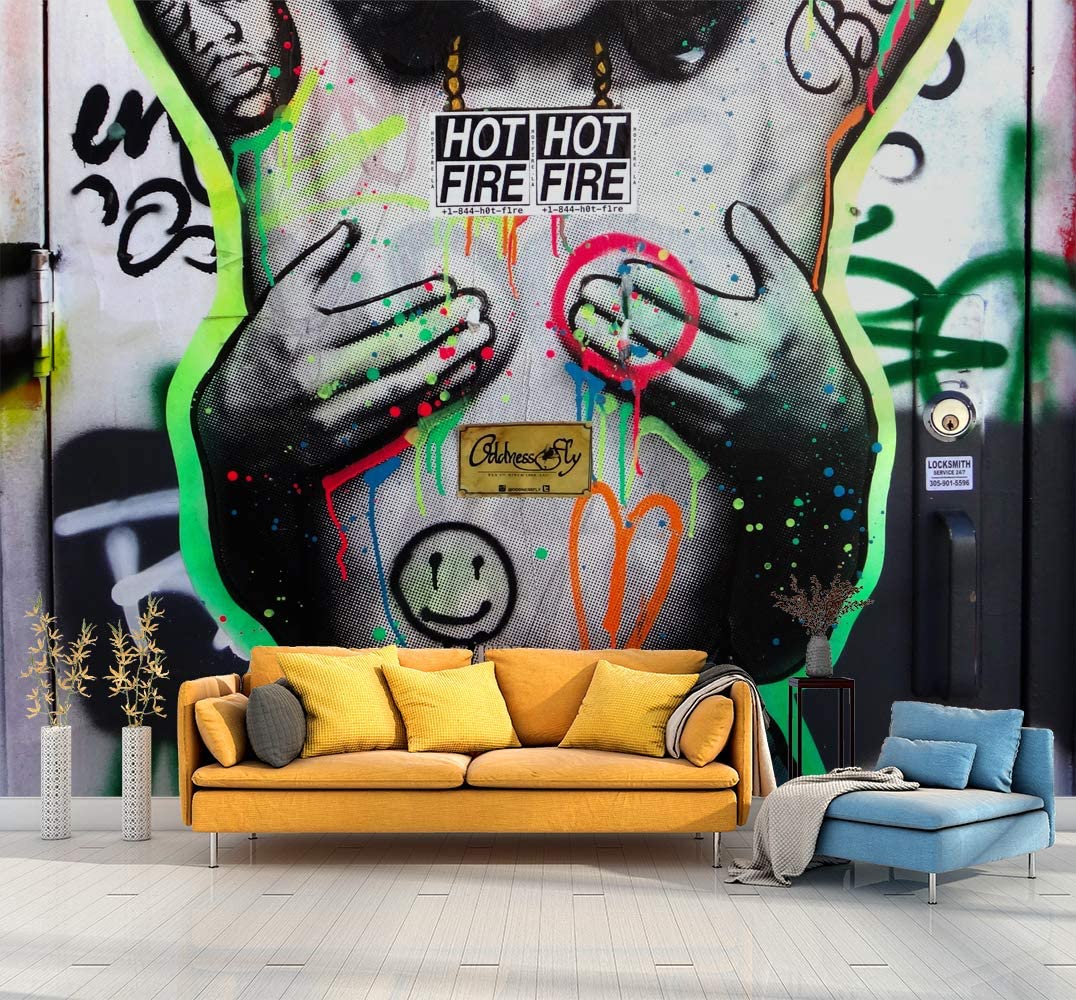 Are you planning on getting something bold and audacious?
Here's an idea to make your place hip! This monochrome print with colorful highlights makes for a novel mural. A great place to put up this graffiti art is your bedroom, game room, or the living room.
Style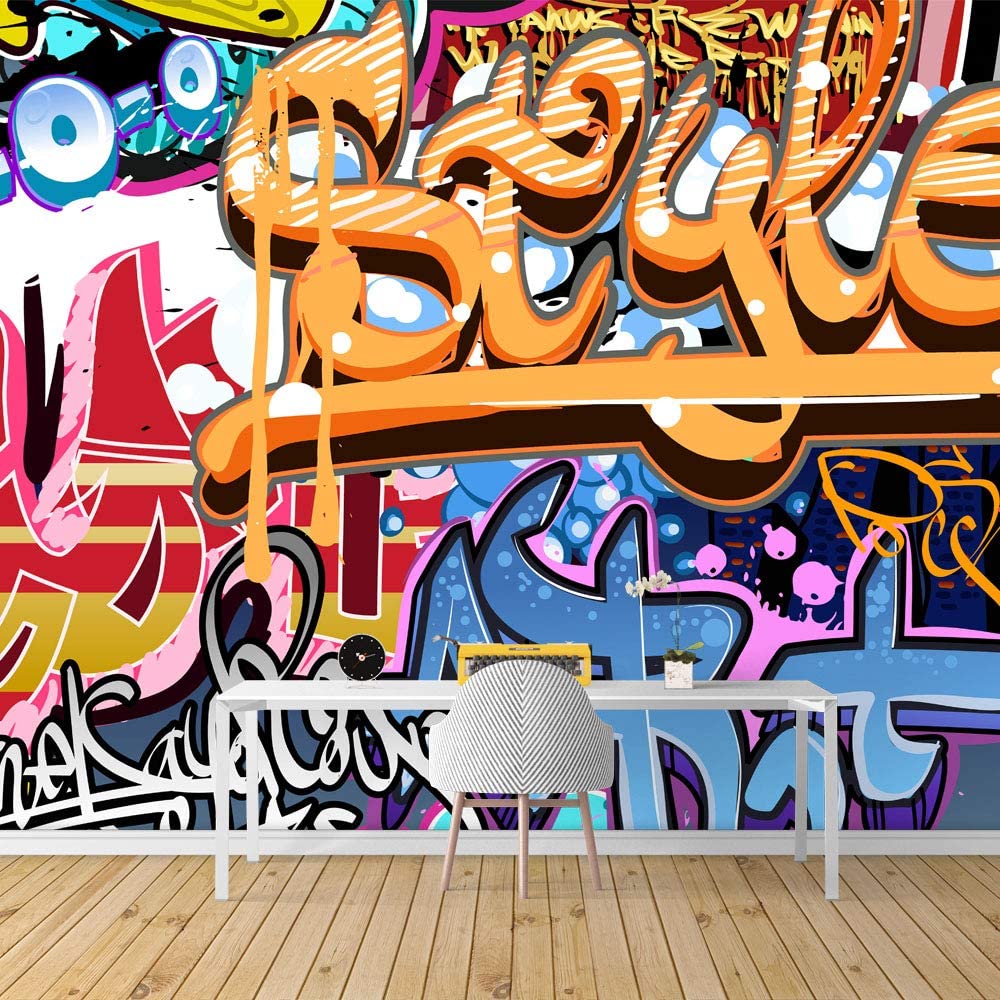 Blockbuster street art is the most popular style. Let's bring that style to the home with this vivid graffiti artwork. It's energetic, fun, and hip, making it ideal for a kid's room decor.
For a merry soul, this stylish and vivid mural is the best pick!
The bright colors and beautiful calligraphy are the best features of this artwork. For a bold and radiant bedroom, this mural is the key!
Love In The Grey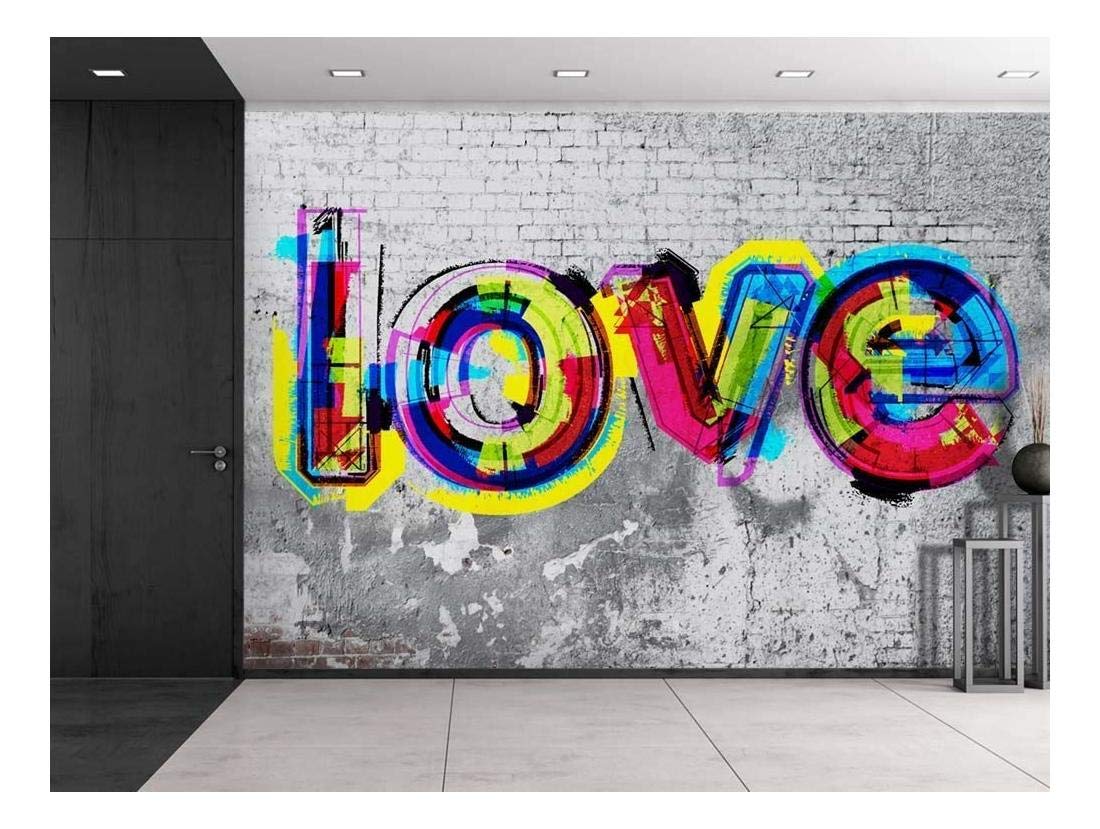 This street art is decent and bold. Two traits that are not customary in graffiti artwork!
This mural presents love stenciled on a grey wall.
When things are not looking up, remember that love can flourish even in the hardest of times.
This grayscale mural shows the perfect harmony between monochrome and rainbow! A great piece to put in any room and brighten up the place!
Kids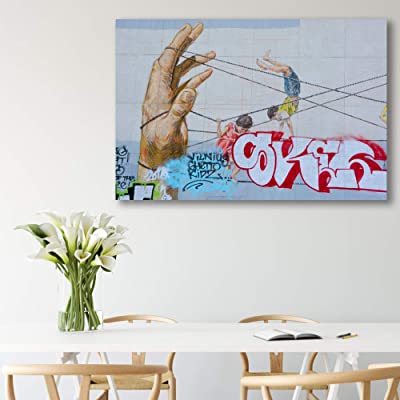 This canvas is a bit different than the other street art.
It presents a hand tangled in threads with two kids playing on them. Every piece of art is a mystery, but this one holds more secrets than most. It makes you think long and hard about the story behind it.
An ideal portrait for your living to keep your guests wondering!
The Naive Rabbit Graffiti Home Decor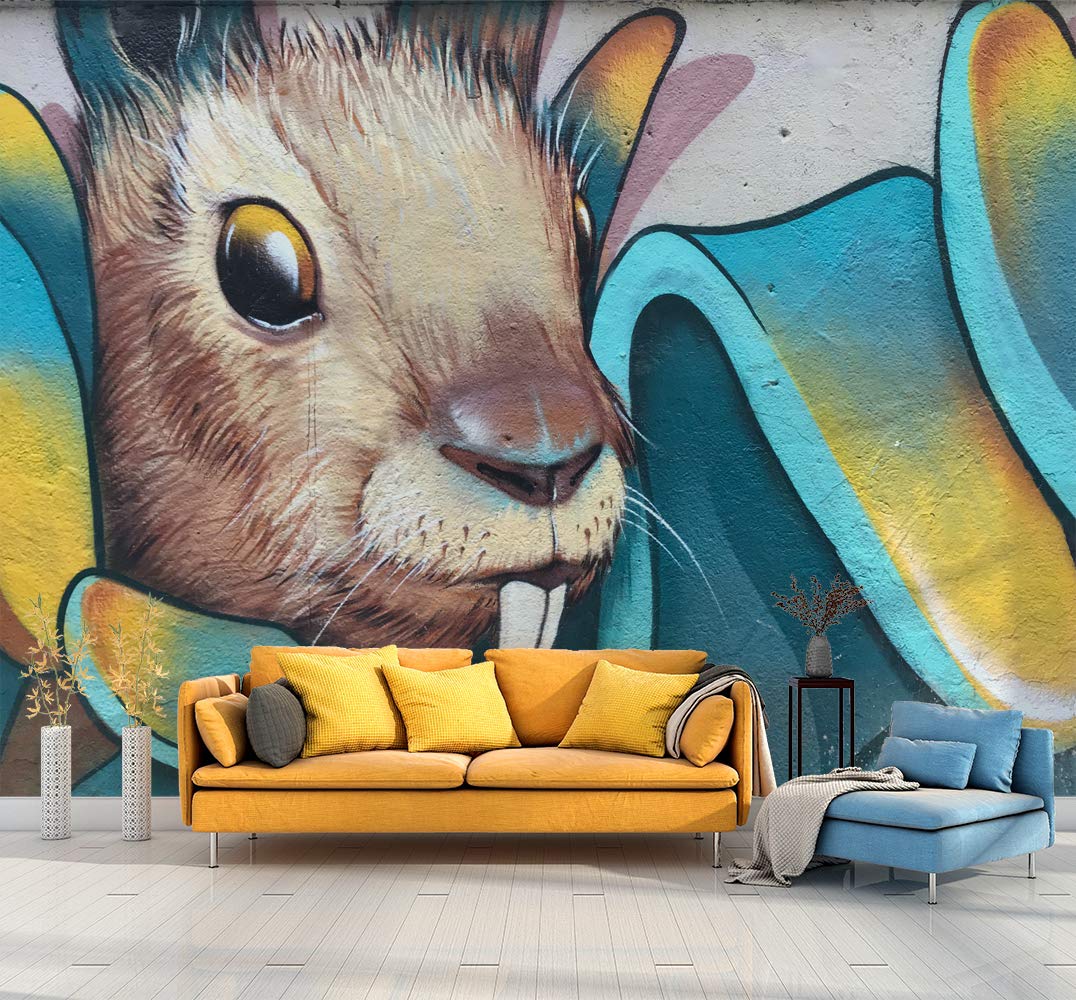 Brown is one of the rarest colors in street art! Where colors like red represent passion, brown indicates stability.
You can even say that this graffiti artist rebelled by using so much brown in one piece!
An excellent place for this unique and rebellious artwork is your living room. It will also look great in your kid's bedroom or playroom.
Smiling Cartoon Graffiti Home Decor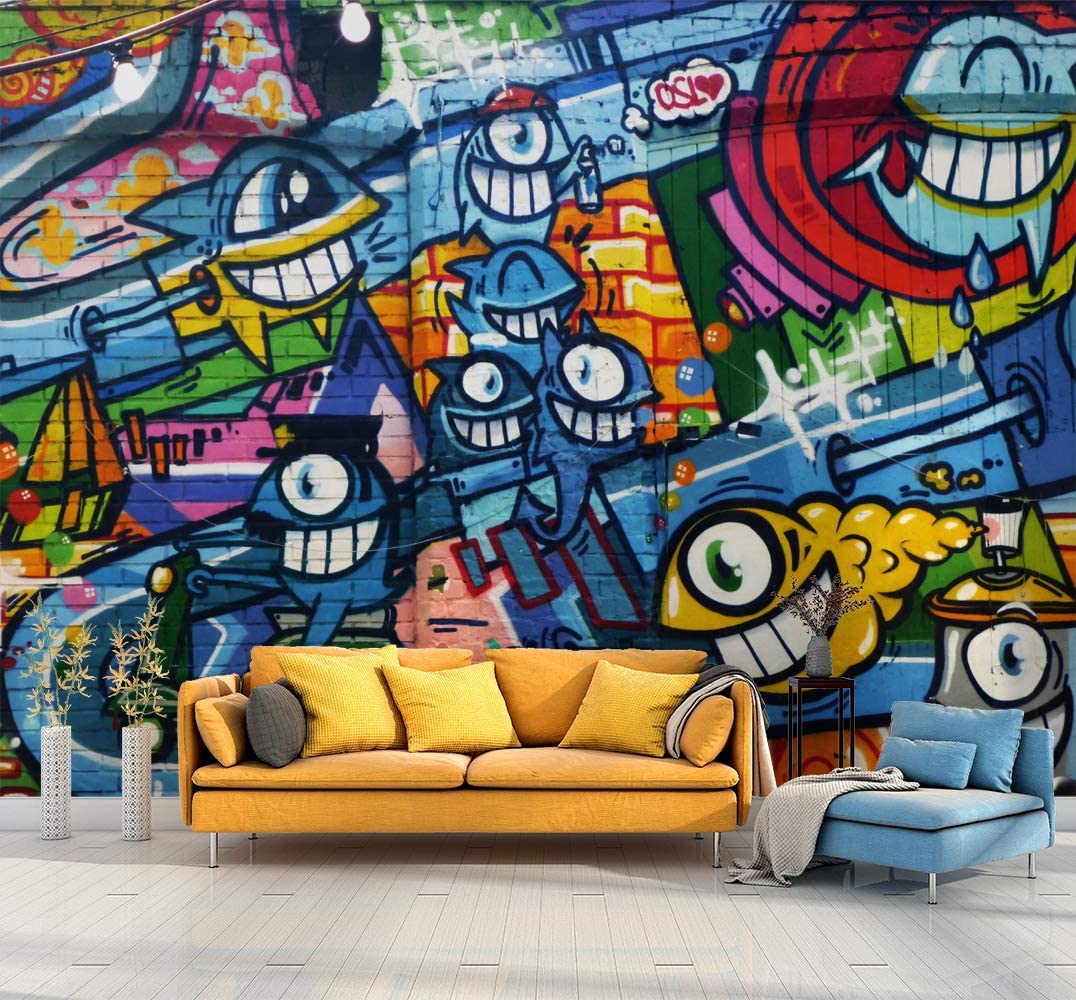 If there's one thing we never get too old for, it's cartoons!
From ages five to fifty, cartoons bring smiles to our faces.
Let's keep that smile alive with this smiling cartoon graffiti room decor!
Conclusion
You can never define art. The mystery is what makes artwork special. Graffiti art is the way to go when you're bored with traditional artwork and ready for a daring move!
If you loved this graffiti home decor, then check out our blog on Banksy's home decor ideas. Only a few graffiti artists use so little color and with such sophistication!